OUR BIGGEST SALE EVER - SAVE 20% AT CHECKOUT WITH CODE CYBERBOOK. Learn more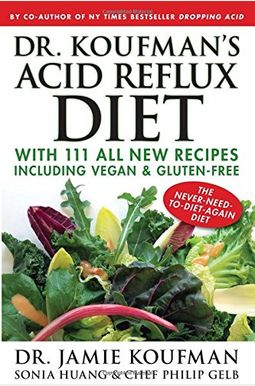 
 
Dr. Koufman's Acid Reflux Diet, 1: With 111 All New Recipes Including Vegan & Gluten-Free: The Never-Need-To-Diet-Again Diet
Frequently Asked Questions About Dr. Koufman's Acid Reflux Diet, 1: With 111 All New Recipes Including Vegan & Gluten-Free: The Never-Need-To-Diet-Again Diet
Books like Dr. Koufman's Acid Reflux Diet, 1: With 111 All New Recipes Including Vegan & Gluten-Free: The Never-Need-To-Diet-Again Diet
Book Reviews
(9)
Did you read Dr. Koufman's Acid Reflux Diet, 1: With 111 All New Recipes Including Vegan & Gluten-Free: The Never-Need-To-Diet-Again Diet? Please provide your feedback and rating to help other readers.
Excellent resource!

Derived From Web

, May 20, 2022

I am a professional singer with 25+ years of experience and, after months of mysterious throat-related symptoms, had to walk offstage at a wedding gig because I suddenly couldn 't sing or control my voice. It helps my husband understand my dietary restrictions, and I am experiencing a significant amount of relief after implementing the suggestions that the author recommends. The cookbook part is a little tricky-but there are some gems in there that I HIGHLY recommend if you are experiencing symptoms of GERD or LPR.
Game Changer! On display in my dental office reception room.

Derived From Web

, May 20, 2022

I '' am a dentist. Sicent Reflux is the bane of the patients. It flies under the radar because there is no heartburn, but causes sensitive teeth, enamel loss and dentin loss and contributes to the breathing of disordered sleep, fragmented sleep and UARS. Dr Kaufman tells WHY the disease exists and more importantly reveals HOW she begins the therapy of each patient. In the last three months, I purchased and distributed nearly 20 Chronic Cough Enigma and Dropping Acid books. I like the newest book, as she clarifies her dietary advices and offers more delicious recipes. If you need more free recipes, they are everywhere on sites like www. drmcdougall. com. The highest recommendation for a paradigm - shifting book ''.
Good resource for anyone with GERD or acid reflux

Derived From Web

, May 20, 2022

Acid Respiratory is a good resource for anyone with GERD or good reflux. Some of the recipes call for ingredients that are not so easy to find, but nevertheless informative.
Love this book

Derived From Web

, May 20, 2022

This book is my favorite! After a few years of suffering from acid reflux and finding no solutions, this book is really making a difference for me! Has very clear directions to follow for recovery, covers a lot of myths and misinformation about how to heal reflux and what causes it or aggravates it. Well, pay what you will get for this book.
Helpful but skip the recipes

Derived From Web

, Oct 11, 2021

My ENTdoctor suggested that I was detoxing because of a chronic cough. I finish my two weeks and it has helped tremendously. This book was very helpful in explaining LPR. I would have given it a higher ranking, but the recipes are terrible to God! I don 't mind experimenting, but these recipes are ridiculous. What if you are not vegan, gluten free, dairy free and sugar free, but a red blooded American seeking healthy recipes? I think we are on our own.
Unbelievable results

Derived From Web

, Jun 25, 2018

Have always had Gerd and have had an increased mucous backup in the last few years, but I attributed it to sinus problems. I recently had a gallstone attack and it took a long time for me to feel better when I started to feel overwhelming mucous and my chest hurt, my throat was sore and the mucous was like a lump in my esophagus. I have looked for years to relieve my mucous symptoms and my gerd issue, so that this was so frightening. I stumbled on a column on the Internet that described exactly how I felt and recommended Dr. Koufman's book. I purchased the Kindle edition and immediately followed her recommendations. I have done it only for a week and the results are unbelievable. I am committed to following her dietary recommendations for the rest of my life. I really feel that by doing so, I will improve my quality of life and possibly my life extension. I can only thank her enough for her work on this subject.
Great book for help with your acid reflux.

Derived From Web

, Mar 24, 2018

More than a receipe book. For more information on acid reflux and how to help yourself check out her website. If you follow her diet, you will not need medicine, but it is not easy!
Great info for acid reflux suffers

Derived From Web

, Jan 22, 2018

This book is filled with a lot of information on acid reflux. I tried the recommendations and it has helped my situation a lot. I cut back on my acid reflux meds and looking forward to being free of medication soon. If you decide to read it, make sure you skip through it, you can only skip to the recommendations without knowing the why. The recipes are also pretty good. Easy to prepare or you may already have them in your kitchen. Wish you success ''.
I take it there was an earlier book by this doctor that probably would have been a better choice.

Derived From Web

, Mar 1, 2017

I expected more from a regiment to follow. This presented only suggestions on what may be causing the problem, but not really a guideline for what to do. I assume that there was an earlier book by this doctor that would probably have been a better choice.