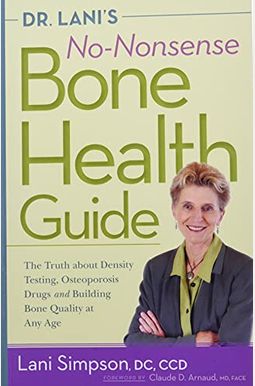 
 
Dr. Lani's No-Nonsense Bone Health Guide: The Truth About Density Testing, Osteoporosis Drugs, And Building Bone Quality At Any Age
Book Overview
This Description may be from another edition of this product.
Don't Get Burned
In her newest book, Dr. Lani Simpson provides readers with no-nonsense, easy-to-understand advice about the sun and how our bodies react to sun exposure. This go-to-guide for all members of the family includes: practical information about how to obtain vitamin D from the sun safely, how to protect yourself and your family from sunburns, and how to find safe sunscreen products. This book examines how our ancestors worshiped the sun and how those beliefs shaped our modern relationship with the sun. Dr. Lani's No-Nonsense Sun Health Guide advocates for a conscious and respectful relationship with the sun.
The sun is now listed as a carcinogen, this is true, especially when we allow our skin to burn and neglect basic sun protection. And we also need vitamin D, which is produced when certain rays interact with exposed skin. There are hundreds of conditions that have been associated with vitamin D deficiency including: multiple cancers, hormone imbalances, bone loss and osteoporosis and multiple sclerosis. So, how do we get this essential vitamin from the sun without damaging our skin that could end up causing skin cancers? Is taking a vitamin D supplement the answer?
The fact is, not enough and too much vitamin D can result in health consequences.
As a complete
Read More chevron_right
Frequently Asked Questions About Dr. Lani's No-Nonsense Bone Health Guide: The Truth About Density Testing, Osteoporosis Drugs, And Building Bone Quality At Any Age
Books like Dr. Lani's No-Nonsense Bone Health Guide: The Truth About Density Testing, Osteoporosis Drugs, And Building Bone Quality At Any Age
Book Reviews
(9)
Did you read Dr. Lani's No-Nonsense Bone Health Guide: The Truth About Density Testing, Osteoporosis Drugs, And Building Bone Quality At Any Age? Please provide your feedback and rating to help other readers.
I can say with confidence that reading Dr. Lani's ...

Derived From Web

, May 13, 2022

I can say with confidence that reading Dr Lani's detailed and well written book has given me hope for the future! Diagnosed with widespread osteoporosis and my mistrust of mainstream medicine, I found the information in her book so helpful in grabbing my attention, pulling me out of denial and putting me into action. Dr Lani's realistic view of the medications offered for treatment helped me trust her message. The book has been such a resource for ideas about how to positively impact the outcome of the disease of Osteoporosis by using a holistic approach and understanding its limitations. Thank you Dr. Lani for writing such an important book!
Honest and sincere author

Derived From Web

, May 13, 2022

This book reported the facts whether you like it or not. The author was against doctors in no way. She repeatedly said, to check with your doctor before doing anything. She gave you many alternatives for you to explore before turning to medication. She left the decision up to you, but no matter the treatment you choose, she gave you hope. You are not born with a diagnosis of osteoporosis, you have to use common sense and be more mindful of your actions. My own physician wanted to discuss medication alone, which I did not want. I have now the hope that I do have control and my fulfilled life is not over. I now have the determination to do what I feel is best for me. A size does not fit all. No pun intended, but just get a backbone and do something about your situation.
Lots of good info here

Derived From Web

, May 13, 2022

I chose to bone up on bone health first. Here is a lot of good information and easy to understand. Very friendly format, which I always appreciate!
Never too young...

Derived From Web

, May 13, 2022

Even if you don 't know the state of your bones or feel too young to worry about osteoporosis, this is a very useful book. I received it for prevention purposes and discovered that it is chock-full of other health information that I did not know was related to bones, such as hormones and digestion. I found out that it is never too early to start addressing bone health. The book is very clearly written, specific, thorough and contains the most current information about maintaining and improving health. Her website is also great ''.
Not what I expected, very discouraging

Derived From Web

, Nov 28, 2021

Although the information presented was comprehensive and informative, especially for those wanting more information about osteoporosis, it leaves a lot to be desired. I expected a lot more from this book. It was promoted as the end all bone building guide from a lot of bone health websites. I found it at best very discouraging. I thought the author would tell me how to build bone at any age, but at almost every new suggestion injected her negativity in that nothing can really build bone when you have osteoporosis, and we should talk to our doctor before trying any non-drug supplements. The main reason I bought this book was because I can not talk to my doctor, he won 't discuss anything that does not involve his prescription pad. No thanks, the cure of a drug is worse than osteoporosis.
Truly "No Nonsense" - a practical guide to bone health!

Derived From Web

, Jul 21, 2019

3 years ago I was diagnosed with osteoporosis and initially felt as though I was headed towards a broken hip or Dowagers hump in my immediate future. I did much research on the Internet, including many medical websites as well as other more self-serving sites, and while I gathered a lot of information, I also received some mixed messages. I bought Dr Lani's book about a year ago and is one of the first books I found clear and concise, offering a realistic plan of action. This is where I feel that this book has so much to offer. It is true common sense that there are many courses of action that you can take for better bones. I highly recommend and often refer to this book ''.
Not the Holy Grail it is promoted as

Derived From Web

, Dec 29, 2018

As others have pointed out, much of the information in this book can be found for free in the internet. The information on the vagaries of bone scans is interesting and sounds like the medical profession should do more to hold this field and to police professionals accountable. The sections on nutrition and supplements seemed to be lacking, like the author wants to give advice, but doesn't want to be held accountable, so sticks to generalities. This is not a book that I would refer to again or go back to look in information, so I gave it away.
Get to know your bones!

Derived From Web

, Aug 18, 2018

When I was first diagnosed with osteoporosis a year ago, I was lost and scared. After consulting many doctors, who gave me very poor advice, I decided that I needed to educate myself about my bones. I found Dr. Lani's book and read it several times. I began to gain confidence that I could now talk to my physicians and get the correct blood tests to find out why I was losing bone. Dr Lani's book helped me to make sensible choices and put together a sound bone health plan. When you receive a diagnosis of osteoporosis, your first step should be to read Dr. Lani's book. The bones in question will thank you for it. Asrely, Cheryl Edwards is sharing the spotlight with Edwards.
This book is excellent for anyone who wants to learn about bones

Derived From Web

, Feb 1, 2017

This book is excellent for anyone who wants to learn about bones! The research is so thorough, informative, well documented and explained in a way that the average reader can understand. I think that everyone interested in bone strength, especially with osteoporosis, should take this book seriously before taking medication and medication prescribed by their doctor. First get all the facts and then move forward. I am very grateful for this book and now understand the condition of osteoporosis to a much greater extent.