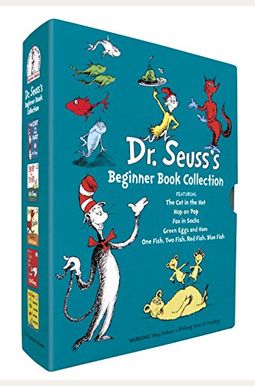  
Dr. Seuss's Beginner Book Collection: The Cat In The Hat; One Fish Two Fish Red Fish Blue Fish; Green Eggs And Ham; Hop On Pop; Fox In Socks
Book Overview
This collectible Dr. Seuss boxed set is perfect for inspiring a love of reading, and with five books in one super giftable set, it will complete any beginning reader's shelf

An ideal gift for new parents, birthday celebrations, and happy occasions of all kinds, this collection of five beloved Beginner Books by Dr. Seuss will be cherished by young and old alike.
Books in this boxed set include:
The Cat in the HatOne Fish Two Fish Red Fish Blue FishGreen Eggs and HamHop on PopFox in Socks
Originally created by Dr. Seuss himself, Beginner Books are fun, funny, and easy to read. These unjacketed hardcover early readers encourage children to read all on their own, using simple words and illustrations. Smaller than the classic large format Seuss picture books like The
Lorax
and
Oh, The Places You'll Go
, these portable packages are perfect for practicing readers ages 3-7--and lucky parents too
Pretty much all the stuff you need to know is in Dr. Seuss. -President Barack Obama
Frequently Asked Questions About Dr. Seuss's Beginner Book Collection: The Cat In The Hat; One Fish Two Fish Red Fish Blue Fish; Green Eggs And Ham; Hop On Pop; Fox In Socks
Book Reviews
(18)
Did you read Dr. Seuss's Beginner Book Collection: The Cat In The Hat; One Fish Two Fish Red Fish Blue Fish; Green Eggs And Ham; Hop On Pop; Fox In Socks? Please provide your feedback and rating to help other readers.
A MUST!!

Derived From Web

, Apr 20, 2022

A woman I work for has a baby who will turn one very soon. I noticed that he studies everything and everyone with a lot of attention. I bought this book for his first birthday and showed it to his mom to see if he already had a book from Dr. Seuss, and if so I could return it and get something different for him. She said, "No, he doesn't!" How great! I'm not sure who will love it more, the little one for the illustrations to ponder, or the parent who gets to revisit their childhood while reading to him. It's a win-win for the family.
Still the Best Children's Books

Derived From Web

, Apr 20, 2022

We received several new children's books when we had a baby. We didn't seem to like them very much, but we read them to our son. I ordered these and started reading them to him, and immediately noticed a huge difference. We love the rhyming language and illustrations. Today's children's books are about the same length as the ones written by the author. Our son, who is 21 months old, is not interested in anything. I expect his attention span to grow, and these books will reward it. I think he can enjoy these books for a few years after he learns to read them himself.
Love the SEUSS classics

Derived From Web

, Mar 12, 2022

Our grandson has been reading. We read them at home because the teacher reads them at school. Good quality packaging. The starter pack is great for a long time.
Couldn't believe their eyes

Derived From Web

, Dec 8, 2021

I gave this book series to my 8 year old cousin and he couldn't believe his eyes. They exclaimed as I slid out the orange Green Eggs and Ham book. I got to spend that moment with them. One Fish, Two Fish, Red Fish, Blue Fish was the first book that we read.
You can't go wrong with dr.Seuss

Derived From Web

, Oct 9, 2021

My husband and son love it. It's funny, educational, and interesting. I think it's a good idea.
Not the best quality hard back books

Derived From Web

, Apr 17, 2021

These books are not as good as the ones I have purchased in the past. Overall, happy with the purchase.
I'm supporting Dr. Seuss!!!

Derived From Web

, Mar 5, 2021

Cancel Culture has hit me where I live, and I now have 12 grandchildren. I decided to purchase this set of titles even though they are not on the cancel list. Everyone should have a copy of Dr. Seuss on their book shelf. Another set of titles was ordered as well. What is this world going to look like? Is that correct?
Paper Gold

Derived From Web

, Mar 5, 2021

It was purchased immediately after the news that Dr. Seuss had been canceled. I'm happy I got one of the last. Just as it was 60 years ago, a boxed set, hardcover, absolutely beautiful, instructional and fun for kids.
Purchased this before learning Dr. Seuss got "cancelled"

Derived From Web

, Feb 28, 2021

I am glad I bought this before hearing about Dr. Seuss getting canceled. When I saw these books on Amazon, I wanted to go back in time and purchase this set. This will be taken off Amazon. #gotthisjustintime
great

Derived From Web

, Mar 11, 2020

This is a great collection of books for new readers, my girl loves to read them, but every time I give a review and submit a picture it gets deleted by the team at Amazon.