Buy 3 Get 1 Free
Our Best Sale Yet! Add 4 Books Priced Under $5 To Your Cart     Learn more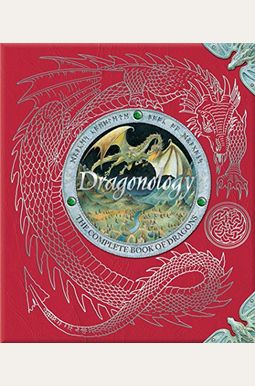 
 
Dragonology: The Complete Book Of Dragons
Book Overview
For true believers only, a lavishly illustrated reproduction of a legendary volume by the world's most distinguished dragonologist. Don't let it fall into the wrong hands
Do you believe in dragons? Now, for the first time, the long-lost research of renowned nineteenth century dragonologist Dr. Ernest Drake is presented in all its eccentric glory, happily bridging the gap between dragon legend and fact. The meticulous Dr. Drake assigns Latin names to various dragon species, ruminates on why dragons are able to speak, speculates on how they could fly, and explains the true purpose of their notorious hoarding habits. Here are just a few of DRAGONOLOGY'S fascinating features: -- Novelty item on every spread, including tactile samples of dragon wings, dragon scales, and dragon skin
-- Booklet of dragon riddles (indispensable to the burgeoning dragonologist)
-- Sealed envelope containing a powerful dragon-calling spell
-- Embossed faux leather cover with silver foil, encrusted with three dragon gems In his afterword, Dr. Drake reveals that one of the crucial goals of dragonologists is to preserve the magnificent creatures of their study wherever possible - a goal this tongue-in-cheek volume most affectionately achieves. An incomparable gift for secret dragonologists everywhere
Frequently Asked Questions About Dragonology: The Complete Book Of Dragons
Books like Dragonology: The Complete Book Of Dragons
Book Reviews
(14)
Did you read Dragonology: The Complete Book Of Dragons? Please provide your feedback and rating to help other readers.
An Excellent and Comprehensive Introduction to Dragonology!

Derived From Web

, Apr 20, 2022

This peculiar old manuscript of the arcane knowledge is a real treasure in the right hands. The little details and the scrapbook-like assemblage of this introductory field guide is both intimate and charming. Pros - Nicely, even elaborately detailed, with elegant but lucid prose and lyrics. Includes various samples of actual artifacts, as gathered on location. Speaks with authority, yet welcomes and encourages the novice. Beautifully illustrated - Beautifully. Reasonably priced : Cons - A little large for field use. A companion field guide is needed with a smaller field guide. Will not tolerate humidity or resist well high humidity. A laminated field guide is required. does not appear to be flame retardant, nor claims to be. A field guide is needed with a flame retardant field guide. A nutritional sketchy on the small needs of dragon hats. Amplified nutritional information would be welcomed. RayB is a RayB - RayB - System, which is the RayB - RayB.
Exactly what she wanted

Derived From Web

, Apr 20, 2022

Sometimes it is hard to find an ology book that is exactly what you wanted. You read the reviews and they say beautiful pictures everything you want to know about... But the never tell you that it has tabs to pull, envelopes to open, dragon skin to feel, etc. Well, this has all of this!!! We love these ology books and have a few of them and let me tell you... they are great!
Very engaging & informative; not so much for younger readers.

Derived From Web

, Apr 20, 2022

This was a purchase for my extensive dragon collection of Fiancé and he loves it. As a dragon collecting adult, he'd tell you that this book is enormously informational and in-depth on types and locations of dragons as well as other fictional means of distinguishing one from another, learning their language, and other fun facts and tid-bits. There are many folds and real dragon skins to touch and see, detailed drawings and representations of their inner workings, and the cover itself is just beautiful! It makes a great gift for any dragon lover, although the age in which you would get the best reaction is certainly kind of high, since there are quite a few places in the book where the author uses some pretty big words and intentional olde English-like misspellings that may throw younger readers for a loop.
Here there be dragons!

Derived From Web

, Apr 20, 2022

I bought this book for a friend's daughter for Christmas, and I hate to part with it! From its rich, bejeweled cover to its many treasures within charming illustrations, witty text, fun pull-outs, even samples of vanishing dragon skin, wing membranes and dragon dust, we learn much about dragons, from their life cycles and behaviors to their flying techniques, and another charming surprise that I won 't give away. No serious dragonologist should be without this enchanting book! ( -)
Excellent Research!

Derived From Web

, Apr 20, 2022

Granddaughter loves this book the most. I was very happy for her that the little pockets full of interesting things had not been previously found new, like they are sometimes in retail stores. Excellent! She now has proof of a species that dragons and unicorns etc. Existing questions exist. The 1st grade is becoming wonderful for kids.
Must have if you love dragons

Derived From Web

, Jan 25, 2022

I am 10 years old and I love this book. It was one of my favorite Christmas gifts. I learned new dragon species about new '' species. I enjoyed learning how to write in a dragon, I enjoyed learning how to write in a dragon. The pictures were nice and detailed, and the details were detailed.
Timeless

Derived From Web

, Mar 16, 2021

I used to be in LOVE with the Ology books as a child and reading them to my children is a wonderful feeling even though they don 't love them nearly as much as I used to. I still curl up once in a while and flip through the pages, reading the dragon scales and feeling the little bonus notes inside.
The most creative, authentic book I've purchased

Derived From Web

, Jan 14, 2021

This book contains so much detail! Dragon Skin swatches, jeweled cover lift a flaps, dragon skin. This book is absolutely amazing!
Awesome book! But quality not as advertised.

Derived From Web

, Dec 26, 2020

Dragonology is a funny book. Each of the ology books have secret letters in envelopes or something you can find in it that has items in it. I received three different books from three different sellers. I posted the inside of the first page of my Dragonology to see that the paper isn 't in the envelope. My Wizardology book shows the content that should be included. This book was said to be like new. Like new to me, contents are in the book, like new. I think this should have been used as a posting ''. I found it misleading ''. Yes, the pages aren 't torn, but contents are not used to me a quality. Otherwise, it is truly a fun book for any fantasy fan.
Highly Recommended for all ages

Derived From Web

, Jan 28, 2020

I love this book! '' I love it! Occasionally, I find myself to justify all my purchases. This was a no - brainer so worth the cost! I intended to use it for research and learn more about dragons. Another hesitation was that the description of the book seems to be for children, so was not too sure what to expect as an adult for me. I love it! '' It is very interesting, has envelopes with letters in them, the pages have a worn or old feel to them, there are maps, dragon alphabet, there are too many cool things to mention. If you or you know of anyone, child or adult, who are into dragons, this is a must have for their collection.