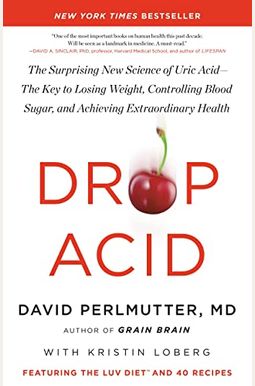  
Drop Acid: The Surprising New Science of Uric Acid--The Key to Losing Weight, Controlling Blood Sugar, and Achieving Extraordinar
Frequently Asked Questions About Drop Acid: The Surprising New Science of Uric Acid--The Key to Losing Weight, Controlling Blood Sugar, and Achieving Extraordinar
Book Reviews
(6)
Did you read Drop Acid: The Surprising New Science of Uric Acid--The Key to Losing Weight, Controlling Blood Sugar, and Achieving Extraordinar? Please provide your feedback and rating to help other readers.
Wow! Just Wow! Incredibly Informative & Transformative

Derived From Web

, Feb 25, 2022

I was so interested in the topic of Uric Acid and how it could possibly be one of the causes of my health issues, that I listened to Dr. Perlmutter on the show. While waiting for my book to arrive, I listened to him on more than one occasion, as well as watching Dr. Perlmutter on YouTube. Drop Acid is very informative and easy to follow and I just finished reading it. The strategies to lower uric acid levels are easy to implement. The medical community takes too long to catch up with the research so I appreciate Dr. Perlmutter's effort to get this information out to the world. I will be reading "Drop Acid" for the second time during the Drop Acid Bootcamp. When I see my doctor in April, I will give him a copy of me.
Every MD should read this!!

Derived From Web

, Feb 25, 2022

Dr. David Perlmutter gives us a lot of information to achieve optimal health. Everyone should gift their primary care physician a copy of this book. He wants to help us learn to be our own health care advocates. After Grain Brain, I changed my lifestyle and am happy about it. Drop Acid by Dr Perlmutter is a must read if you want to improve your health no matter what. Many thanks to the physician who cares about the well being of others.
I wasn't ordering to read a book about evolution

Derived From Web

, Feb 23, 2022

The media couldn't be loaded. I put all of the ideas in the trash because of the constant referral to evolution. It is a shame that a book that should be helpful for people with medical conditions spent so much time trying to fact find for evolution. The theory of evolution is a load of garbage and should not be in the book. It was a waste of time.
Most senior citizens are not aware of what is bothering them, this book shows them what it is!

Derived From Web

, Feb 21, 2022

This book is amazing. The introduction was great. Senior citizens need to read this book and follow the LUV diet plan. I'm following all the methods in the book. I will be able to eliminate my pain and reduce my acid levels. I have already told my friends about it.
Incredible Reading, Leading Edge Information

Derived From Web

, Feb 20, 2022

Drop Acid is a must read if you care about your health. Dr Perlmutter brings us the latest research based programs that give us useful guidance to improve and keep us healthy. At 73, I am encouraged to know that I have better ways to live longer, be active and enjoy good health. I'm very lucky to have come in contact with his books, DVD and talks on many online avenues. Thanks to my husband's cardiologist, who brought us in contact with his first book, which changed our lives, much gratitude. Grain Brain and his books have given us hope and information in a confusing world of health advice. I would like to thank Dr P for his dedication and care for us. I am inspired to live a long active life and remain hopeful because of your goal of living to a happy and healthy 100 years.
. disappointment

Derived From Web

, Feb 17, 2022

The author repeats his conclusions from previous books due to lack of time. He ignores the effects of meat and dairy products on the effectiveness of our kidneys while focusing on fructose. This book is the only disappointment I have.