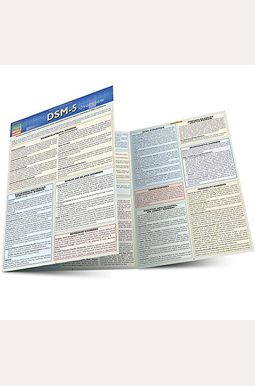 
 
Book Overview
Overview of highly relevant aspects of the updated Diagnostic and Statistical Manual of Mental Health Disorders - Fifth Edition (DSM) handbook used by health care professionals as a guide to diagnosing mental disorders. Disorders are summarized to be useful for students and professionals as a handy reference to support the study of the DSM-5 manual or its use in practice.
Topics summarized include:
Neurodevelopmental Disorders
Schizophrenia Spectrum and Other Psychotic Disorders
Bipolar and Related Disorders
Depressive Disorders
Obsessive Compulsive and Related Disorders
Anxiety Disorders
Trauma and Stressor Related Disorders
Dissociative Disorders
Somatic Symptom and Related Disorders
Feeding and Eating Disorders
Elimination Disorders
Sleep-Wake Disorders
Sexual Dysfunctions
Disruptive, Impulse-Control, and Conduct Disorders
Neurocognitive Disorders
Personality Disorders
Paraphilic Disorders
Other Mental Disorders
Other Conditions That May be a Focus of Clinical Attention
Frequently Asked Questions About Dsm-5 Overview
Book Reviews
(9)
Did you read Dsm-5 Overview? Please provide your feedback and rating to help other readers.
INNACCURATE!!

Derived From Web

, Apr 20, 2022

I'm studying for my LCSW and purchased this to supplement my other study material. This is not correct. Too many errors to count are what I've found. Will try to get a refund, but I wanted to post this to save others. I missed questions on a practice test because of incorrect information.
In this DSM-5 Overview, the description of obsessive-compulsive personality ...

Derived From Web

, Apr 20, 2022

The description of obsessive-compulsive personality disorder is the same as the description of obsessive-compulsive disorder. There are two disorders. This is a mistake.
Good Summary

Derived From Web

, Apr 20, 2022

I enjoy the format and information. I was disappointed to learn that there were no code numbers. I didn't know that before I ordered it. It's a good tool.
Great College cheatsheet helper!

Derived From Web

, Apr 20, 2022

This was not something my daughter asked me to do. Tjis was a suggested add on when I read the book. The other students wanted to know where my daughter had ordered it. The books are worth more than the added couple of bucks. It stays in great shape because it is laminated.
Good Reference for Psych

Derived From Web

, Mar 6, 2022

The standard criteria that always come at the end of the DSM-V criteria are 'these symptoms are not better explained by another disorder or drug'. Quality descriptions of psychiatric disorders are provided by cutting out all of the fluff. I use it as a quick reference when doing case studies because I'm in Psych NP school. Once you have more information about icd-10 codes, differentials, etc., you'll be able to crack open the DSM. I think my wife will use it more than I will as she's studying for her exam which covers a lot of psych content.
not as useful as I expected

Derived From Web

, Oct 10, 2021

The only information I have to refer to is the DSM-5, which is what the information only refers to. I wanted something that made me feel better about the criteria for the most seen disorders, not a summary like the ones I already have to write for graduate school. Don't spend money on this.
Not for a professional who needs a quick reference with codes and criteria.

Derived From Web

, Jul 28, 2019

A waste of money. I was expecting a summary of codes and criteria. If you are taking abnormal psychology for the first time. This may be able to serve your needs if you are looking for a laminated equivalent of Cliffnotes. Don't waste your money if you are looking for a quick reference to fill out your bill.
No DSM V Dx codes included. Dumb

Derived From Web

, Feb 26, 2019

The overall quality of the product, laminate and useful information would have gotten 4 or even 5 stars, but why did they not include the diagnostic codes next to each dx category? Many people who have failed to memorize all the codes will have to go to the book or manual to get these. Shouldn't have been necessary. So not a quick guide. The company should ask what were you thinking.
Very disappointed. Is not accurate for the DSM 5 changes

Derived From Web

, Jul 6, 2018

Very sad. The DSM 5 changes are not accurate. It will work if you are a beginner in the class. If you are a therapist, don't worry.