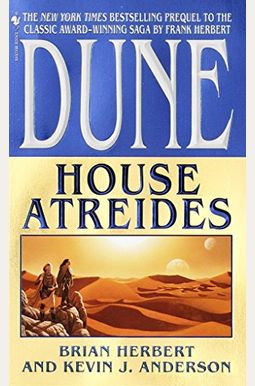 
 
Book Overview
THE NEW YORK TIMES BESTSELING PREQUEL TO THE CLASIC AWARD-WINING SAGA BY FRANK HERBERT
Frank Herbert's award-winning
Dune
chronicles captured the imagination of millions of readers worldwide. By his death in 1986, Herbert had completed six novels in the series, but much of his vision remained unwritten. Now, working from his father's recently discovered files, Brian Herbert and bestselling novelist Kevin J. Anderson collaborate on a new novel, the prelude to
Dune
--where we step onto the planet Arrakis . . . decades before
Dune
's hero, Paul Muad'Dib Atreides, walks its sands. Here is the rich and complex world that Frank Herbert created, in the time leading up to the momentous events of
Dune
. As Emperor Elrood's son plots a subtle regicide, young Leto Atreides leaves for a year's education on the mechanized world of Ix; a planetologist named Pardot Kynes seeks the secrets of Arrakis; and the eight-year-old slave Duncan Idaho is hunted by his cruel masters in a terrifying game from which he vows escape and vengeance. But none can envision the fate in store for them: one that will make them renegades-- and shapers of history
Fans] rejoice in this chance to return to one of science fiction's most appealing futures.--The New York Times Book Review
Frequently bought together
Frequently Asked Questions About Dune: House Atreides
Book Reviews
(7)
Did you read Dune: House Atreides? Please provide your feedback and rating to help other readers.
Excellent

Derived From Web

, Nov 28, 2021

I'm going to keep this review short. I' ve read Dune, Dune Messiah, Children of Dune and Heretics of Dune. B. Herbert and K. Anderson's work is much easier to read than F. Herbert's. Why did you do it? The writing style of the prequels makes it easier to comprehend and absorb. B. Herbert and K. Anderson wrote in a casual way. The challenge I have with F. Herbert's writing is that it was often all over the place. Are we still talking about the same thing, or is it a completely different topic? Syndrome. F. Herbert goes off- course with his writing, and then goes back to the plot after three pages. It stays on course because it provides enough opening for the reader to get to know each character and not get lost in metaphysics. Get the books. You will like it.
Phenomenal Prequel Series

Derived From Web

, Feb 1, 2021

Frank Herbert's son and another author combine their talents to add 3 books to the Dune series in order to prove that space wars don't have to be boring. Excellent back story leading up to the original Dune novel can be found in these awesome stories. Highly recommended for fans of the series, and probably a better way to spend your time than watching the upcoming movie which will inevitably screw up.
While not perfect a must read for Dune fans

Derived From Web

, Dec 25, 2019

I loved reading this book. It's a great way to get a richer history of Dune, with the development of Leto Atreides as a main character, and some really cool new characters and development of other well known ones. Not Frank Herbert, you can tell that right away, there is good writing with some scenes just top notch CONs. Characters most of the time unidimensional, and some really bad scenes where resolution feels frantic, pushed, not elaborated. House Harkonnen is hoping for more information about the Dune universe. If you get the book, you won't regret it.
Dune House atreides prelude to book 1

Derived From Web

, Nov 19, 2019

I was introduced to a new author in high school by Mr. Herbert. Dune will answer a lot of questions if you were left with them after reading it. Sometimes I was only able to read a chapter at a time. When I could get time to read more of this saga, I always looked forward to it. I recommend this book to anyone who wants to be swept away into a space opera. I can picture the story in my head. Accurately told! Thanks to the Herbert family for carrying the torch. I'm looking forward to the next story. Please forgive the mistakes in my writing.
Stunning...

Derived From Web

, Sep 7, 2019

I am still in shock and awe for the magnitude of this accomplishment. The mastery with which this story was created and written is awe- inspiring, as well as gripping me in the wonder of the story and how it wraps around the complex worlds of Dune. I have to read Dune and all of the other books in the series again, after so many years, as well as continue these massive and compelling Dune prequels. It was joy! There are many hours to look forward to, immersed in these fascinating worlds. This is a really good read. Take a dive! You won't be sorry.
All Dune fans should read the newer books

Derived From Web

, Apr 25, 2019

Frank Herbert wrote the Dune series many years ago, and I like science fiction. When his son started writing books to fill in his father's gaps, I jumped into them and devoured each new chapter as soon as it became available. The first book in the new series is about Duke Leto Atreides. The events happen a generation before the original Dune book and together with the other two they give a great introduction to the original books providing a better background to everything that follows.
The history behind the characters of Dune

Derived From Web

, Mar 16, 2017

This book was good. If you' re a fan of the original Dune series by Frank Herbert, this is the first book in the series of sequels by his son Brian and Kevin J. Anderson. Some of the histories of the characters in the original Dune series are going into Dune House Atreides. The story is full of action and intrigue. At the beginning of most chapters, the authors keep the practice of including little philosophical quotes from various people in the Dune universe, but somehow these quotes, or at least their relevance to the rest of the story, are easier to understand than those associated with the original series The action in this book is easy to understand, despite the complicated plots and counter- plots.