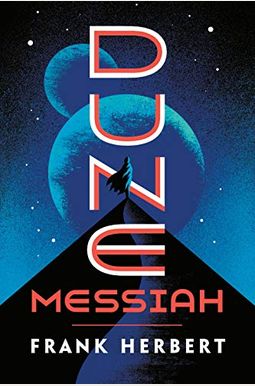  
Book Overview
This Description may be from another edition of this product.
Book Two in the Magnificent Dune Chronicles--the Bestselling Science Fiction Adventure of All Time
Dune Messiah
continues the story of Paul Atreides, better known--and feared--as the man christened Muad'Dib. As Emperor of the Known Universe, he possesses more power than a single man was ever meant to wield. Worshipped as a religious icon by the fanatical Fremens, Paul faces the enmity of the political houses he displaced when he assumed the throne--and a conspiracy conducted within his own sphere of influence. And even as House Atreides begins to crumble around him from the machinations of his enemies, the true threat to Paul comes to his lover, Chani, and the unborn heir to his family's dynasty.
Frequently Asked Questions About Dune Messiah
Book Reviews
(9)
Did you read Dune Messiah? Please provide your feedback and rating to help other readers.
The Originator of Ideas

Derived From Web

, Apr 20, 2022

It felt like I was reading many of my favorite books in one book. Dune can be found in Robert Jordan's Wheel of Time series and Martin's Song of Ice and Fire series. Without Dune, there would be a serious void in both the sci-fi and fantasy genres. It was well worth the time I spent reading it, and I was refreshed by the way Herbert wove this story. Dune is the work of a master story teller. Dune is a book written for a teenage audience that lacks in complexity and imagination of word use. This is a man's novel.
Just excellent

Derived From Web

, Apr 20, 2022

I don't think it's possible to compare this to the first book. It isn't always obvious that hero-ship is available. The first book was written with the same concern for detail and accuracy. Most Dune fans will like this book even though it takes a little while to get used to the more somber scene.
More intrigue than sandworms

Derived From Web

, Oct 24, 2021

After many years of re-reading and watching Dune 2021. I'm thankful for the in depth analysis on the book on the internet. It's a place in Dune.
"The hearts of all men dwell in the same wilderness."

Derived From Web

, Oct 19, 2021

Dune was about half the length. It's not quite as satisfying as a read, but it does make you want to read more of the Dune universe. Less action replaced with political and religious challenges. The book does a great job of staying true to Paul while also showing the dark side of government and religion. I'm excited to read the next book in the Dune universe.
Love the new covers

Derived From Web

, Apr 1, 2021

The end piece for Dune was great. Mesiah should be an appendix if both novels are bound together. Make sure you read this after Dune. You won't regret it.
Nowhere near as good as first Dune book

Derived From Web

, Mar 29, 2021

I'm reading Dune again. The middle book is hard to read. I'm sorry but I can't wait to finish the second book.
Still great after 40 years

Derived From Web

, Jan 31, 2021

The book is wonderful. It's too young to really understand it in the 80s. It's a good idea to read it on the device. I can see the true meaning of the words that wereinfecting me in my paperback reading.
"It was mostly sweet," he whispered, "and you were the sweetest of all."

Derived From Web

, Sep 23, 2020

Dune Messiah is an underaprieciated masterpiece. In the first trilogy, God Emperor is the bridge between two different trilogies. Herbert resurrected Duncan Idaho, who will be the main and central character for the rest of the Dune saga, in Messiah.
Essential reading for Sci Fi fans

Derived From Web

, Sep 1, 2019

I have not read Frank Herbert yet. He takes his world creation even further than Tolkein did. I almost see these books as reflections on society and government. He uses very advanced language that may make you stop and think. I think it's appropriate for a novel set in the future with most characters being royalty. It makes me think and understand how to build a fantasy world.