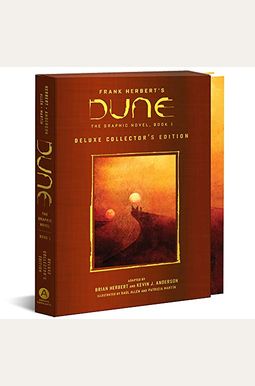  
Dune: The Graphic Novel, Book 1: Dune: Deluxe Collector's Edition, 1
Frequently Asked Questions About Dune: The Graphic Novel, Book 1: Dune: Deluxe Collector's Edition, 1
Book Reviews
(9)
Did you read Dune: The Graphic Novel, Book 1: Dune: Deluxe Collector's Edition, 1? Please provide your feedback and rating to help other readers.
New to Graphic Novels - What a great first choice!

Derived From Web

, Dec 28, 2021

As a teen, I consumed the Dune series and this is my first return to Arrakis. It was thoroughly enjoyed. So little time to re-read this graphic novel was a great way to relax with Arrakis without having to sit down and read the books for months - that was my original intent. But as I flipped through the graphic cells, I quickly came to appreciate the beauty of the illustrated novels. The moments captured in the cells were chosen expertly, communicating the important parts of the story in a cohesive and flowing way. I have no idea how they were able to choose the right scenes from such a packed novel as Dune and tell the story so well. I get the next in the series. To those involved in the production of this graphic novel, thank you for introducing me to a new genre. I'll explore many more.
great read for lovers of Dune, general sci-fi, and graphic novels

Derived From Web

, Feb 9, 2021

Dune The Graphic Novel is a great read for lovers of Dune, graphic sci-fi and general novels. Of course, it is not as detailed as the book, but it highlights the main themes and is still easy to follow. It is a great, quick way to read the story and not have to live through the entire book. I still wish it would have had the glossary at the end, as do the books. It not only helps new Dune readers understand more of the story, but also helps refresh the memory of Dune fans. I am a little disappointed with the art. It is not bad, but it isn 't much to write home about. There is nothing that is dynamic or stands out in any way. Showing first glimpses of the vastness of space or the short look at a new planet are perfect times to really bring out a dynamic piece of art, but alas, it was kept clean and simple.
A bland adaption that is not connected to the movie.

Derived From Web

, Nov 27, 2020

The art and panel layout are incredibly dull, flat, square and frankly boring. The book is NOT an adaptation of the characters from the new film, so why they waited to release until the movie was scheduled to come out, I am unsure. The pages are almost immediately warping from poor quality paper. Overall, a disappointing conclusion to a 5 month wait.
Beautiful book- warped pages.

Derived From Web

, Nov 25, 2020

A beautiful book with striking illustrations and stunning colors overall. My copy, however, came with damaged pages to me. So much so that you can not even close to book completely.
This graphic novel brought Dune to life

Derived From Web

, Nov 25, 2020

I am a huge Dune fan and have read the books a number of times. My only complaint with this book is that we won 't see Volume 2 until Spring 2022! Okay, it isn 't a gripe, I can 't wait to read more!
Beautifully done

Derived From Web

, Nov 24, 2020

I read the original Dune earlier this year, and this adaptation does an incredible job of bringing the imagery to life.
Awesome graphic novel!

Derived From Web

, Nov 24, 2020

The book itself is beautiful Kevin J Anderson and Brian Herbert did a great job of breaking the 1st 3rd of the best sci-fi books. The art of Ral Allen and Patricia Martin is fantastic. I highly recommend this book for people who discover Dune and life-long fans!
Absolutely beautiful

Derived From Web

, Nov 24, 2020

I have not yet finished it, but it is almost a scene for a scene recreation of the original novel. So far, I found it completely engrossing, though I have read the novel several times or more over the years. I am sad that the Dune movie has been delayed, but this is a nice gift to hold me over for a while longer.
Find book elsewhere

Derived From Web

, Nov 24, 2020

Another website for sale! Find another seller! The book was packed in an oversized box with 0 packing material, the book had no protective wrapping and to top it off the dust cover appears to be covered in what appears to be glue. Absolute disappoinment. The novel has beautiful artwork itself and I love Dune's story. Look for a good copy of this just by looking elsewhere.