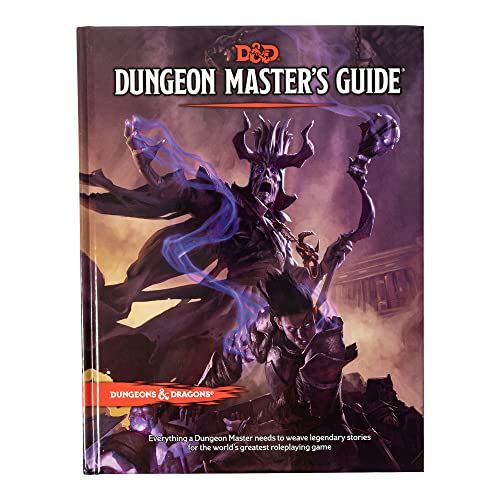 
 
Dungeons & Dragons Dungeon Master's Guide (Core Rulebook, D&d Roleplaying Game)
Book Overview
Everything a Dungeon Master needs to weave legendary stories for the world's greatest roleplaying game
The Dungeon Master's Guide provides the inspiration and the guidance you need to spark your imagination and create worlds of adventure for your players to explore and enjoy. Inside you'll find world-building tools, tips and tricks for creating memorable dungeons and adventures, optional game rules, hundreds of classic D&D magic items, and much more - The third of three core rulebooks, this book contains tools a Dungeon Master needs to provide captivating stories and game play.
- An excellent resource for new and existing Dungeons Masters to engage in both adventure and world creation, with rules, guidelines, and sage advice from the game's experts.
- Created as part of a massive public playtest involving more than 170,000 fans of the game.
Frequently bought together
Frequently Asked Questions About Dungeons & Dragons Dungeon Master's Guide (Core Rulebook, D&d Roleplaying Game)
Books like Dungeons & Dragons Dungeon Master's Guide (Core Rulebook, D&d Roleplaying Game)
What should you read after Dungeons & Dragons Dungeon Master's Guide (Core Rulebook, D&d Roleplaying Game) Book? Here is a list of books to read if you read and loved Dungeons & Dragons Dungeon Master's Guide (Core Rulebook, D&d Roleplaying Game)
Book Reviews
(26)
Did you read Dungeons & Dragons Dungeon Master's Guide (Core Rulebook, D&d Roleplaying Game)? Please provide your feedback and rating to help other readers.
Perfect for 5th and a great DMG overal.

Derived From Web

, Apr 20, 2022

This is a great guide for dungeon masters. It's a no brainer for 5th, but I have to say that this is one of my favorite editions of the dungeon masters guide books. There are a lot of tables and inspiration for a dungeon master. It makes it a snap to build worlds and adventures with new dungeon masters having a better jumping off point. The option rules and workshop in the back make it easy to make your game. This is a great book and reminds me a lot of the ADandD1st ed., so I wish the index was completely redone, but I will say that some things are not where I feel they should be. DMG was my favorite until now.
Looks good and nice quality

Derived From Web

, Oct 4, 2021

While not the most extensive screen available, this official one is solid, well built and seems like it'll last for a while. Also, having some useful information already available is nice for those who can not always be bothered by lots of complicated customization.
Needs more info

Derived From Web

, Jul 18, 2021

The dm screen is supposed to have info about the dm could use if needed. The info seems to be very basic. It is almost more useful to face the Info - side of the players to the face.
Foundational piece for a DM

Derived From Web

, Jun 21, 2021

It is a crucial piece for any DM. You won't read this cover to cover, but it will help you in a lot of situations. It's useful in building campaignsworlds, but not much in the moment.
Seriously?

Derived From Web

, May 25, 2020

Look, I ordered before from Amazon and I have never been disappointed, but the screen I received looks secondhand for some reason. Not only are scratches and dents in the screen but also there is a small tear on the top. I don 't know what happened, but I am not super happy with what I got.
Everything you'll need in this beautiful and detailed book

Derived From Web

, Dec 31, 2019

This book has everything you need to play a game, from combat to roleplay to skill check difficulty, and the pages are glossy and nice to look at, and the pictures are very detailed and gorgeous.
Good Product

Derived From Web

, Dec 3, 2019

This DM screen provides a lot of basic information needed to be a DM, but lacking quite a bit of information that I think could be more useful, but it definitely does the job of providing the essentials to start your game with. Good product, good packaging.
too small

Derived From Web

, May 30, 2019

Justly, is too small... Gave it away. I made my own out of scrap wood. id recommend doing this over this. If you do, you homebrew especially ANYTHING.
Amazing DM Screen and Great Price!

Derived From Web

, Mar 4, 2019

My DandD group was just using a makeshift DM screen. I bought this because the reviews were great, but I didn 't know what to expect. However, after using it for a little while longer, I have come to love it. It is packed with great info and I received it at an amazing price. Definitely a must-buy for any new or experienced DM.
I hesitated to get a screen but glad I got it. High quality!

Derived From Web

, Feb 2, 2019

Not as high as I expected, but great for cover and the ability to reach. I did not know what to expect, but the quality was higher than I expected. Very pleased ''. The art is love!