Buy 3 Get 1 Free
Our Best Sale Yet! Add 4 Books Priced Under $5 To Your Cart Learn more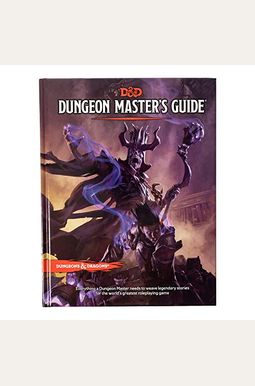 
 
Dungeons & Dragons Dungeon Master's Guide (Core Rulebook, D&D Roleplaying Game)
Book Overview
Everything a Dungeon Master needs to weave legendary stories for the world's greatest roleplaying game
The Dungeon Master's Guide provides the inspiration and the guidance you need to spark your imagination and create worlds of adventure for your players to explore and enjoy. Inside you'll find world-building tools, tips and tricks for creating memorable dungeons and adventures, optional game rules, hundreds of classic D&D magic items, and much more - The third of three core rulebooks, this book contains tools a Dungeon Master needs to provide captivating stories and game play.
- An excellent resource for new and existing Dungeons Masters to engage in both adventure and world creation, with rules, guidelines, and sage advice from the game's experts.
- Created as part of a massive public playtest involving more than 170,000 fans of the game.
Frequently bought together
Frequently Asked Questions About Dungeons & Dragons Dungeon Master's Guide (Core Rulebook, D&D Roleplaying Game)
Books like Dungeons & Dragons Dungeon Master's Guide (Core Rulebook, D&D Roleplaying Game)
Book Reviews
(10)
Did you read Dungeons & Dragons Dungeon Master's Guide (Core Rulebook, D&D Roleplaying Game)? Please provide your feedback and rating to help other readers.
Perfect for 5th and a great DMG overal.

Derived From Web

, Apr 20, 2022

This is a great guide for dungeon masters. It's a no brainer for 5th, but I have to say that this is one of my favorite editions of the dungeon masters guide books. There are a lot of tables and inspiration for a dungeon master. It makes it a snap to build worlds and adventures with new dungeon masters having a better jumping off point. The option rules and workshop in the back make it easy to make your game. This is a great book and reminds me a lot of the ADandD1st ed., so I wish the index was completely redone, but I will say that some things are not where I feel they should be. DMG was my favorite until now.
Foundational piece for a DM

Derived From Web

, Jun 21, 2021

It is a crucial piece for any DM. You won't read this cover to cover, but it will help you in a lot of situations. It's useful in building campaignsworlds, but not much in the moment.
Everything you'll need in this beautiful and detailed book

Derived From Web

, Dec 31, 2019

This book has everything you need to play a game, from combat to roleplay to skill check difficulty, and the pages are glossy and nice to look at, and the pictures are very detailed and gorgeous.
Good edition, smart chapter design.

Derived From Web

, Dec 12, 2018

The new version of the manual is great. 5 is based on adventure campaign building and feels like a re-enactment of the rules from the DM's perspective. There are lots of roll-able lists and explanations for everything from how a kingdom should work to how to make dungeons. It almost feels like you are in your own adventure book.
I find that Piazzo better explained some concepts that the DMG kind of glazed ...

Derived From Web

, Oct 21, 2018

The guide for DnD 5ed is the dungeon master's guide. The book and process of game play are what you expect from Wizards of the Coast. The DMG kind of glazed over some concepts that Piazzo explained better. I'm new to DnD and being a DM, but isn't that what this edition of DnD is supposed to cater to?
Be the Master of the game and have an adventure with your friends.

Derived From Web

, May 22, 2018

If you are playing DandD with friends, you must have the Dungeon Master's Guide. The updated and easier to play version of the classic is what you need to get back into it. The rules are easy to understand, and you can run the adventure with this book. This is a must have for DandD fans like me.
Bad quality

Derived From Web

, Apr 3, 2018

The physical quality of the book is terrible. Some pages have excess paper on them. I pulled the pull tab on the box to open it and it almost feels like someone cut the pages with a box cutter. Every other DandD book I've ordered has been good quality and I was extremely disappointed.
The contents are great! Just not sure about how they're all put together though...

Derived From Web

, Mar 21, 2018

The media couldn't load. What a great resource to have! If not for a couple issues, I would have put in 5 stars. The book binding was upside down. This looks like a new guy. He left a sticky note map on the cover. It's nifty, but I feel bad buying an idea for a country from this book. When I hold the book upside down, my PCs are losing confidence in me. It's a problem. I'd like to send the map back if it's the poor new guy or Chris Perkins.
A tome of madness!

Derived From Web

, Jun 9, 2017

I knew I needed to know more after playing my first game of DandD. I was driven to madness by the urge to create my own worlds. I was compelled to look for information in the dark places. The dungeon masters guide is a tome that gives you everything you need to improve your game and help you create your own adventures. There are a lot of random tables for generating everything. Don't rush out and buy this if you're a new dungeon master. It's a nice reference book to have because there's plenty of published adventure and free content online that will keep you going long after the starter set.
5 Stars for Book, Minus 1 Star for Quality

Derived From Web

, Apr 23, 2017

I am currently playing DandD 5e for the first time with my friends and if you are like me, you want the real thing, not a demo. I purchased the full Guidebook after reading the basic PDF. The book is amazing and spectacular, but the physical book has some flaws that make it hard to read. Some of the pages have water damage and the binding is not even. If you want to take charge of the game with your friends, then you need to get this book. It might have some physical defects.