Buy 3 Get 1 Free
Our Best Sale Yet! Add 4 Books Priced Under $5 To Your Cart     Learn more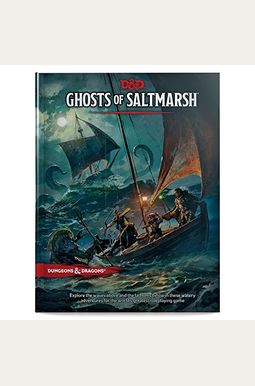  
Dungeons & Dragons Ghosts Of Saltmarsh Hardcover Book (D&D Adventure)
Frequently bought together
Frequently Asked Questions About Dungeons & Dragons Ghosts Of Saltmarsh Hardcover Book (D&D Adventure)
Book Reviews
(9)
Did you read Dungeons & Dragons Ghosts Of Saltmarsh Hardcover Book (D&D Adventure)? Please provide your feedback and rating to help other readers.
Great source material

Derived From Web

, Nov 23, 2021

To be honest, Gotta don 't actually play 5e, but I bought this as source material for a future game using castles and crusades. The book is of high quality and worth having on your shelf.
A classic series of D&D Modules retold with style!

Derived From Web

, Dec 13, 2019

This is a classic collection of DandD modules merged into a single campaign. Although this version is 5e, it can easily be converted and used for Pathfinder 1 and DandD 3.5 if you have the Monster Manual for these rule sets.
Ehhh

Derived From Web

, Nov 7, 2019

Bought it for the new info about ships and boats for the campaign I am running. It had a lot of information that is already in the DMG and PHB. If I ended up returning it, I would have ended up returning it. It could be useful for the additional adventures, though.
You'll fall in love with Saltmarsh

Derived From Web

, Aug 27, 2019

I believe it, our first in the great new setting, our first in Greyhawk, I believe. The city of Saltmarsh and its outlying area is a really fun sandbox setting for a campaign. New details, great adventures and fun monsters abound. Just a really solid addition all around. Also SHIP STATBLOCKS, SHIP STATBLOCKS SHIP STATBLOCKS.
Seriously?

Derived From Web

, Jul 25, 2019

Issues with printing leave recurring pages, a wavy issue for WOTC. Please wizards, come up with some new ideas. Recycling the same old material, updated for 5E, is very tiresome. Where is creativity, innovation and delight in so many older modules present? The adventures in this compilation are great... as they were years ago when they first appeared. Though changing the lizard king to a lizard queen to appeal to the PC-crowd earns you another star. WOTC is still waiting for greatness from WOTC. Haven 't seen it in years.
Like all WTC just take care opening for the first time

Derived From Web

, May 23, 2019

The book itself is good with nice info on ships and npcs monsters you would want to use in your campaign. Just remember, though you can suddenly flip these books open. They are fresh out of the printer and you have to be gentle. Set it on a table and settle a little at the center, then allow the two covers and halves of the pages to open on their own. It takes about half a minute to get it right, so don 't get impatient. Once that is done, press gently on the two halves. The next time you open it, be gentle again. Eventually you will be able to open the book no problem.
Lovecraftian Themed D&D Setting

Derived From Web

, May 22, 2019

Book is in general excellent shape and some great adventures and locales. I love nautical settings and this has the Lovecraftian experience of Dunwich with fish people, a small town on the coast and bigger threatening threats beneath the surface. Dunwood '' is actually a play on Lovecraft's Dunwich ''. As usual, art is top notch. My only disappointment is that this is not situated in the Forgotten Realms. I am not sure why they chose Grayhawk after years of setting up adventures in the Realms.
Warped pages

Derived From Web

, May 22, 2019

Due to my compulsion to have each book for the 5th edition, I truly want this book. But as with some other books by Wizards, there is a warping on pages throughout the entire book. Not sure if it is from heat or water damage, but this is a known issue and nothing seems to get done ever. Returneding it for a new one would be useless as I have done this before and the replacement book also had warping. I love their products but hate their poor quality control. Be warned : Be prepared.
Binding issues STILL

Derived From Web

, May 21, 2019

The book is good. Adds to the collection : But after all those years when the PHB and DMG came out and had binding issues, you are still having issues with bindings at WotC. Perhaps you all need to stop printing binding presses and switch to the same.