Buy 3 Get 1 Free
Our Best Sale Yet! Add 4 Books Priced Under $5 To Your Cart     Learn more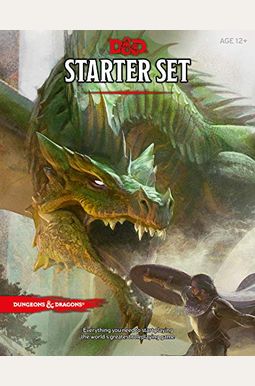 
 
Dungeons & Dragons Starter Set
Book Overview
Everything you need to start playing the world's greatest roleplaying game.

I recommend the D&D Starter Set] for anyone who's curious and wants to learn D&D.--Ed Grabionowski, io9.Gizmodo.com
The Dungeons & Dragons Starter Set is your gateway to action-packed stories of the imagination. This box contains the essential rules of the game plus everything you need to play heroic characters on perilous adventures in worlds of fantasy. Explore subterranean labyrinths Plunder hoards of treasure Battle legendary monsters
- FIVE READY-TO-PLAY CHARACTERS
- SIX DICE
- ONE ADVENTURE BOK: LOST MINE OF PHANDELVER
- ONE RULEBOK
- ONE CHARACTER SHET

D&D acolytes are everywhere. . .Tech workers from Silicon Valley to Brooklyn have long-running campaigns, and the showrunners and the novelist behind 'Game of Thrones' have all been Dungeon Masters.
--Neima Jahromi, The New Yorker Dungeons & Dragons is the world's greatest roleplaying game. Created in 1974, D&D transformed gaming culture by blending traditional fantasy with miniatures and wargaming. The main Dungeons & Dragons books are the Player's Handbook, Monster Manual, and Dungeon Master's Guide.
Frequently Asked Questions About Dungeons & Dragons Starter Set
Books like Dungeons & Dragons Starter Set
Book Reviews
(10)
Did you read Dungeons & Dragons Starter Set? Please provide your feedback and rating to help other readers.
It's okay

Derived From Web

, Dec 13, 2021

I was expecting more from this product. Maybe a free digital copy to use on the DandD app. There are empty character sheets for people who want to create their own characters. This is a great product for the newcomer to D&D, but I was expecting more from it.
Major production quality issues

Derived From Web

, Dec 6, 2021

When I first played DnD, my son was the same age as I was. It is not good as delivered. There are multiple misprints where complete pages are missing and others where they are included up to 3 times. The production quality is not better because it is free online. In the first place, I would have downloaded the PDF and printed it. Don't get me wrong. This set would be a great starting point for someone new to DnD, but I would recommend the download instead of spending money on a useless product.
Prefect starter set.

Derived From Web

, Jul 28, 2020

This is the one to choose if you only have the funds to buy one resource. The Lost Mines of Phandelver is the best campaign to start in the forgotten realm setting. This set comes with an expanded dice set that includes D20 and 4D4s. I wish my friends and I had access to this kit when we were just sneaking around looking for a place to play.
Best way to get into the Game

Derived From Web

, Jan 29, 2020

If you have a full set of new players, this is the best way to start. The pre-made characters are great for people who are starting out. The standard set of 7 doesn't come with the second d10 and that's my only gripe. The adventure is a good jumping off point for any adventure. We have been playing for a year, and I am almost done with it. The pre-made characters leave a little to be desired for experienced players, but that isn't who this set is for.
Great transitional game. Push through first "part" then gets better for player choices.

Derived From Web

, Dec 22, 2019

I have been running a Fate system party for over a year and this kit is amazing. I tried to change the group into the 5e. I picked up the essential kit for our second try. It was a little linear at first but as they warmed it up it went way better than expected and I am glad I bought this. The dice that came with the set were missing a 20 side, but I have tons of dice. If I really needed it, I can find it on Amazon. NewDMs take a day to memorize and read. A cheat sheet of what rooms are connected to each other is a good idea. You should flip back and forth between the pages of the adventure book. You will get faster with practice.
Great for noobs

Derived From Web

, Feb 14, 2019

I played a little DandD back in the 80s but didn't remember much. My 12 year old wants to play something other than video games. So far it's been good! We began painting our own miniatures. My son and I have been playing the adventure as a way to learn the game and get our feet wet, even though you really need 4 or 5 people to play. If you are completely new to being the DM, and you want to learn as much as you can before you start, you should spend some time reading through the books. If you start the adventure after the first chapter of the rules book, you won't be able to finish the game because you'll be constantly stopping and flipping through the pages to figure out what to do. DandD is not a game you can just jump into, but this starter set makes it very easy to get started. It is worth what you pay on Amazon. You should pay double at the store.
Guess I'm D&Dumb

Derived From Web

, Jan 6, 2019

I don't want to give a poor review, but to clarify, there was no issue with the set, it came in as described. It is difficult to make sense of what you get in the box. I bought this for my son for Christmas and we can't figure out how to play it. I thought we would be able to figure it out with it being a starter set. It seems like a game you have to play with an experienced player. If you are buying this to get an initial understanding of DandD, look for an experienced player.
Makes for a great teacher as well as a great campaign module

Derived From Web

, Jul 16, 2018

I already had the Player's Handbook so I didn't need the basic rules. I wanted the Lost Mine adventure and a little guidance for the first time. This did not fail to impress me. The adventure is full and detailed, and balances guiding and encouraging him to be creative. The adventure introduces new players into the world of Dandd. Three newcomers in our group have picked things up quickly and are having a lot of fun.
Box set perfect for beginners

Derived From Web

, Jun 27, 2017

Excited to begin! Everything I need to get a feel for the game is included in the new box.
... my husband and I are 80's babies and we love the old games

Derived From Web

, Jan 15, 2017

We love the old games, songs, and looks from the 80's. etc... I got it for him when I saw it for sale, because he used to have it when he was younger. The package was well packaged and when he opened it, he was so happy that he got it for Christmas. I am learning how to play it because he is begging me to do it. The only complaint I have with this set is that I wish it had come with a board, for some reason I was thinking the old sets did, but I could be wrong on that. If it had, it would have been even better.