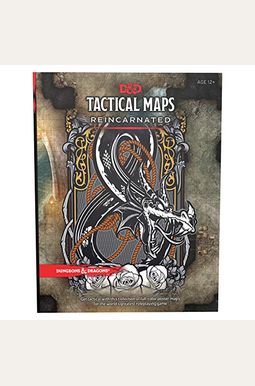  
Dungeons & Dragons Tactical Maps Reincarnated (D&D Accessory)
Book Overview
Bring your Dungeons & Dragons game to life with this collection of twenty beautifully rendered, full-color, tactical poster maps.
Maps are a key element of every Dungeons & Dragons campaign. A map's importance in bringing your world to life can't be overstated. The same can be said for your encounter maps. Sometimes you need a visual representation of the area your adventurers are in, or perhaps tactical combat is simply the way your group rolls. However you play, we've got you covered. Twenty beautifully rendered, tactical poster maps are contained herein, perfect for bringing any D&D game to life.
- 20 full color poster maps. Each is adorned with a 1-inch grid, perfect for use with D&D miniatures.
- A wide assortment of terrain, environments, and locations are represented.
- This Best of collection is carefully chosen from some of our most exciting adventures:
- Tomb of Horrors (4th edition)
- Vor Rukoth (4th edition)
- Demon Queen's Enclave (4th edition)
- Death's Reach (4th edition)
- The Book of Vile Darkness (4th edition)
- Kingdom of the Ghouls (4th edition)
- Dungeon Master's Kit (4th edition)
- Orcs of Stonefang Pass (4th edition)
- Fields of Ruin (3rd edition)
- Gargantuan Blue Dragon (3rd edition)
- Vaults of the Underdark (4th edition)
- Legend of Drizzt Scenario Pack (3rd edition)
- Colossal Red Dragon (3rd edition)
- Red Hand of Doom (3rd edition)
Frequently Asked Questions About Dungeons & Dragons Tactical Maps Reincarnated (D&D Accessory)
Book Reviews
(9)
Did you read Dungeons & Dragons Tactical Maps Reincarnated (D&D Accessory)? Please provide your feedback and rating to help other readers.
Fantastic product! Needs better packaging!

Derived From Web

, Aug 27, 2020

I absolutely love these maps, Tunick said. This is a very well rounded selection, Sosa said. There are many different landscapes, dungeons, towns and a few neat buildings to choose from. Reincarnated tiles create new places and make the maps your own! It came in a thin paper "folder" and when it arrived the packaging was crinkled at the top. I'd prefer to display my stuff on a larger screen. I hide this by sliding it under the tiles.
A Good Collection of Maps for a Reasonable Price

Derived From Web

, Sep 27, 2019

Thanks for the collection of maps. I used several of them recently at a DandD event, and they worked great. Added dungeon tiles to some of the maps to customize them to my liking. The file includes information about the beast, its size, area of effect, and line of sight. It would have been nice if there was some indication where these maps came from so we could find some nice background on various aspects of the maps to help with inspiration and use, he said. It's a careful placement of clear packing tape that will extend the life of the fridge.
Great value for the price, but I honestly would've paid more for something more durable

Derived From Web

, Jun 21, 2019

Icy places, lava flow, small forts or castle keep it all. The maps are fairly thick, making them relatively sturdy, Hubach said. However, as with most folding posters, they don't lay flat, and they aren't completely abuse-proof. I would have paid more for a thin, board-game-style mat that folds flat and doesn't budge, he said.
Affordable and WOW Do You Get a lot of Stuff

Derived From Web

, Mar 20, 2019

I bought it because it was the only one that fit my bill.
Do you dare?

Derived From Web

, Mar 20, 2019

The product arrived on time and was extremely well packaged. Well will be printed an assome addition to my home brews and more. It's still paper, but you should take care of them or they won't last. Other wise, very satisfied with the terrains.
Low quality paper, not modular.

Derived From Web

, Mar 10, 2019

The maps are printed on extremely thin, fragile paper, feel like they're about to rip away just from pulling them out of the folder. Many of the maps have an even worse problem - they continue off the edge, making one question Why bother if they're only going to print a fraction of it? The choices that were made in designing the space suit were quite bizarre, he said. This product is nearly useless.
Low quality paper and low quality images

Derived From Web

, Mar 1, 2019

The paper is very low quality and the map images are also very low quality. Or you could print it yourself at home.
Good maps, low quality paper

Derived From Web

, Feb 20, 2019

These are double sided poster-sized maps that are printer on fairly thin paper. If you are going to use them, I would suggest getting a clear plastic piece to put over them to protect them.
Esoteric maps with no preview images (updated review)

Derived From Web

, Feb 19, 2019

He added that he wanted to see "general maps that could be used in a broad variety of encounters." There are a few, but most of the maps are really esoteric environments that I will never find a use for. Even with the addition of the "save" function, I suspect that I will never have a need for most of these maps. Instead of adding re-hashed images from the Dungeon Master's Guide to the inside flaps of the binder, I would have liked to have had thumbnail images of the maps. If you're looking for a variety of maps with broad application, this may not be the product you're looking for. In my opinion, this would have been a great addition to the set of maps.