Buy 3 Get 1 Free
Our Best Sale Yet! Add 4 Books Priced Under $5 To Your Cart     Learn more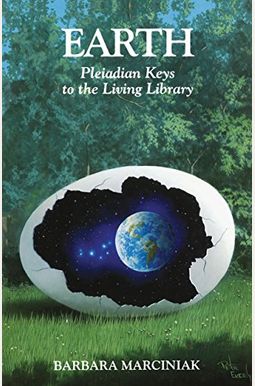 
 
Earth: Pleiadian Keys To The Living Library
Book Overview
NEW CONSCIOUSNES / CHANELING Awaken, dear friends, within this dream and realize that it is your duty and responsibility as human beings to imagine and visualize a safe world. It will be as you decree, and your own experience will thus reflect it. Embraced worldwide as key spiritual teachers of our times, the Pleiadians are back, with another bold and controversial look at our highest purpose on Earth. Earth: Pleiadian Keys to the Living Library is their handbook to inspired living, calling on us to restore and return value to the human being, and to recognize the Goddess energies and the power of blood as connections to our DNA and our heritage. Using wit, wisdom, and deep compassion, they entice us to explore the corridors of time through the concept of the Game Masters; to awaken the crucial codes for multidimensional perspective; and to redream the Living Library of Earth. Their teachings are significantly arranged in twelve chapters to trigger a deeper understanding of our ancestral lineage. Earth probes the memories hidden deep within us to reveal our crucial roles in the transformational process unfolding in our times. Praise for Barbara Marciniak's bestselling BRINGERS OF THE DAWN The Pleiadian teachings can be likened to that of a shaman, that ancient sect of consciousness which has served as intermediary between the realms of the physical and the spiritual, leading Read More chevron_right
Frequently Asked Questions About Earth: Pleiadian Keys To The Living Library
Books like Earth: Pleiadian Keys To The Living Library
Book Reviews
(15)
Did you read Earth: Pleiadian Keys To The Living Library? Please provide your feedback and rating to help other readers.
Buy the 3 books at once

Derived From Web

, May 21, 2022

Buy the 3 books at once, bringers of Dawn, Earth and Family of Light. You read all three and want them in this order. If you are drawn to the Pleiades, you will receive a wealth of understanding.
great trigger your consciousness read!!!

Derived From Web

, May 21, 2022

This book is such a trigger! Then the author speaks about how the Tibetan monks reached extremely high levels of consciousness were covered in gold as they left their bodies, to hold their vibrations on the Earth. The next day on my Facebook thread, the Hustory channel showed a gold buddah that was X-rayed and there was a skeleton. God swear to God! Cool stuff, I highly recommend all her books!
Trust Yourself, there are many ways to look at life

Derived From Web

, May 21, 2022

I understand that the author received the information on a trip to Egypt and Greece, then published it and proceeded to speak to interested groups. Thanks to my professional nurses - organization, I found it on a reading list, just as I was battling an illness. Barbara heard a talk by John Rosselli. Shortly, it was empowerment, which means accepting responsibility, news and television is not trustworthy and respecting our Earth. I recommend Earth to anyone facing illness because another message is that there is no one way to heal things, to care more for your body as a practice. Healing is in reinterpreting what has happened to you and trust yourself-your own fan club.
Earth-Keys to the Living Library

Derived From Web

, May 21, 2022

Barbara Marciniak's books are a great book, as are all good books by Charles Merrick ; I recommend them highly. Better than any other available source on the Pleiadians channeled IMO. Although for those who are squirmy about the old mysteries of sex, the power of the woman's blood and the darker side of life, I would caution that you might be in for a shock and you might want to wait to read it. I suggest that you start with her first book, Bringers of the Dawn, before reading it. It is more of an introduction and sets things in chronological perspective, especially if you are coming from a strict religious background.
Excellent Book for the Trailblazers into the Age of Aquarius

Derived From Web

, May 21, 2022

I have marked many, many parts and underlined them. I am so grateful to have found it and be able to read it, and I am grateful that Barbara Marciniak was able to put all that information into a book. If you're a lightworker, I definitely recommend this for you.
Awaken Dear Friends... within this dream

Derived From Web

, May 21, 2022

I read a lot about 12.21.12 and stumbled upon this book. Here I found wonderful perspectives on the meaning and purpose of life in it. For me, the book is about believing that we create our own reality and then acting on these beliefs. Our mind is the foundation and what we think becomes what we say and do. The power of the feeling must not be forgotten. Some of the ideas in this book are way out there, but it offers us possibilities. We are all on our own paths. I am open to the possibilities that Barbara, Karen and Tera share with us.
Earth: Pleiadian keys to the living library

Derived From Web

, May 21, 2022

The sound is reverberating through all our creation. There is only the upliftment ''... the remembering. The wisdom contained within this book is beyond the words. I have already begun with the deepest gratitude for the Pleiadian's assistance with this epoch journey we have only begun. One of these beings came to me in July 1991 and changed my life and those around me in a way I could never have imagined. The work that Barbara has done over these years has been key to the awakening that is now taking place.
read at your own pace for effectiveness

Derived From Web

, May 21, 2022

I have almost thrown this book out ''. Where does the motivation come from? For one reason, I found the part about the uses and applications of women's menstrual flow in the Galvanization of the goddess difficult to relate to. BUT I LOVED THIS BOOK because the other parts about the feminine power made sense to me. I also retained this book, because it has the most beautiful, positive, and constructive visualization meditations at the end of each chapter. I keep it for the most important reasons. I experienced one of the most ecstatic states of awareness I have ever had during meditation after one of the chapters. A few days later, I experienced a surprising personal revelation from my own guides. Although I kept this hard to admit that it was life transforming!
Best Book I've Purchased

Derived From Web

, May 21, 2022

I love this book absolutely ''. I love it so much that I take my time and dissecting the knowledge in it. This is not a book for entertainment. If you are interested in living life on a higher level, this book will help you most certainly get there.
Not as described

Derived From Web

, Mar 10, 2021

The condition was listed as used Very Good book has been wiped clean. The pages and dust cover are intact and not marred by notes or highlighting. TRUE IS NOT a resource. The entire book - every 3-4 pages - was marred by written text in a red pen, notes in the margins and yellow highlighter. I wanted to get a clean copy. I have returned it.