BLACK FRIDAY DEALS CONTINUE - SAVE 20% AT CHECKOUT WITH CODE CYBERBOOK. Learn more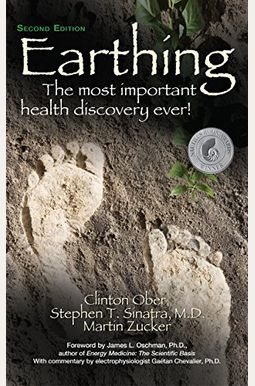  
Earthing: The Most Important Health Discovery Ever?
Book Overview
This Description may be from another edition of this product.
'Earthing' introduces readers to the landmark discovery that living in contact with the Earth's natural surface charge - being grounded - naturally discharges and prevents chronic inflammation in the body. This effect has massive health implications because of the well-established link between chronic inflammation and all chronic diseases, including the diseases of ageing and the ageing process itself.
Frequently Asked Questions About Earthing: The Most Important Health Discovery Ever?
Books like Earthing: The Most Important Health Discovery Ever?
Book Reviews
(13)
Did you read Earthing: The Most Important Health Discovery Ever?? Please provide your feedback and rating to help other readers.
Best book I ever bought!

Derived From Web

, May 10, 2022

My family had HUGE health changes due to the Earthing. In the middle of the night, the head of Less peeing. I make the sheets for them from the lessemf. com fabric, (3 ft is good for 2 people ). Over this, fitted sheet was placed. My Fibro is 90% better in 3.5 mos. Husband's back pain due to crushed vertebrae is less painful after 2 weeks of sleep on the sheet in 35%. He became a chiro to help his pain, but NOTHING worked like that. A chronic snorer now w/eventual sleep apnea, sometimes he doesn 't snore now. The you-tube documentary film Grounded the Documentary is a must-see. Get a workout in a bit and see how your sleep changes.
Excellent Book, valid health claims

Derived From Web

, May 10, 2022

The author tells an interesting, honest story of how he discovered Earthing and provides the science behind it. He is right -- it works! I'm lucky to live near the beach, so I have been walking barefoot on the sand more. An interesting side effect not mentioned in his book is that my feet seem to have become stronger and less sensitive after regular barefoot walking on the sand approximately 2-3 days per week.
Fantastic book. The key to better health is literally ...

Derived From Web

, May 10, 2022

The key to better health is literally under our feet! It makes sense that humans have been exposed to ac only in the past 100 years and that we have become divorced from the Earth via rubber soled shoes in the past 50 years. The authors thank you.
Awesome Book that everyone should read.

Derived From Web

, May 10, 2022

After reading this and several other books on the subject, EarthingGrounding found me to sleep much better. My dad and I had more dreams when I was emanking, but my wife did not notice any change in dreams. We feel energized and healthier, however. The other book I would read along with this is '' Dirty Electricity Electrification and the Diseases of Civilization by MD Samuel Milham 2nd Edition. I work in a business environment, where there is a large amount of dirty electricity, and have found that Earthinggrounding has helped reduce the negative effects of this environment.
Interesting Concept

Derived From Web

, Nov 5, 2019

Not sure I could buy into the whole philosophy, but an interesting read and easy ideology. In any event, it never hurts to return to Earth.
A Must Read

Derived From Web

, Apr 25, 2018

We should all be given this information, but there is not a lot of money in health. Doctors are taught to prevent our symptoms, not taught how to treat them. ; I am 78 and have been suffering with Lupus for over 40 years. The other day I went for a walk with my cane and no shoes on the beach, no pain in my body within hours. Since then, Haven 't worn the cane and walked out barefoot a few times a day. I ordered the bedsheet and pad just because I have never suggested this to me. My son was a doctor as was my father's. The book is read by ! Save The Day! ''
I'm Embarrassed to Admit How Well This Works...

Derived From Web

, Mar 31, 2018

I feel weird writing this ''. The grounding works. It does really well, but I feel awkward telling people about it. They look at you like you lost your mind. How can connecting with the Earth heal your body? It sounded too simple, too easy, too good to be true. But I have to tell you that it works to reduce inflammation, which causes so much of my pain. My Osteoarthritis pain has diminished considerably, my gums are less swollen and I heal quickly from minor injuries. I know that this sounds funny and I can not help how it sounds. But you have nothing to lose if you are in pain. It does not require medical insurance, a prescription from a doctor, or invasive treatments. Just connect with the Earth and it will provide you with the energy to heal. Get your embarrassment over and give it a try. You won 't regret it.
Everyone needs to be aware of this.

Derived From Web

, Feb 26, 2018

Where I live, we have snow from October to April, where we can hardly see the ground for about 6 months, let alone go barefoot on it. Even before reading this book, i was quite convinced that barefoot waa was healthy, but i wanted to understand more about it and how to do it in winter. This book answered my questions more than others. In fact, it takes reading a part of the book to be completely convinced to try it at least. I don 't have any major health problems, but I believe in the power of the Earth. When i read all the testimonials in there, i thought about 10 people who should try this for their pain, allergies, insomnia, etc. Make sure that you don 't miss the information in the thia book.
I don't know if this works, but its doing great between my ears....

Derived From Web

, Feb 26, 2018

I use it for many grounding adventures... I sleep with their sheets grounded at night, and I use a wrist band during the day to stay grounded all the time...
It really works!!

Derived From Web

, Feb 19, 2018

This book is my favorite! The concept is something I have seen before, but does not connect it to the Earth itself, instead thinking it was just relaxing in nature, enjoying the summer. It is perhaps one of both. It is now winter in the Midwest, so I can barefoot through the lawn, and I am thousands of miles from a warm beach, so I ordered the earthing mat. I sleep in the night for the first time in 20 years! I have used it for 6 days and I feel like it is life-changing! Can 't wait to see what I feel and look like in six months! Give it a try, you have nothing to lose but your aches and pains and wrinkles and sleepless cortisol levels and high nights!