Buy 3 Get 1 Free
Our Best Sale Yet! Add 4 Books Priced Under $5 To Your Cart     Learn more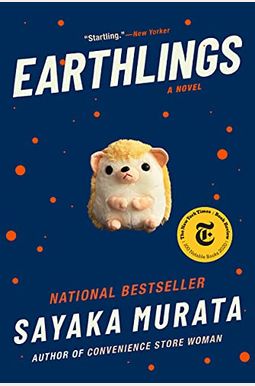  
Frequently bought together
Frequently Asked Questions About Earthlings
Book Reviews
(9)
Did you read Earthlings? Please provide your feedback and rating to help other readers.
It's abnormal and hilarious.

Derived From Web

, Dec 1, 2021

I may not be of popular opinion, but I absolutely love this book. It is so bizarre and ridiculous, but also hilarious. It does cover taboo subjects, but the straightforward prose makes it digestible. For some reason, it works for me. I wish more books that are flavorless, absent of any emotion story style. Overall, it is not going to be everyone's cup of miso. But if you are looking for a character that is bizarre and abnormal to the furthest point, give this a read.
The hardback glows in the dark

Derived From Web

, Aug 29, 2021

The glow-in-the-dark lettering on the slipcover is probably the best feature of this book. It is the kind of novel that teenagers may find strange or gross or maybe awesome depending on their appetite for family neurosis, sexual abuse, incest and obsessive delusions. A more widely-read adult grows exasperated with repetition, lack of characterization and flat language that is somehow both stilted and middle-schoolish in its lexile level. Our hero is a girl who manages her trauma through disassociation and fantasy. These are not new ideas and are not treated with much originality. We leap forward in time from her childhood to years later, finding her in a similarly damaged marriage with a similarly light comic relief in what is ultimately an emotionally vacant narrative. Maybe it's a bad translation, but it feels like the author tried to write a Murakami-style novel for a YA audience and has failed on both counts.
WOW...stop right here

Derived From Web

, Jun 23, 2021

Stop reading the reviews, the content warnings functioned for me as a list of spoilers. I read this book because I loved the convenience store and also because the reviews were titled repulsive and the like made me laugh. I would not recommend it to anyone with a weak stomach. In fact, I would not recommend it. I would not recommend it to anyone at all, because this book will remain my dirty little secret. I am only willing to recommend it anonymously. Sometimes I couldn 't believe what I was reading. I reminded me of old Japanese horror films that are strange, absurd, creepy and full of wtf moments.
Don't believe the hedgehog cover. Utterly revolting - SKIP IT for your own mental health

Derived From Web

, Oct 30, 2020

While the societal commentary is spot-on and the prose is beautiful, this book starts strange, becomes deeply upsetting and lands on revolting. I can count on a hand the number of books I wish I had never read because they left such strong, repulsive imagery in my head and kept me awake at night. I can 't decide which is the least revolting part of the book, emotional abuse or child-on-child incest. Be aware that it gets only MUCH WORSE from there.
Repulsive

Derived From Web

, Oct 23, 2020

This book seems to be marketed as a bizarre, cutesie novel about a woman who thinks that she is an extraterrestrial, but it is a very superficial and somewhat misleading description. The book is black. The incestuous scenes are disconcerting a child being sexually abused by an adult teacher, an internal sexual encounter that shatters a family and a fantastical and expanded description of cannibalism. Yeah, this is a thought-provoking critique of society and pressure on individuals, especially women, to conform to social norms, and is valuable. But this book in my view was uncomfortable reading to an extreme. I don 't understand all the praise.
Read at your own risk

Derived From Web

, Oct 19, 2020

My main complaint is the innocent cover and the fact that it is categorized as a novel of the coming age. This is a psychological horror novel in full. It is disturbing and it will haunt you. Before buying this book, read some literary reviews of it so that you know what you are getting into.
The time to evolve is upon us

Derived From Web

, Oct 15, 2020

I enjoyed reading about old people who feel the fantasy system is not working for them. I feel that way my whole life and now that much of normal human life seems broken, unmanageable, and cruel to people, animals and the Earth. We must find a different way or go extinct.
A miss

Derived From Web

, Oct 12, 2020

Nah, I am sorry. A little too unsettling for my taste. I like the convenience store, but this one left me feeling disturbed just a little bit.
sorry I read this

Derived From Web

, Oct 12, 2020

I wish I had picked another book. The story perhaps does not translate well, but this was pretty bad all around.