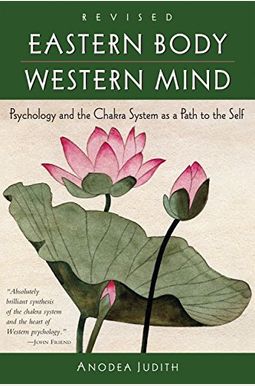  
Eastern Body, Western Mind: Psychology And The Chakra System As A Path To The Self
Book Overview
Revised edition of the groundbreaking New Age book that seamlessly merges Western psychology and science with spirituality, creating a compelling interpretation of the Eastern chakra system and its relevance for Westerners today.
In
Eastern Body, Western Mind
, chakra authority Anodea Judith brought a fresh approach to the yoga-based Eastern chakra system, adapting it to the Western framework of Jungian psychology, somatic therapy, childhood developmental theory, and metaphysics and applying the chakra system to important modern social realities and issues such as addiction, codependence, family dynamics, sexuality, and personal empowerment. Arranged schematically, the book uses the inherent structure of the chakra system as a map upon which to chart our Western understanding of individual development. Each chapter focuses on a single chakra, starting with a description of its characteristics and then exploring its particular childhood developmental patterns, traumas and abuses, and how to heal and maintain balance.
Frequently bought together
Frequently Asked Questions About Eastern Body, Western Mind: Psychology And The Chakra System As A Path To The Self
Books like Eastern Body, Western Mind: Psychology And The Chakra System As A Path To The Self
Book Reviews
(12)
Did you read Eastern Body, Western Mind: Psychology And The Chakra System As A Path To The Self? Please provide your feedback and rating to help other readers.
Fascinating, one of the best books Ive ever read!

Derived From Web

, Apr 20, 2022

One of the best books I ever read. One of the best books I ever read. I have read books on psychology, all kinds of self-help books, books on chakras, etc... None of them have been as fascinating as this book. I had a hard time putting it down. All the inforesearch rang true to me. It was very well organized, from the opening to the 7 Chakra Chapters to the closing. Its incredible info so much. Great Reference Guide : Tells you whether you are deficient, excessive or balanced in your chakras by your symptoms. Healing suggestions for Suggestions for Suggestions. I usually pass books on to friends not this one, I will refer back to this one again, I loved that book.
Required reading for westerners seeking deeper spiritual meaning

Derived From Web

, Apr 20, 2022

The only criticism I have for this book is that it is not long enough! Truly, Truly Truly. When I read this book, I immediately pulled out my pencil and began to take copious notes in the margin, underlining, etc. I was captivated throughout the journey. Anyone who comes from a Western culture and has an interest in understanding what the chakra system is and how it is related to our lives at every stage, needs to read this book. Judith does a fantastic job of merging the chakra systems with traditional Western psychology concepts and lifespan. She seamlessly combines and compares eastern and western concepts using charts, graphics and detailed descriptions, and compares. The main thrust of the book is that we experience different life traumas at different stages, and they affect corresponding chakras, creating deficiencies or excesses in how we channel energy. She gives concrete strategies for connecting each chakra and therefore healing our highest spiritual purpose.
A deeper knowledge of oneself

Derived From Web

, Apr 20, 2022

I purchased this book when I was in a sea of confusion and about my life in crossroads. It provided great insight into dark corners that I had even forgotten that I existed, but that played a great role in my personal affairs and stood in the way of achieving my goals. I use it as a guide for my path in life and often refer back to it when things are not going the right way. Since I purchased it the first time, I have purchased it again and again as a present for people who are dear to me. Highly recommended! Highly recommended! ''
Practical and Applicable

Derived From Web

, Apr 20, 2022

I enjoyed reading it as a parent, blessed with the opportunity and responsibility of raising a child. I feel it gives me some insight into my fellow humans and allows me to raise my son and heal my husband, and support him in having a healthy and happy life. I did not get lost int he metaphysical tree hugger stereotypical stuff like I do in some books, it was just refreshing and a good useful read.
A Masterpiece!

Derived From Web

, Apr 20, 2022

An articulate gift to those of us who are healing ourselves and assisting others with their healing. This is a reference book that offers new insights as we move on our path.
Very Deep--Very Dense

Derived From Web

, Apr 20, 2022

As the title suggests, the book tries to integrate Western psychology with parts of the Hindu tradition. It is a challenging task. The author, however, pulled it off. I would caution that this is not suitable for beginners of either psychology or Hindu chakras.
Enlightening thus far!

Derived From Web

, Oct 29, 2019

I can only give it four stars as I haven 't finished reading or forming an accurate opinion about the book, but I was really surprised at how big the book is actually! For those with aging eyes or vision problems do not worry, the font is PLENTY big enough! The cover is really good and the pages feel soft when you put your hand on them. You don 't get that cheap papery feeling like you do with gross books. Maybe this is just me, lol! I would definitely say that you have to be open minded to read it, however. When I finish reading, I will update when I finish reading!
Disrespectful

Derived From Web

, May 26, 2019

Judith misattributes a very well known Hindu saying to Buddhism in this book, very early on. There are a lot of other comments I could easily make about content that is strange or otherwise questionable, but ultimately I need not go further than this a white westerner making a buck off of concepts derived from the Dharmic traditions, but I must not go further than that a basic level of understanding about both Hinduism and Buddhism, which would come from taking a dharmic level survey course on either traditions. It is completely unacceptable to make such a silly mistake, it shows utter disregard for the intellectual traditions you are trying to repackage, and it is impossible to describe as anything other than the grossest cultural appropriation. I promise you can learn more about chakras elsewhere, I promise.
A lot of this book felt made up

Derived From Web

, Mar 4, 2019

I read this book as part of the training of a yoga teacher. While I think the psychological explanation for many of our neuroses was highly accurate and insightful, I could not buy the idea that this is related to chakras ''. I value evidence and I don 't feel that anything was presented in this book. It is easy to say a lot of stuff about energies and difficult to explain what even means. I took it all with a grain of salt. There is value in a lot of what Anodea Judith writes, but much of it is based on nothing.
Not geared for the layperson's indvidual jounrey

Derived From Web

, Nov 21, 2017

While I am very interested in the idea of incorporating western psychology into the eastern philosophy of the chakras, my interest is personal, I am looking to help myself expand my personal knowledge of my self. Unfortunately, entirely too much of this book was geared towards the therapist working with clients. Too many of the exercises were written in terms of having your client do this... or have your client do this... I don 't have clients and the exercises don 't seem to translate very well to a person doing their own personal work. The book returns.