OUR BIGGEST SALE EVER - SAVE 20% AT CHECKOUT WITH CODE CYBERBOOK. Learn more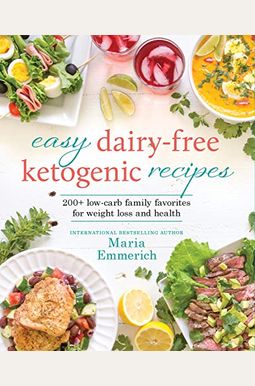  
Easy Dairy-Free Ketogenic Recipes
Book Overview
Although the ketogenic diet can be a healthy and satisfying diet for everyone, modifying it around other dietary restrictions can be challenging. People with dairy intolerances or allergies often struggle to adapt keto recipes, many of which rely on dairy staples like butter, heavy cream, and cream cheese. And good dairy-free alternatives can be hard to come by.
Maria Emmerich solves that problem with her latest book,
Easy Dairy-Free Keto.
Maria has been advising her clients to avoid dairy, at least during the initial stages of their foray into ketosis, for many years. She finds that even high-fat dairy products can stall weight loss and healing. That's why she set out to create an entire book of recipes that are safe for people who are avoiding dairy. With Maria's delicious high-fat, low-carb recipes, dairy-free keto home cooks will never feel like they are missing out. Those recipes include:
Almost Deviled Eggs
Snickerdoodle Mini-Muffins
Super Keto Pancakes
Curry Chicken Meatballs
Paella
Broth Fondue
Avocado Salmon Ceviche
Juicy Pork Loin
Avocado Toast
Mint Chip Gelato
Banana Bread
And much more Maria has gone out of her way to create an entire book of keto recipes that will appeal to everyone, whether they consume dairy or not. With over 175
Read More chevron_right
Frequently Asked Questions About Easy Dairy-Free Ketogenic Recipes
Books like Easy Dairy-Free Ketogenic Recipes
Book Reviews
(16)
Did you read Easy Dairy-Free Ketogenic Recipes? Please provide your feedback and rating to help other readers.
Wanted to love, but disappointed

Derived From Web

, Aug 9, 2021

I have made several recipes from here so far, but there are already several mistakes. Few recipes are extremely similar with just 1-2 ingredients changed like the coupe of the meatball recipes. I love photos, but the creamy lime sauce shows green sauce on pg 38-no red ingredients and has 1T of Paprika, so the sauce is green. Other pics that don 't match up. I have added my own nutritional information into Chronometer and my numbers have been very different. I know these recipes are Keto, but many say I have to eat more fat than I try, so I will reduce fat some, but many recipes I can not do at all. The few tried were tasty, but I think I can use maybe 15 of these maxes.
Great investment!!

Derived From Web

, Aug 24, 2019

Maria is simply wonderful! She truly knows keto and makes the most DELICIOUS recipes EVER!!!! I have made most of her cookbooks and i'm always cooking from them. I could eat Keto seriously without her cookbooks! We are proud of it!
Well thought out, organized, and amazing recipes!

Derived From Web

, May 29, 2019

Fat and carb stats are all laid out for each serving, making keto calculations super simple. When I decided to go dairy free on my keto diet, I thought I would have to get a regular keto cookbook and sub out all the dairy, but this book makes it so easy to be dairy free keto!
I wish I could return this book.

Derived From Web

, Feb 27, 2019

If I missed the deadline, I would return this book. If you don't have a sensitivity to eggs now, you probably will if you eat these recipes regularly. One of the main reasons for going Keto is also to banish sweet cravings. How can you do this is that every meal is sweetened with huge amounts of swerve? I think that all positive reviews for this book were written by Maria Emmerich's devoted followers. This one is skip.
Swerve away from this book.

Derived From Web

, Jan 1, 2019

I was so excited to receive this book ''. I have tried every recipe and 99% of them call for Swerve. This is a substitute for sugar. The reason I want to eat free Keto dairy is to eat healthier. I do not want a sugar substitute or a sugar substitute in my food. I refunded the item and was charged a restocking fee. Very disappointed overall ''.
Amazing recipes

Derived From Web

, Dec 28, 2018

So many amazing recipes! In the kitchen, you are truly a magician! Buy the book, you won t regret it! '' I have been in ketosis for nearly two years now. I don 't feel great with Maria's books, and I feel tempted! Thank you Maria, I am your biggest supporter!
The Egg Cookbook

Derived From Web

, Sep 16, 2018

The cookbook is unimpressive. The egg cooker should be called the cook book.
Great addition to your kitchen!

Derived From Web

, Jul 5, 2018

I couldn 't wait for another as an avid collector of Maria's cookbooks! When you are trying to limit dairy, having a full cookbook or dairyfree options is very much appreciated. Barbara's cookbooks are easy to follow and are worth every penny!
Big Beautiful Book

Derived From Web

, May 3, 2018

This is one of the most beautiful cookbooks I have ever seen. Full color photos of each dish and an index of recipes with thumbnail shots of all dishes. So many of the 200+ recipes looked delicious, all the desserts and the vegan and vegetarian recipes looked amazing. The soups and salads were also tempting. But I ended up sending it back because it uses so many eggs and because there were so many meat recipes. As I grew more and more depressed about becoming a meat eater, I realized that I will probably never cook from this book. But if you are really into meat and eggs, you will probably like this book.
I love this book because sometimes it's so easy to let ...

Derived From Web

, Mar 11, 2018

I love this book because sometimes it is so easy to let cheese be your whole diet and sometimes I run out of ideas to cook for my family and Maria always has my back. What great recipes are there?