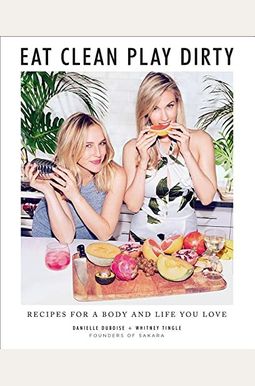  
Eat Clean, Play Dirty: Recipes For A Body And Life You Love By The Founders Of Sakara Life
Book Overview
Food should make you feel sexy, say Danielle Duboise and Whitney Tingle, founders of the popular organic nutritional program, Sakara Life.
In their debut book, Eat Clean, Play Dirty, the duo delivers delicious recipes and reinvigorating rituals to achieve nutritional harmony, a way to nourish the body and feed the spirit simultaneously. It's about saying yes to kale and to dessert; to early-morning asanas and late-night dancing. It's about prioritizing health without making sacrifices.
Since delivering their first meals by bicycle in 2012, Whitney and Danielle have changed thousands of lives across the country and garnered a long list of celebrity devotees including Gwyneth Paltrow, Jessica Alba, and Oprah. With
Eat Clean, Play Dirty
, they have gathered the vibrant, delicious dishes that clients and fans crave and make it possible to recreate the Sakara magic in their own kitchens. Changing the dialogue we have with our bodies and our plates, the cookbook empowers each of us to become our own chef and ultimate healer by using food as medicine. Each delicious recipe, from the Eat-the-Rainbow Wrap, Orgasmic Coconut Yogurt, Red Beet Burger, and the Everything Bagel with Garlic Schmear is designed to:
Frequently bought together
Frequently Asked Questions About Eat Clean, Play Dirty: Recipes For A Body And Life You Love By The Founders Of Sakara Life
Books like Eat Clean, Play Dirty: Recipes For A Body And Life You Love By The Founders Of Sakara Life
Book Reviews
(9)
Did you read Eat Clean, Play Dirty: Recipes For A Body And Life You Love By The Founders Of Sakara Life? Please provide your feedback and rating to help other readers.
Horrendous psyillium husk powder fever dream vanity project

Derived From Web

, Feb 9, 2021

The fresh earth is always fresh. eff you buy our meal delivery ''... Darlings, this is nasty!!!! The Sakara team must have exhausted their plant based energies reviewing the well-done photography and forgot to shop for, follow, read... literally spent 2 hours in the kitchen to make the dough for " Cinnamon Rolls " that will take another 2 hours of work tomorrow and after that I will have... six cinnamon rolls.
How many terrible recipes can you pack in a book?

Derived From Web

, Oct 25, 2020

Besides being the purest embodiment of privilege, as many other reviewers confirm, the recipes in this book are truly terrible. Nobody with half a little bit of sensual and decency would serve even their scummer enemies a salad dressing made with RAW garlic. The most disheartening villain would not make a soup with uncooked, raw spices. I wish that this book had never made it into my wife's hands. She now wants to replace me as the main home cook with these atrocious recipes.
Delicious but you do need more protein

Derived From Web

, Jan 13, 2020

I have used the Sakara meal delivery service on and off as I can afford it. I am also a very active person, walking, rock climbing, running. I have been a vegetarian and sometimes vegan for over 20 years and I HATE when people harp on me about protein. Most people get more waaaaaaaay than they need. However, even with Sakara's conservative estimate of daily protein needs, their recipes fall very far below the mark. If you look at them for three meals a day, you eat 20 to 30 grams generally. This is fine if you want to be a super thin model with a little muscle tone, but not great for the rest of us, especially those who are actively building and maintaining muscle mass. Whenever I eat Sakara, I usually add two eggs to my breakfast. Otherwise, delicious and healthy! ''
Better than expected!

Derived From Web

, May 14, 2019

I never heard of the Sakara Life or ordered their meals before buying this book. I had never heard a review about the book before my purchase. The delectable photographs and beautiful meals prompted me to give this a try. After preparing several meals out of it, most recently the beet burgers and the sexy NYC salad, I am a fan! The food is healthy and as a non-salad, anti-diet woman who joined Weight Watchers a month ago, this book inspired me to enjoy delicious food. These hip girls are simply selling a fun lifestyle that ditches the junk and promotes the good. What is so bad about this? Their recipes are fun and the layout of this book is solid to eat and plan meals for the family. I highly recommend ''.
Ok First Edition

Derived From Web

, Apr 19, 2019

I love Sakara, don 't get me wrong... but this was a little lack of luster. I also had some water damage, as another review noted earlier, and another mentioned the cover, mine was also wonky and didn 't fit quite right. I have close to thirty all vegan and gluten free cook books and while this has some good information and beautiful pictures, the actual recipes are not realistic for the general public to promote vegan eating and living from home. Since then, I have made a few recipes and the ingredients were pretty pricey, took a while to prepare, and did not taste as good as I had hoped. I think that the ladies will learn a lot from this and maybe their next will be better. I still love their products and continue to purchase from them! xoxo is a compound of
0 Guilt

Derived From Web

, Apr 19, 2019

I am a subscriber for Meal Delivery, so I was very excited when the book came out. The difference between them is that they are trying to make accessible for everyone, meaning that some of the ingredients are not the same as those in the book. I am lucky to live in NYC, so I don 't have this issue, like other people said. If you don 't have them and play around, you can substitute things.
Their Meal service/ differ from recipes in the book

Derived From Web

, Apr 17, 2019

I have been receiving their meal delivery for awhile and is extremely expensive! I was excited that they came with a cookbook so that I could have the meals at home. Some of the recipes look great in the book, but I am a little disappointed that they did not share much of the meals you get in the delivery service. Would have liked to have made more of a selection of recipes to make then what is just in the book! If you order the meal service, much more is made of a variety of meals, soups, sauces and breakfast is always the best. Was just hoping to be able to make my favorite's at home ( so if you were thinking that you would get the meals at home from their meal service, there are only a few in the book.
Vapid and ridiculous

Derived From Web

, Apr 14, 2019

I enjoyed the delivery meals of Sakara Life and thought they were high quality, though Sakara will not provide nutritional information or calories. I wanted to try the recipes so that I could estimate nutritional value and calorie count. I purchased everything I needed for the balancing macro plate and my grocery bill was over $250 just for a salad! The book is visually appealing, but it is difficult to describe when they describe things such as sexy cinnamon rolls and orgasmic yogurt. Ugh : I was hoping for more information on recipes and why the choice of ingredients is inane advice, like wake up extra early to have a nutritious breakfast and a quiet time for the best digestion. If you need this kind of information, this is the book for you.
Looking forward to diving into this book

Derived From Web

, Apr 10, 2019

Yesterday I received a kindle version of this book. It is beautifully photographed and I enjoyed the short stories about the authors'health journeys that led them to create the Sakara Life eating style. I have not yet created any of the recipes, but I did look at them all and am looking forward to making some healthy meals! A few recipes call for fresh pressed juice, but no worries if you don 't have one, as they offer substitutes. There is no judgement on using canned beans over cooking your own or buying your veggies spiralized or using store bought yogurt over homemade, although there is a recipe for coconut yogurt in the book that I might try one day when I feel adventurous!