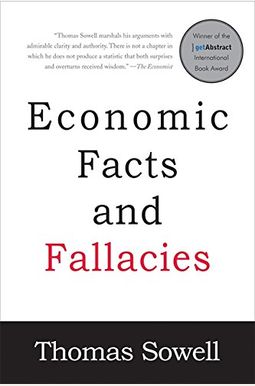  
Economic Facts And Fallacies
Book Overview
Economic Facts and Fallacies exposes some of the most popular fallacies about economic issues-and does so in a lively manner and without requiring any prior knowledge of economics by the reader. These include many beliefs widely disseminated in the media and by politicians, such as mistaken ideas about urban problems, income differences, male-female economic differences, as well as economics fallacies about academia, about race, and about Third World countries. One of the themes of Economic Facts and Fallacies is that fallacies are not simply crazy ideas but in fact have a certain plausibility that gives them their staying power-and makes careful examination of their flaws both necessary and important, as well as sometimes humorous. Written in the easy-to-follow style of the author's Basic Economics, this latest book is able to go into greater depth, with real world examples, on specific issues.
Frequently bought together
Frequently Asked Questions About Economic Facts And Fallacies
Books like Economic Facts And Fallacies
Book Reviews
(16)
Did you read Economic Facts And Fallacies? Please provide your feedback and rating to help other readers.
Awesome "here's what they don't tell you" book!

Derived From Web

, May 13, 2022

Yes, this author is politically conservative and there are definitely points in the book where this is obvious. There are even a few statsfacts that you can tell were bent to say one thing over another, but those are mostly few and far between. Mostly the book is filled with fact after fact that contradicts the common ways of thinking about our culture and why we developed the way we have int he u.s. If you are someone who already has your beliefs in concrete and don 't want to think differently, don 't bother. I guarantee that you learn at least 5 things that will change your views.
A great book

Derived From Web

, May 13, 2022

In this book, Thomas Sowell explores a number of economic fallacies repeated widely by politicians and activists, showing how wrong they are. His analysis of fallacies in areas such as income, gender gap, and urban development is fascinating. He also describes a number of common economic fallacies that use many people to build larger fallacies, such as the zero-sum fallacy. I found this book really useful and I recommend it to every citizen to help make informed decisions about the false claims made by politicians and activists to argue for a bigger government role.
The Reality

Derived From Web

, May 13, 2022

Rather than the usual biased stuff we read in the MSM, this gives the numbers to support the arguments. I know that stats can always lie, but I agreed with most views supported by these stats, so enjoyed this informative read. For a liberals and socialists, recommended to see how many of their policies have failed over time!
Wow

Derived From Web

, May 13, 2022

This is one of the few compelling arguments that runs counter to popular belief and is therefore worth considering. The dissenting opinion should be heard either way, right or wrong.
An excellent exposé and "text book".

Derived From Web

, May 13, 2022

This is a must read for anyone concerned about their country and their future future their families. Instead of believing the lies that the governments spout, they should have at least basic knowledge of economics.
This is terrific in clarifying and pointing out generally believed fallacies concerning ...

Derived From Web

, May 13, 2022

This is great in clarifying and pointing out generally accepted fallacies concerning economics. He is fantastic.
Great reading

Derived From Web

, May 13, 2022

Clarifies what was wrong in the tuition I received at my university, which I always felt was suspiciously underfounded on facts.
Great read!

Derived From Web

, Oct 20, 2021

Sowell does not disappoint as is usual. His writing style is so matter of fact that you are left wondering why you did not grasp the most basic of truths until he presented them to you. This should be included on the high school reading lists.
Should be required reading

Derived From Web

, Aug 31, 2021

This was my first Thomas Sowell book, so I have not had a ton of experience with Mr. Sowell before Economic Facts and Fallacies, but I expect more to my collection moving forward. With that said, this is a really interesting and fascinating read. I found the sections on college admissions, endowments and the rapidly increasing inflation of college tuition to be interesting, albeit frightening. This book was published years ago, so the prices have increased further and the goalposts have kicked further down the road. This book is useful to have a deeper understanding of the political fallacies presented by many armchair political pundits after reading this book. You will see immediately the fallacies espoused by logical pundits.
Something that needs to be said

Derived From Web

, Jul 5, 2021

This society is leaning to the left too much. Too many resources are wasted for useless policies and doctrines. It all goes back to the fallacies that accept many people with much thought. This book points us in the right direction and hopefully enlightens more citizens.