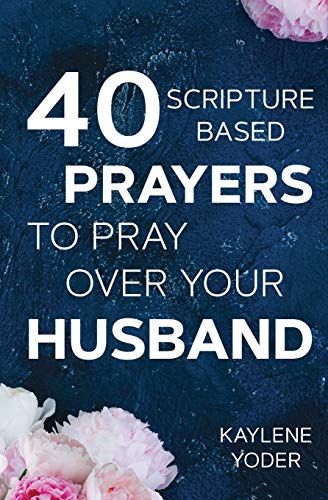 
 
40 Scripture-based Prayers to Pray Over Your Husband: The just prayers version of A Wife's 40-day Fasting & Prayer Journal
Book Overview
Do you ever feel like your prayers go unheard? Do your prayers feel dry and empty? Are you on the verge of discarding all prayer attempts?

Kaylene Yoder has been there. She has cried out to God asking where He is and why He hasn't showed up. When her only hope was to believe for a miracle, she found that the only miracle she needed was to hope in God's Word. She began applying Scripture during her prayer time and what ensued was a flood of peace and joy, even in the middle of a broken marriage.

In this prayer book Kaylene teaches women how to pray Scripture in ways that will move mountains and make the enemy quiver. Whether you are married, planning your marriage, or standing for your marriage, these Scripture-­based prayers will help you,

-align your heart with His will for you and your marriage,
-pray powerful, specific prayers focused on God's truth,
-build confidence in coming before Him,
-establish trust that He will answer according to His promises, and
-effectively evict the enemy from your marriage and future.

Praying Scripture trains us to keep our eyes on our heavenly prize and off our earthly plight. So with each prayer founded in God's Word be prepared to draw closer to His heart, gain greater wisdom, and receive divine authority to overcome your adversaries.

Read More chevron_right
Frequently bought together
Frequently Asked Questions About 40 Scripture-based Prayers to Pray Over Your Husband: The just prayers version of A Wife's 40-day Fasting & Prayer Journal
Book Reviews
(8)
Did you read 40 Scripture-based Prayers to Pray Over Your Husband: The just prayers version of A Wife's 40-day Fasting & Prayer Journal? Please provide your feedback and rating to help other readers.
Superb

Derived From Web

, Feb 19, 2022

I bought this book thinking that God needed to do some work in my husband... and idk what else I was thinking... maybe He had forgotten and needed a reminder? But of course, this is silly and, as you might have guessed, I have been blessed beyond this easy-to-use book with scripture-based, practical prayers.
Very relatable and easy to read!

Derived From Web

, Jun 30, 2021

Whether you have specific problems with marriage or like me, with more scripture - specific prayers to pray over your spouse, it is perfect for every wife. It has a table of contents, so when you need to pray on a specific topic, just flip to the correct page and start reading and praying. I love this author and also recommend the 40 prayers for your children book highly recommended!
REDIRECTED MY FOCUS

Derived From Web

, Jul 6, 2020

I was focused on the things that my husband did to distract me. I prayed for GOD to help me pray instead on being frustrated at what he was doing or not. This book has truly helped me. I recommend other women to use this book to help build up for your husband a prayer life. If you have children, she has also covered. I used both books to help me pray for my family.
Awesome Book

Derived From Web

, Jun 28, 2020

It is written in a beautiful way. I use it for the 40 days and then restart everything over again. I bought other books from her and will continue to buy her books.
Most important part of my day.

Derived From Web

, Dec 13, 2017

Such an amazing resource! I love the format of how it is written ''. Taking care of my little boys all day can often distract me from a diligent prayer for my husband. This book makes it so easy for me to give a focused couple of minutes each day to my most important task. Kaylene, thank you for another amazing book!
This book is full of scripture and is organized into 40 sections with titles like "Protecting Your Marriage

Derived From Web

, Dec 12, 2017

This book is full of Scripture and is organized into 40 sections with titles like Protecting Your Marriage, Guarding His Mind, Repentance and Forgiving Others '' and Spiritual Leadership '', each section has several scriptures and a prayer that focuses the theme of each section. This book will become a daily part of my regular Bible reading and prayer time. I will rotate between this book and the author Kaylene Yoder's other Scripture Based Prayer Book 40 Scripture Based Prayers to Pray Over Your Wife '' for my husband so that we can pray for each other at the same time. It is a book tool that can be used over and over again. I recommend this book to anyone who wants to grow up in their marriage and parenting in the Lord ''.
Strengthened my marriage

Derived From Web

, Dec 12, 2017

I can 't say enough great things about this book. She has a way of speaking what I mean to pray or what I need to say. This book helped to consolidate my marriage and grow my spiritual force. This purchase will not be regretful and your investment in your marriage! It is much cheaper than marriage counseling, so invest in your marriage before it would need to be repaired!
Convicting and Scriptural

Derived From Web

, Dec 11, 2017

I have never read a book of prayers so scriptural and convicting. Not only is it completely clear that these prayers are the will of the Lord, but they are also convicting not only of what I should pray for my husband, but also of what I can do in my own life. Other prayer books I have read are biblically based, but this takes the word for word and turns it into a powerful prayer. It feels like everything asked in prayer will happen because it is in the words of the Lord.