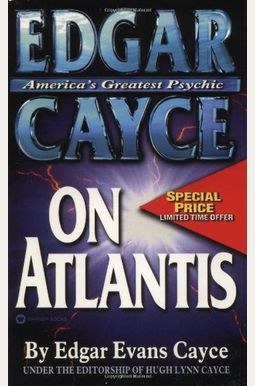 
 
Book Overview
Drawing on his own extraordinary Life Readings, Cayce sheds light on the legendary Lost Continent of Atlantis and predicts its reemergence. Within the context of reincarnation, he offers astonishing evidence of an Atlantean civilization, providing us with empowering insights as we enter the new age, as well as startling revelations that can help you resolve current problems and redirect your future.
EDGAR CAYCE ON ATLANTIS was interpreted by Edgar Evans Cayce and edited by Hugh Lynn Cayce, both Mr. Cayce's sons. Hugh Lynn Cayce also served as director of the Association for Research and Enlightenment (A.R.E.), a nonprofit organization dedicated to the practical employment of his father's findings.
Frequently Asked Questions About Edgar Cayce On Atlantis
Books like Edgar Cayce On Atlantis
Book Reviews
(14)
Did you read Edgar Cayce On Atlantis? Please provide your feedback and rating to help other readers.
Atlantis explained...if you believe

Derived From Web

, May 26, 2022

This book is based on the belief that reincarnation and spirtism in mind. If you don 't believe in the possibility of that, this book is ridiculous. It is read with an open mind.
Hope they find the historial records where Cayce said they are...

Derived From Web

, May 26, 2022

Good, but wish there had been some maps showing what the possible areas of Atlantis were during the first, second and final divorce and the areas the people went to... plus how the coastlines changed as the Earth changed. Other comparisons of what Cayce explained what had happened with what modern day research discovered... he was right there!
Most religions and occult knowledge of the esoteric(life/death/cosmology) comes from Atlantis

Derived From Web

, May 26, 2022

I picked this book in a used bookstore. As I know about Cayce and his accuracy, I had to read it. I was a believer of Atlantis before, but reading his accounts confirmed what I have known by adding details and tidbits of information to the picture. I always believed that most religions and occult knowledge of the Esoteric come from Atlantis and we could learn and know more if we just watched a little less TV and meditated a little bit more.
Interesting but not too exciting

Derived From Web

, May 26, 2022

This was a detailed report on most, if not all, Cayce's visions of Atlantis, and there are more than you think. It was pretty interesting, if a bit slow in places, as some visions repeat in parts.
really makes you think

Derived From Web

, May 26, 2022

i would recommend this book to anyone who wants to know more about Atlantis!! It also talks a little bit about the origins of European nature and how Atlanteans influenced many cultures of the world. Towards the end, it says about the Hall of Records still awaiting to be discovered under the paw of the Skphyinx in egypt. This book really forces you to think about life's mysteries and tries to get another perspective on what the answers might be. Great Book, Give It A Chance! '' For the Love of ''!
Fascinating reading material

Derived From Web

, May 26, 2022

Cayce's predictions are hard to believe, but what if his claims are true? He tells of light beings that visit the Earth before humans were around and getting trapped in flesh boddies. He brings the reader to the building of the Pyramids and much,much more.
Edgar Cayce shakes the foundations of our origins.

Derived From Web

, May 26, 2022

The book collects the readings by the renowned Edgar Cayce, on which the lost continent of Atlantis was mentioned. The reader is immersed in controversy, as Cayce's readings connect Atlantis to the origins of all unanswered and answered questions about the origins of man and civilization. Cayce's book is a must in a world in which we live with so many immaterial things and for those who are seeking a new light on their views of the origins of man and civilizations.
Atlantis as a Reality

Derived From Web

, May 26, 2022

Religions have developed a method of distracting us from other Helms of Possibilities and this is one of the few books that open the mind and heart rather than try to dictate an antiquated view.
Shocking and very interesting

Derived From Web

, May 20, 2021

I really enjoyed this book, especially interesting were Edgar Cayce's readings of reincarnated lives from the early days of humanity and the emergence of entities that projected themselves into materiality and had animal like appendages, worked as slaves and many years later had the appendages removed surgically to improve their appearance. This sounds really interesting and, to me, very wild and shocking.
Book in very bad shape

Derived From Web

, Jan 31, 2020

The book is in very bad condition, the book is very dry and brittle. The Page's are all falling out. I taped the back with Scotch tape. I'm trying to hold the pages in my reading!