Buy 3 Get 1 Free
Our Best Sale Yet! Add 4 Books Priced Under $5 To Your Cart     Learn more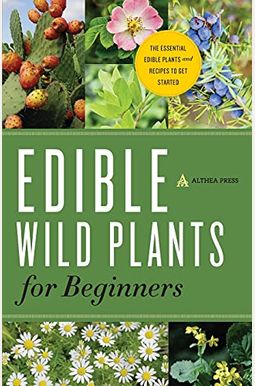 
 
Edible Wild Plants For Beginners: The Essential Edible Plants And Recipes To Get Started
Book Overview
Wild plants are not only beautiful, but they can also be an affordable and sustainable way to add flavor and nutrition to your diet. Edible Wild Plants for Beginners provides you with the essential information and guidance to begin foraging for edible wild plants and including them in your diet. Edible Wild Plants for Beginners provides profiles of common edible wild plants and includes information on dangerous look-alikes, the best time to harvest, where to find each type of wild plant, and how to cultivate your own garden. From natural remedies to delectable dishes and exotic cocktails, Edible Wild Plants for Beginners provides more than 95 ways for you to use these newfound ingredients. Edible Wild Plants for Beginners will help you explore the world of edible wild plants and teach you how to use them in your home and kitchen, with: More than 95 easy-to-follow edible wild plants recipes and remedies, including Amaranth Vegetable Curry, Pickled Jerusalem Artichokes, Chamomile Cookies, and a Purslane Martini Tips for foraging, harvesting, and cultivating edible wild plants Techniques for serving, preserving, and cooking with edible wild plants 31 edible wild plant profiles, including descriptions, distinguishing features, preparation and collection tips, and common uses 10 simple steps to making tinctures A guide to identifying edible wild plants and avoiding common poisonous plants With Edible Wild Plants for Beginners, you'll be able to start living sustainably, saving money, and adding variety to your diet the way nature intended.
Frequently Asked Questions About Edible Wild Plants For Beginners: The Essential Edible Plants And Recipes To Get Started
Books like Edible Wild Plants For Beginners: The Essential Edible Plants And Recipes To Get Started

Book Reviews
(14)
Did you read Edible Wild Plants For Beginners: The Essential Edible Plants And Recipes To Get Started? Please provide your feedback and rating to help other readers.
Useful reference

Derived From Web

, Apr 20, 2022

What I liked most about this book is that I have been curious about trying wild plants, but I didn't know which ones are edible. I love the pictures of the plants and the helpful descriptions and recipes. What I this book mentioned was that there were multiple poisonous plants in both the beginning and end of book, but had NO pictures of them, which bothered me. I know I can look through pictures myself, but it would have been handy to have them all in one book.
Good beginner guide to foraging. Excellent recipes!

Derived From Web

, Apr 20, 2022

I'm now interested in learning more about plants and getting this as a present. What I've been impressed by the step-by-step approach to learning about the usable parts of plants is how to properly taste them. My suggestion to improve plant identification as noted in the book would be to show illustrations with the plant as a whole — and also a grouping of leaves, he said. A good measuring tool would be to have a guide to the size of the plants. The footnotes and bibliographies seem to be quite extensive, although might be more helpful if listed at the end of the chapters, or if added for specific topic reference. I have truly enjoyed the book and the accompanying videos, and I'm excited to continue my research. It's great to have such a variety of recipes to choose from, said Mrs. Caramore.
Fantastic book- highly recommend

Derived From Web

, Apr 20, 2022

Our ancestors found dozens of edible wild plants to add to meat and fish, and the plants are now being grown. With Edible Wild Plants, it's easy for modern-day man to safely forage for food in the wild. This informative, engaging book is a must-have for anyone that enjoys vegetables and fruits and is looking for more variety, Raymond said. It includes pictures of the edible parts of each plant to aid in identification. It is recommended that you have this book with you at all times hiking or camping.
Edible Wild Plants; a great beginners guide

Derived From Web

, Apr 20, 2022

The book is titled "Introduction to Edible Plants" and was originally written by Douglas Hubbard. The book discusses how one can get started and what tools they will need to harvest and forge wild plants to eat. The book does a great job of describing what plants are good to eat and what they look like. It also covers how to avoid the nasty plants that could essentially do more harm than good. Since I'm behind the ears of this subject it really helps to have this book in handy. Other than that it was a great read, Gillian said.
Eye Opener

Derived From Web

, Apr 20, 2022

However, I did enjoy some of the non-foodie uses, like making tea or bath soaks. I did also like the thoroughness of this book and all of the pictures, and I am slightly curious how some of the things that I already make like minestrone would taste with some of their additions.
Fun and practical

Derived From Web

, Apr 20, 2022

This book is a great read. Like poetry foragers, Robert Frost said, "it's like poetry foragers." That's Me. Like most people, I like to know what I can find and where I can find it. The book goes into great detail describing such edible wild and domestic plants. Leaving you with the urge to research more, but giving you enough information to start doing so. What I liked the best about this book was the use of the wordage. Very expressive and you keep coming back for more. I consider it a great find, said Dr. Chester Floyd, director of NASA's Ames Research Center in California.
The Book to Read if You Want to Know All the Ins & Outs of Edible Plant Life

Derived From Web

, Apr 20, 2022

If you ever wanted to know what plants are harmful versus good for what ails you, this book is a great place to start. Part one looked at the foundational elements necessary to properly assess edible plant life. He also took great care in chronicling the evolution, hunting and gathering of this type of plant. Then, part two pertains to the specifics of the plants themselves as it thoughtfully relates to recipes and remedies broken down so far as to ensure that the subtitles are in alphabetical order. What makes this book unique is its ability to combine multiple subject areas into one easy-to-understand volume, said Loy and Kelly. It is truly written in such a way that anyone can understand it.
Good for beginners, and those already familiar

Derived From Web

, Apr 20, 2022

This is a great resource for someone newly introduced to the lifestyle, as it offers basic information, but also for someone who has practiced from the earth for years. There are some good preparation tips and safety tips, too, he said. Part Two of the book is devoted to recipes and remedies. This book is great for someone who is looking to live more 'from the earth,' and I would recommend it to many, he said.
An excellent addition to any library

Derived From Web

, Apr 20, 2022

It's a great book for every naturalist, science teacher, nature lover, and every parent of young nature lovers. This book will be of great interest to anyone who has ever wondered how to properly harvest wild plants. This book will help you find what to look for and where, how to gather the wild plants, and how to prepare them. In addition to that, you get colorful pictures of each plant, recipes for teas and smoothies to main entrees, as well as a glossary of definitions.
Very informative!

Derived From Web

, Apr 20, 2022

About a year ago, I decided to become a vegetarian to widen the variety of food I eat. The chapter description of the universal edibility test put my mind at ease about wrongly selecting a wild plant.