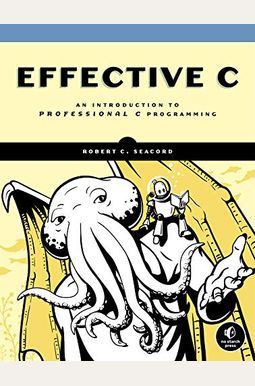  
Effective C: An Introduction to Professional C Programming
Product is currently Out of Stock.
You can add it to your wishlist and you will be notified once we receive a copy.
Book Overview
A detailed introduction to the C programming language for experienced programmers.
The world runs on code written in the C programming language, but most computer science programs only teach Java or Python as an introductory language. This book is for developers who already know how to program and want to quickly come up to speed on professional programming in C. They'll learn how to develop correct, portable, professional-quality code and build a foundation for developing security-critical and safety-critical systems. Written by renowned author Robert Seacord,
Effective C
is an in-depth look at the C programming language. Seacord introduces the language's basic data types and code structures while simultaneously addressing best practices, common errors, and open debates in the C community. Readers will also learn how to debug, test, and analyze C programs and benefit from detailed yet concise explanations of C language constructs and behaviors Readers will learn:
-
How to identify and handle undefined behavior in a C program
-
The range and representations of integers and floating-point values
-
How integer promotions are performed and how they may affect portability
-
The order of evaluation of expressions
-
Dynamic memory allocation including the use of non-standard functions
-
Read More chevron_right
Frequently Asked Questions About Effective C: An Introduction to Professional C Programming
Book Reviews
(6)
Did you read Effective C: An Introduction to Professional C Programming? Please provide your feedback and rating to help other readers.
Ineffective Manual on C

Derived From Web

, Nov 22, 2021

I was caused by a horrible naming practices used in the example throughout this book. All of the author's examples use names like 'func'or 'j' or sqrt '', which makes it a pain to read because the reader is expected to reason about what the examples are actually meant to achieve. I understand that this type of absurd brevity is historically more common in C - code, but it seems ridiculous to try and justify this brevity in an instructional manual, especially without any really acknowledging why it is happening. It was difficult to read this book and I wouldn't recommend it to anyone, although I would add it was correct and contained thorough information.
Incredible book on writing secure modern C code

Derived From Web

, Jun 19, 2021

Bottom Line : Buy this book if you write with C, you 'll be a better programmer, more deeply understand C and, if you follow this advice, write a better more secure code. You will receive excellent writing, a complete treatment of C and the standard library with all expected code snippets and examples, and tons of priceless knowledge about the behavior of C and its toolchain. This book will take you there. At $ 45-$50, it is not cheap, but is worth every penny. I predict that this will become as well loved and worn as my KandR book.
Not for first timers

Derived From Web

, Feb 23, 2021

This is NOT for first timers who want to learn c. Watch a tutorial on it and practice for a little. This will use jargon quite a bit and is more for beginners who know a little but want to grow. Also, the spine came undone on my book, but is still together. That said, the information in this is AMAZING!
Excellent Reference Book

Derived From Web

, Nov 16, 2020

I am very pleased with my purchase of this book. This would have made the book five stars. This makes the second book on C that I purchased and read. It got straight to the point without unnecessary filters in reading. This book is for experienced programmers who know the basics.
well_written++;

Derived From Web

, Sep 13, 2020

Where the standard seeks a more complete glossary and textbooks certify ommissive grey, effective C shines by distinguishing the members of sets of words like variable, identifier, object and duration, lifetime, linkage ''. Discretely defining concise, one-liner definitions throughout the text. Initializing them like i in a for loop just-in-time.
Well written

Derived From Web

, Aug 19, 2020

This book was written and organized with care. I wouldn 't expect much more from the folks at No Starch. The author wrote the C coding standard, so that you can expect that the content is comprehensive and to the point. Having not come from a development background, I found the history useful in the intro. There are an endless number of references that could lead you down rabbit holes. Stick to the content in the book in order to get your C legs and venture out into supplementary material as you get it.