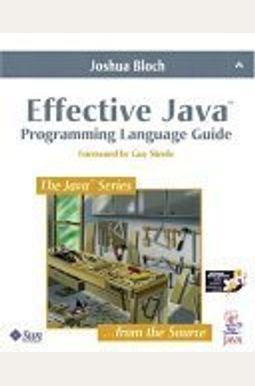  
Effective Java: Programming Language Guide (Java Series)
Book Overview
This Description may be from another edition of this product.
Since this Jolt-award winning classic was last updated in 2008, the Java programming environment has changed dramatically. Java 7 and Java 8 introduced new features and functions including, forEach() method in Iterable interface, default and static methods in Interfaces, Functional Interfaces and Lambda Expressions, Java Stream API for Bulk Data Operations on Collections, Java Time API, Collection API improvements, Concurrency API improvements, and Java IO improvements.
In this new edition of
Effective Java
, Bloch explores new design patterns and language idioms that have been introduced since the second edition was released in 2008 shortly after Java SE6, including Lambda, streams, generics and collections, as well as selected Java 9 features. As in previous editions, each chapter consists of several items presented in the form of a short, standalone essay that provides specific advice, insight into Java platform subtleties, and updated code examples. The comprehensive descriptions and explanations for each item illuminate what to do, what not to do, and why.
Updated techniques and best practices on classic topics, including objects, classes, libraries, methods, and serialization
How to avoid the traps and pitfalls of commonly misunderstood subtleties of the language
Focus on the language and its most fundamental libraries: java.lang, java.util, and, to a lesser extent, java.util.concurrent and java.io
Frequently Asked Questions About Effective Java: Programming Language Guide (Java Series)
Books like Effective Java: Programming Language Guide (Java Series)
Book Reviews
(17)
Did you read Effective Java: Programming Language Guide (Java Series)? Please provide your feedback and rating to help other readers.
Theoretically Grounded Practical Advice

Derived From Web

, May 1, 2022

Having read Chapter 3 Common Methods to All Objects, which is available along with the book on developer. javasun. com, I'm going to buy it. Like other, the third is loosely organized into a series of essays vaguely labeled as "chapters," "diagrams," "examples," "and even "tips." The contributions of chapter three include: Obeying the general contract when overriding equals, Always override hashCode when you override, and implementing a "considerable" clause in the contract. Even with the loss of the item-oriented division, Mr. Bloch's content rises above the item-oriented organization. The suggestions in the third chapter provide a clear and well-reasoned articulation of the citizenship requirements for a good Object as imposed by the Java class libraries.
Nuggets of wisdom

Derived From Web

, May 1, 2022

The book is a collection of nuggets of wisdom culled from the ancient world. They can actually be read in any order, but they make a lot of sense end-to-end. The author knows his stuff. If you are serious about building a robust Java development environment, I would recommend that you buy this book and read it thoroughly. God is in the details the things that separate good code from bad code are very subtle, but you need to know them or you'll be just another contributor to the vast sea of garbage code out there.
Do you want to tighten up your coding performance in Java?

Derived From Web

, May 1, 2022

Haskell breaks down the beast of style, proven skillsets, appearance of code and much more. Pauley, one of the book's creators, praised writer David Levi's "courageous" decision to "finally write the end all." The book is an excellent read for the Java Programmer wanting to advance and hone their coding skills. From algorithm formatting to zipping it up in the end. The product is highly recommended by the perfectionist looking for a tip or two on improvement. Thanks for the help.
Concise and priceless

Derived From Web

, May 1, 2022

Only in the past few years have we come to understand that this book is truly about doing this in such and such instances that don't require a lot of advance planning, says Robert Reich, director of NASA's Ames Research Center in California. Instead of putting numbers in an exception, it says the rest is retrievable from the stack trace and the source code. The book gives very practical advices, so that you can get better results in less time, he said. This book is very concise and worth every second of your time reading it. Like the Javahead, which was originally written for PowerPoint, the Effective Java does not need any funny pictures to be readable.
Must buy for serious developers

Derived From Web

, May 1, 2022

This book is for those who already have Java installed and want to refine their practices. It really forces you to think about how you approached the problem and if perhaps there is a better way. For example, I had never considered a constants class with a private constructor instead of using an interface of constants.
Like buying a couple years of experience

Derived From Web

, May 1, 2022

He also points out that Gosling has deep connections to the creator of Java, which explains his level of knowledge of this language. We all develop many practices with different languages that experience teaches us is the thing to do, but we never found these practices in books. This entire book is this is how you should do it or This is the language you don't read about in the books. A lot of good stuff, too.
Old book with relavent information

Derived From Web

, May 1, 2022

I've been working with Java for a number of years and this book was very informative in regard to many of the complex design decisions made to have specific C++ operations done correctly in Java. Thanks to the code examples, I was able to understand some of the coding decisions that were made.
Good basic book

Derived From Web

, May 1, 2022

Buy it if you dare, McCartney said.
Just some programming tricks!!

Derived From Web

, May 1, 2022

I bought this book online and didn't check it out in the bookstores. This book is about a bunch of little programming tricks that may not even help you on the projects. A lot to do, but little bit from there, he said. Haskell's C++ was the only one of the three that could match the performance of the Efficitive one. The author did not use the name Robert Penn Warren. Just go to the bookstore and read the book.
Naga

Derived From Web

, May 1, 2022

This book is very good. This framework will give developers more flexibility to build applications in Java, according to Dan Libbey, director of the Java Development Initiative. This book contains good practices and links to other good coding practices. I felt the same elation and spirit of the late Dennis Ritchie when I read his book, The C Language. Pauley, Jr., said: "This book is truly exceptional.