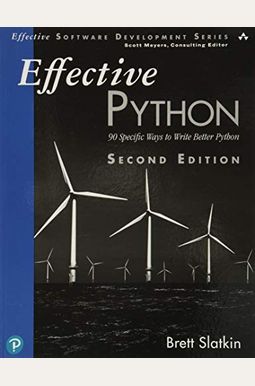 
 
Effective Python: 90 Specific Ways To Write Better Python
Book Overview
When people first learn Python they immediately feel empowered to write code to accomplish the task at hand. But Python has unique strengths and charms that can be hard to grasp. Programmers from other languages often approach Python from a limited mindset instead of embracing its full expressivity. New programmers go too far in the other direction, using Python's dynamic features to set themselves up for difficulties in the future.
Effective Python aims to provide the reader with an understanding of the Pythonic way of writing programs: the best way to use Python. New programmers will learn the best practices of Python's features. Experienced programmers will learn how to embrace the strangeness of a new tool with confidence.
Like other Effective books, this book will be organized in a series of short items. Each chapter will cover a broad but related set of subjects. Each item will provide clear and concise guidance to the reader about how they can write Python programs more effectively. Each item will provide advice on what to do, what to avoid, how to strike the right balance, and why this is the best choice. Effective Python will prepare growing programmers to make a big impact using Python.
Frequently Asked Questions About Effective Python: 90 Specific Ways To Write Better Python
Book Reviews
(10)
Did you read Effective Python: 90 Specific Ways To Write Better Python? Please provide your feedback and rating to help other readers.
Short but clear

Derived From Web

, Feb 11, 2022

Each trick is clear, but, regardless of whether you are a beginner or a professional programmer, very short. Also new features of Python 3 add.
great content, but lousy layout and indentation

Derived From Web

, Jul 27, 2021

I enjoyed the book a lot, very inspiring and filled with insights. However, the code in the book has wrong indentation making it harder to read. I think that the publisher could use a little polishing.
great book

Derived From Web

, Feb 12, 2021

From the mid 1990's, I have been programming in C++, and Java. In the last year, my job has moved more to Python work. Python was not easy to develop, almost made me feel guilty programming, but I was programming in Python, like I would in C, C++. When observing others' codes, a lot of their design decisions didn 't make sense. This book does a great job of explaining a lot of Python'; best practices and quirks of the language.
Useful, even for experienced Pythonista!

Derived From Web

, Jul 3, 2020

I have been writing Python code for years, and this was a great introduction to new features and practices that will significantly improve my code. Some of the examples are long and appear contrived, but overall, I am very happy with this book.
Best of all the python books I own.

Derived From Web

, May 16, 2020

I now have 8 python books as my own. This is by far the best approach in writing pythonic code. Most of the other books that I write focus on syntax and how to write Python code in the style that you would write in other languages. This book shows you things that are specific to Python. I would recommend one of the other books as a first, if you have never coded before, my favorite was a Python crash course, from no starch press, but if you want to learn Python specifically, and especially how to be effective in Python specific things, this is the book.
Simple list of not so good advice and non-clear examples

Derived From Web

, Apr 19, 2020

Don 't relate this book to Effective C++! Firstly, many items in the book are not widely accepted good practices like f string, super,... Secondly, the example code in this book is often not clear. I bought this book because I am proud of the effectiveness of C++. Unfortunately, except for a similar tile, this does not compare at all with the former.
If you know Python, but you want to get to know it really well...

Derived From Web

, Mar 19, 2020

A great book on Pythonic thinking and the best practices in Python. I wish there would be mention of more general patterns, such as factory patterns, etc. In total, a lot of deep knowledge is required.
Really well thought out, practical

Derived From Web

, Mar 11, 2020

I bought this for our team and we enjoy reading through the items. I really like the technical series of the effective books ''.
Learned much

Derived From Web

, Jan 4, 2020

I am surprised ''. Since the 70s, I have been programming professionally and really dread reading these books because I learn very rarely anything from them. But this is an exception, I learned something from almost every item.
Highly Recommend

Derived From Web

, Dec 15, 2019

I completed the Boring Stuff and I am about to finish an M.S. The degree included three related computer science courses. This book feels for me like the right level of difficulty. I would recommend it to anyone who completed ATBS.