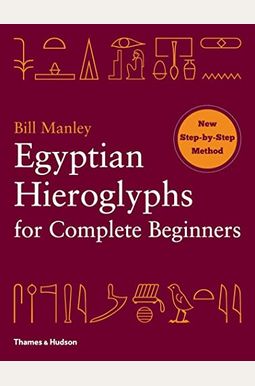 
 
Egyptian Hieroglyphs For Complete Beginners
Book Overview
This is the first guide to reading hieroglyphs that begins with Egyptian monuments themselves. Assuming no knowledge on the part of the reader, it shows how to interpret the information on the inscriptions in a step-by-step journey through the script and language of ancient Egypt.
We enter the world of the ancient Egyptians and explore their views on life and death, Egypt and the outside world, humanity and the divine. The book draws on texts found on some thirty artifacts ranging from coffins to stelae to obelisks found in museums in Egypt, America, and Europe, and selected across two thousand years. The texts are then explained clearly, and are supported by full translations, photographs, and line drawings.
Frequently Asked Questions About Egyptian Hieroglyphs For Complete Beginners
Book Reviews
(8)
Did you read Egyptian Hieroglyphs For Complete Beginners? Please provide your feedback and rating to help other readers.
I highly recommend this approach

Derived From Web

, May 22, 2022

Ancient Egyptian hieroglyphs are a subject that intrigues many people. However, it is a subject that requires a long study. This publication is a functional choice for obtaining a fantastic grounding with actual results right away. I highly recommend '' this approach.
Excellent Introductory Book

Derived From Web

, May 22, 2022

This is a book by Anbal Gustaf, with a great introductory approach to teaching an ancient and beautiful language. The typical hieroglyph - Teaching books usually load the learner with tedious grammar rules that take the fun out of learning. No doubt, these formal books are required after a certain point when one wishes to continue a formal study. The approach of Bill Manley is different. He teaches hieroglyphs in much the same way we learned our local languages by recognizing patterns and sounds to make sense of expressed meaning. From the first lesson you will read stela inscriptions from the grave of Mereri in 2200 BCE. It is a fresh approach that can give results quickly as you walk through museums - exhibits. However, don 't expect learning to be easy. You still have to remember many details and practice, and work hard to acquire competence in reading monuments. The book facilitates this with frequent lessons and short prompts for exercises.
A great intro to reading hieroglyphs

Derived From Web

, May 22, 2022

This is a perfect book for anyone who wants to start reading Egyptian hieroglyphs. It is particularly useful if you want to read the writing on artifacts in museums and monuments. It is produced beautifully, as you would expect from Thames and Hudson, and filled with photos and illustrations. Everything is spelled step-by-step with explanations of background material on culture. The covered material comes from funerary monuments and similar things. You won 't be reading The Book of Going Forth by Day based on this, but it gives a great deal of insight into the language and the standard formul you are likely to see on stel, coffins and similar artifacts. How to read ancient hieroglyphs by Manley and Mark Collier is a much more in-depth book, but the best language for Egyptian monuments and artifacts is this : There is a minor errata on page 97.
A serious language text

Derived From Web

, Dec 26, 2021

From Collier and Manley's co-author, How to teach Egyptian hieroglyphs, this is an actual textbook for those who want to read the language themselves.
A great introduction for brand new beginners to ancient hieroglyphics!

Derived From Web

, May 11, 2020

This book presents an easy-to-understand introduction for a beginner to be able to understand hieroglyphics. A must-read for people who would like to have a beginner's understanding of this beautiful old language, especially for travel.
Nice book with a new approach

Derived From Web

, Feb 15, 2020

The book tries a new approach to learning hieroglyphs, which was not as good for me as the other book How to read Egyptian hieroglyphs. Both books try to make a simple task complicated, which is perhaps not really possible. All one can hope is that one system of presentation better matches the learning style of the reader than some other. I think Manley is really knowledgeable and so there is little problem with the material itself or his command over it. I think it is certainly a problem for the reader to find the book that works best for them.
It's OK

Derived From Web

, Dec 23, 2019

I read this somewhat, but never planned to actually study how to read and write hieroglyphs.
The best book for beginners.

Derived From Web

, Oct 30, 2017

I learned several languages and thanks to this fantastic book, Egyptian hieroglyphics was the easiest yet. Even after the first chapter, I could immediately read several things off Google images.