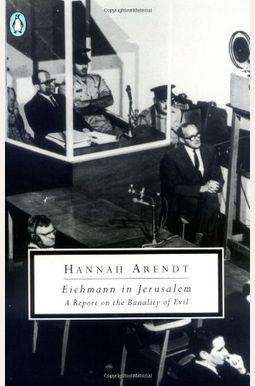 
 
Eichmann in Jerusalem: A Report on the Banality of Evil
Book Overview
This Description may be from another edition of this product.
The controversial journalistic analysis of the mentality that fostered the Holocaust, from the author of The Origins of Totalitarianism
Sparking a flurry of heated debate, Hannah Arendt's authoritative and stunning report on the trial of German Nazi leader Adolf Eichmann first appeared as a series of articles in
The New Yorker
in 1963. This revised edition includes material that came to light after the trial, as well as Arendt's postscript directly addressing the controversy that arose over her account. A major journalistic triumph by an intellectual of singular influence,
Eichmann in Jerusalem
is as shocking as it is informative--an unflinching look at one of the most unsettling (and unsettled) issues of the twentieth century.
Frequently bought together
Frequently Asked Questions About Eichmann in Jerusalem: A Report on the Banality of Evil
Books like Eichmann in Jerusalem: A Report on the Banality of Evil
Book Reviews
(8)
Did you read Eichmann in Jerusalem: A Report on the Banality of Evil? Please provide your feedback and rating to help other readers.
Hannah Arendt's account of the Eichmann Trial

Derived From Web

, Apr 26, 2022

It really helped me comprehend the 'banality of evil' in the sense that everyone given the task and the position in a machinery of destruction can become part of it in such a mechanical way that surpasses any moral consideration, he said.
Hannah Arendt

Derived From Web

, Apr 26, 2022

He added that the principles of Manichean responsibility "have no room for black and white." There is no hypocrisy, said Dr. Lawrence Obeid, director of the federal Centers for Disease Control and Prevention. The book is a must-have for anyone interested in political philosophy and ethics.
Being a hard-working cog in an evil machine

Derived From Web

, Apr 26, 2022

One of the defining and most important books on morality, evil, and what happens when we just go to work and do our jobs, and are only concerned about getting good appraisals from our superiors.
This was a great historical movie!

Derived From Web

, Apr 26, 2022

The show was historical, you learned about the Nuremberg Trials, the philosophy of Hannah Arendt, who commits atrocities such as rapes, beatings and amputations in Nazi Germany. We all know that those that commit war crimes are just ordinary people that are exceptionally obedient and rule-followers. The Harrisons did not question anyone, the statement said. Today we see mainstream media with journalists asking softball questions to those in power position's from politicians to banks and corporations, from "Do you have a problem?" to "What do you think about outsourcing?" What happened in Germany during World War II could easily come here and especially with all the new laws, Homeland Security department morphing into new areas called terrorism of suspicion for those that speak out. Then we have the NDAA, Patriot Act, TSA, and much more.
This is going to be a HARSH review but necessary

Derived From Web

, Sep 30, 2019

In her defense, she said she lost her objectivity when she wrote the letter. She fancies him as a bureaucrat who was just doing his job, forgives him because he was just following orders, and BLAMES the Jews for their own demise. She also laments the fact that some of the Jews cooperated with the Nazis, who only survived. Since she sat out World War II in the United States, she has no true objectivity of this subject at all. To sum it up, she INSULTS and DISRESPECTS the dead while PRAISING Eichmann, enough said.
Good reporting, though reluctant to draw conclusions

Derived From Web

, Dec 27, 2018

In her testimony, Eichmann's accuser Hannah Arendt described a "perfect storm" of legal problems. Eichmann's widow says his lack of thinking led him to become a murderer because society told him it was OK. Despite her own descriptions of how German soldiers behaved during the war, many of the allegations are based on unreliable sources. There is more to support this claim from the transcripts of captured German soldiers and from the Milgram's to Authority experiment. If you have any questions, I recommend reading Michael Lewis' "The Age of Innocence" and George Hunter's "The Long Road Home."
A great work, although not produced by a great writer

Derived From Web

, May 11, 2018

What can one possibly have to say about such a monumental work as Eichmann in Jerusalem? Her controversial assessment of the banality of evil, including that of the Vatican, has now become canon. But she produced some great works of fiction, some of which were based on real life events. Though short, punchy paragraphs and excessive parenthetical asides, Mr. McCall's book leaves the reader cold. What compels her to reveal the dark depths of her subjects' lives was the audacity of her subjects' - evil, totalitarianism, and other dark hallmarks of the mid-twentieth century. She wrote her first letter, "in the spring of 1887."
Reading this book, I realized that even ordinary person ...

Derived From Web

, Feb 2, 2018

Even in totalitarian dictatorships such as Germany or in Communist countries, even ordinary people can commit an extreme evil.