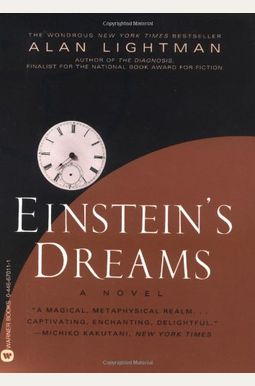  
Book Overview
This Description may be from another edition of this product.
A modern classic, Einstein's Dreams is a fictional collage of stories dreamed by Albert Einstein in 1905, when he worked in a patent office in Switzerland. As the defiant but sensitive young genius is creating his theory of relativity, a new conception of time, he imagines many possible worlds. In one, time is circular, so that people are fated to repeat triumphs and failures over and over. In another, there is a place where time stands still, visited by lovers and parents clinging to their children. In another, time is a nightingale, sometimes trapped by a bell jar.
Now translated into thirty languages, Einstein's Dreams has inspired playwrights, dancers, musicians, and painters all over the world. In poetic vignettes, it explores the connections between science and art, the process of creativity, and ultimately the fragility of human existence.
Frequently Asked Questions About Einstein's Dreams
Book Reviews
(14)
Did you read Einstein's Dreams? Please provide your feedback and rating to help other readers.
Einstein's dreams and a random walk through time & space

Derived From Web

, May 9, 2022

Interesting fictional account of Einstein's dreams, related back to his theory of time and space. I would have rated it with 5 stars if there was a better explanation of the connection between theory and dream. Each chapter was also separate and disjointed from others in the book, so it was more like reading several short stories than a coherent novel.
A pleasure and a challenge

Derived From Web

, May 9, 2022

I picked this book several years ago mostly because I was browsing through a bookstore and needed something to read. Having been interested in quantum mechanics and the philosophical side of science, I was pleasantly surprised with my choice. I bought this book many times and read it for many friends. Every time I read it, I get something new from it.
Very entertaining, easy read

Derived From Web

, May 9, 2022

This is a great little collection of short vignettes on the nature of time in alternate realities, as seen in the dreams of a young Einstein who is trying to see the world in ways never seen before. It is a quick read, but engaging and generally entertaining. No physics knowledge is required.
Very cool

Derived From Web

, May 9, 2022

A book of its own is a strange and interesting. Probably not necessarily for everyone, but I enjoyed it. It is a very fast read and goes through many imaginary time-worlds, with short snippets in between with Einstein. Very poetically written.
A quick and delightfully intense read.

Derived From Web

, May 9, 2022

I found the short stories delightful, but dripping with thought at times. Each story gave me pause and I know that I will find myself going back and rereading many. These are also great conversation pieces.
Great Short Readable Introduction to Relativity

Derived From Web

, May 9, 2022

A nice, easy to read, consumer-friendly series if essays framed as dreams, describing potential versions of time. Lightman humanizes the theories by describing people in these small thought games and placing how they and the world around them would behave depending on how time is structured. Educational book, intelligent, fun!
Intriguing dreamscapes on time

Derived From Web

, May 9, 2022

Each of these dreams suggests an alternative time type : I suspect that they are all simultaneous. The end of the world is coming and everyone but the bakers and the baristas are off. But this is a silly critique because there are issues with all the dreams. After all these reasons, we do not perceive these various ways of time.
One of my favorites

Derived From Web

, Jan 3, 2020

Owned this book 20 years ago, gave it away for a long time, kept thinking about it so had to repurchase. It is a really special read.
Metaphysics Mastery

Derived From Web

, Aug 1, 2019

I picked up this book after searching for stars on an island in Maine. I was rather attached to this book after the first few chapters, says Say. The brevity of the chapters made it a perfect read for me, while I take summer classes and work near full-time. The book explores concepts such as time, which is linear versus Circulated and Free-will versus determinism in a way that the reader is left to decide for himself. He is able to weave these simple ideas together and simplify them to a level for consumption simple. Take two minutes and read a chapter, then ponder its meaning for the rest of your life. Definitely a must read for people who enjoy metaphysics.
Most beautiful book I've read in a while.

Derived From Web

, Jan 19, 2019

An unparalleled experience of wonder, beauty and inspiration, Alan Lightman's short novel Einstein's Dreams is a prose poem of fractal variations on what would become the great scientist's theory of relativity, each chapter a fantasy of perceived singular impression, time as a constant movement, time as sensory perception, time without consequence or with ultimate determinism.