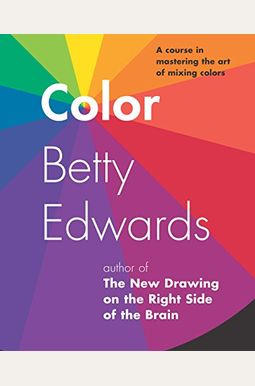 
 
El Color: Un Metodo Para Dominar El Arte De Combinar Los Colores
Book Overview
Millions of people have learned to draw using the methods of Dr. Betty Edwards's bestseller The New Drawing on the Right Side of the Brain. Now, much as artists progress from drawing to painting, Edwards moves from black-and-white into color. This much-awaited new guide distills the enormous existing knowledge about color theory into a practical method of working with color to produce harmonious combinations.
Using techniques tested and honed in her five-day intensive color workshops, Edwards provides a basic understanding of how to see color, how to use it, and-for those involved in art, painting, or design-how to mix and combine hues. Including more than 125 color images and exercises that move from simple to challenging, this volume explains how to:
see what is really there rather than what you know in your mind about colored objects

perceive how light affects color, and how colors affect one another

manipulate hue, value, and intensity of color and transform colors into their opposites

balance color in still-life, landscape, figure, and portrait painting

understand the psychology of color

harmonize color in your surroundings While we recognize and treasure the beautiful use of color, reproducing what we see can be a challenge. Accessibly unweaving color's complexity, this must-have primer is destined to be an instant classic.
Frequently bought together
Frequently Asked Questions About El Color: Un Metodo Para Dominar El Arte De Combinar Los Colores
Books like El Color: Un Metodo Para Dominar El Arte De Combinar Los Colores
Book Reviews
(14)
Did you read El Color: Un Metodo Para Dominar El Arte De Combinar Los Colores? Please provide your feedback and rating to help other readers.
Excellent information shared clearly; good even just to read if you don't know anything about color.

Derived From Web

, May 17, 2022

I can not say enough good about this book. As a new color mixing and understanding color in the painting world, I needed solid, basic information. It is not only there, but it is done intelligently and clearly. She asks you to use acrylics in the exercises to simplify the process, but I have actually started with watercolors and am still getting what I need in the way of a good learning experience. Have learned how the brain changes what we actually see, how colors affect each other when in proximity and all color wheel basics. I bought a used copy so that I could mark it up! From now on, I will use this info in my fiber work!
There is no better guide to understanding color

Derived From Web

, May 17, 2022

My local library checked this book out of my first and loved it so much, I kept it for nearly a year. I received it the day after my Amazon copy returned and the fine was worth every penny. I battled with my ability to produce the watercolors that I liked. This book has changed everything. It has helped me understand the perfect results through a mixture of theory and exercises. It is a constant reference to it. I simply found no better book on understanding color.
Amazing and very thorough information regarding uses of color

Derived From Web

, May 17, 2022

Amazing and very thorough information about the uses of color. By doing the many exercises, the author suggests my use of color knowledge is exploding! Shirley Mannocci is a fellow Shirley Mannocci.
Worth the money

Derived From Web

, May 17, 2022

It is a fascinating book written by a non-artist that explains how light is seen and used in painting. I have read the best book on color theory!
Love this book

Derived From Web

, May 17, 2022

This book makes me love. It really started me on a path of enlightening color like I did not before. It's love.
Outstanding! This book should be included in every artist's ...

Derived From Web

, May 17, 2022

This book should be included in every artist's personal reference library, along with her drawing on the right side of the brain . Dr. Edwards thank you.
Great Starting Pount

Derived From Web

, Jul 24, 2021

Before reading this book, I did not know anything about mixing colors. I now have a good start. If you are not sure where to begin to lean about using colors in your art work, read this book if you are not sure how to begin.
Best for absolute beginners, needs some serious updating

Derived From Web

, Apr 1, 2021

This book is very fine for absolute beginners. It is very simple, but very clear and concise. It is an OK way to learn color if you have never studied it before. In their review, someone else mentioned that this book is outdated. I have to agree ''. The examples presented are the same old's Blue Period'; Monet's Haystacks, which were made around 30 years ago when I was in the Art School. What really concerned me was a mention that some colors in some urban neighborhoods can be dangerous. A critical editor needs to do some updates that are more socially aware and inclusive. If you are beyond the beginner level, buy a color wheel and do the exercises in Albers - Interaction of Color.
Not for Painters

Derived From Web

, Mar 16, 2021

This one is pretty disappointed in this one. Didn 't even finish it. If you are buying it for painting and you are anywhere past the beginning stage, this book is not for you. She did not even touch the mixing skin tones.
Comprehensive color theory and practical color mixing for artists

Derived From Web

, Jun 30, 2019

Relevant quotes and comments from color scientists and artists of the past makes this a very readable history of what color means in art : what's and why? The bulk of the book deals with the how-to's of color mixing with a very effective progression of hands-on exercises that move the left brain theory down the right rabbit hole resulting in a wow, did I create this experience.