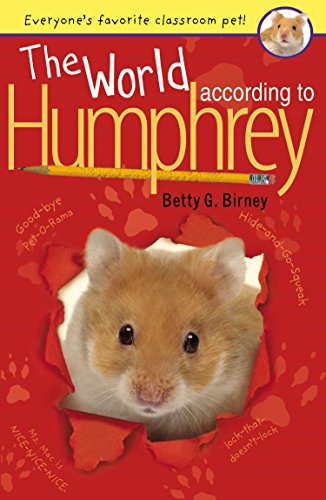 
 
The World According to Humphrey
Book Overview
This Description may be from another edition of this product.
The story of everyone's favorite classroom pet is now available in Spanish
You can learn a lot about life by observing another species. That's what Humphrey was told when he was first brought to Room 26. And boy, is it true In addition to his classroom escapades, each weekend this amazing hamster gets to sleep over with a different student, like Lower-Your-Voice-A.J. and Speak-Up-Sayeh. Soon Humphrey learns to read, write, and even shoot rubber bands (only in self-defense, of course). Humphrey has friends, adventures, and a cage with a lock-thatdoesn't- lock. His life would be perfect, if only the teacher, Mrs. Brisbane, wasn't out to get him
Humphrey's views underscore the importance of knowing the full story before making judgments, and his presence makes a positive difference in the lives of the people he meets. All in all, a winning book that will appeal to children who like tales about animals, school life, and friendship.--School Library Journal
Frequently bought together
Frequently Asked Questions About The World According to Humphrey
#1-5

#1

#2

#7

#3
Book Reviews
(17)
Did you read The World According to Humphrey? Please provide your feedback and rating to help other readers.
Great for a 5 year old!

Derived From Web

, Apr 20, 2022

I bought it for my five-year-old son and he is in love! He is into chapter books, but is still a bit young for many of the books out there. This is such a great mixture of simple narrative and long form structure, so that he can continue to this and still keep focus and interest. I think that the story may be a little simple for older kids, but is perfect for his age! Although I think he're about two chapters away from asking for a pet hamster so...
Not just for the K-1 crowd! Perfect for 8-11 year olds :)

Derived From Web

, Apr 20, 2022

I was hesitant to buy this for my 9-year-old 4th grader because the majority of reviews talk about how great this series is for very young children. I am a huge proponent of reading to children, but anyone with an emerging-to-avid reader knows that if you don 't keep their interest with what is on the shelf, video games and tv will win the round. The lexile range for the Humphrey series is approximately 640-730, which translates into a reading level of 3rd-5th grade, regardless of chronological age of the child. Can younger kids enjoy hearing the story? Of course, the course is also interesting. Can older kids get a kick out of them? For sure, for sure. Despite a number of reviews that may have you saying a minute or two, I just wanted other people to know that this is a series geared towards the secondary set, 8-11 years old.
Our whole school district read this book in 1st-5th grades this year

Derived From Web

, Apr 20, 2022

This was our first Humphrey book and we loved it just! Since then, I ordered another for my Kindle. It is fun to read to my 2nd birthday twins and also to take turns with them reading books. Since we have a hectic schedule and could not always fit a chapter per day for the school, I also put this one on my Kindle with the narration and my twins would sit on the kitchen a counter and read along as they listened, while I cooked or did dishes. Humphrey is smart and he's a lot of fun to teach children about happiness.
Five Stars

Derived From Web

, Apr 20, 2022

Great read for apprehensive readers apprehensive. My son is hooked up on this series! My son is hooked on this series! '' So glad that there are more books! So glad that there are more books!
Great fun

Derived From Web

, Apr 20, 2022

The greatest is Humphrey's. Though it is about a hamster, any household would enjoy the antics with a small critter pet.
... with my 7 year old son and we really enjoyed it. My son's take away was don't judge ...

Derived From Web

, Apr 20, 2022

I read this book with my 7 - year old son and we really enjoyed it. My son's takeaway was to not judge people before you get to know their story. His reading and vocabulary got better as he read each chapter, he loved all the characters.
cute story

Derived From Web

, Apr 20, 2022

Humphrey is the class hamster and he gets to know his teacher, other staff at the school and children in his class. Sometimes, he gets to go home with them. And he illustrates how you can learn a lot about taking care of a member of another species. And he illustrates how you can learn a lot from taking care of a member of another species. The book-on-CD enjoyed very much the book-on-CD.
She just loved it and hopefully between ourselves we will purchase more ...

Derived From Web

, Apr 20, 2022

I purchased this book for my daughter as a reading tool for her students. She just loved it and we will purchase more editions of Humphrey together with us. I thank the seller so much for shipping the book to me ASAP.
Finally a book with some humor.

Derived From Web

, Apr 20, 2022

I am 32 years old and I read this book with my 9 year old daughter and laughed until we got a little teary eyed. If your kid loves hamsters and HATES reading... these are perfect books for you. They will give them 4 AR points and are well suited for 3-5 year old students. It is written by the hamster and is just so freaking adorable. If it were not for the Wimpy Kid Diary books, my daughter would still be reading this series. We had a hamster named PipSqueak and he died before we read these books, but it definitely brought back warm memories of changing his little poop corner in his cage.
Wow..my 8yo couldn't put it down

Derived From Web

, Feb 5, 2022

We're trying homeschooling this year and I wanted to get my daughter a few chapter books that were part of a series for some book reports. I remember being enthralled with the Hank the Cowdog books when I was younger and wanted the same for her, too. I absolutely loved this book. We finished chapter one together yesterday afternoon and she started it on her own before bedtime tonight. She has been an avid reader for a while now, but this is the first chapter book she completed. We ended up getting her the next 5 in the series because we're confident that she will love them just as much, but Spanish is her first language, so there were a few words and phrases that she did not understand, but nonetheless enjoyed it.