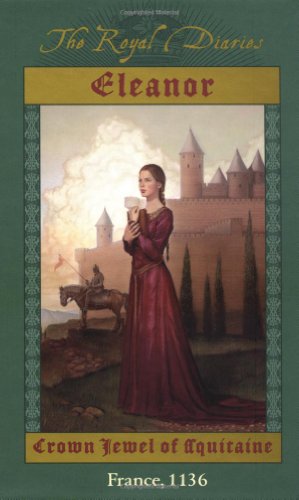 
 
Eleanor: Crown Jewel of Aquitaine, France, 1136 (The Royal Diaries)
Frequently Asked Questions About Eleanor: Crown Jewel of Aquitaine, France, 1136 (The Royal Diaries)
Books like Eleanor: Crown Jewel of Aquitaine, France, 1136 (The Royal Diaries)
What should you read after Eleanor: Crown Jewel of Aquitaine, France, 1136 (The Royal Diaries) Book? Here is a list of books to read if you read and loved Eleanor: Crown Jewel of Aquitaine, France, 1136 (The Royal Diaries)
#3

#1
Book Reviews
(6)
Did you read Eleanor: Crown Jewel of Aquitaine, France, 1136 (The Royal Diaries)? Please provide your feedback and rating to help other readers.
Glad I found the series

Derived From Web

, Feb 8, 2022

My daughter was in the elementary school. I'm glad I found it. Eleanor of Aquitaine is the mother of Richard the Lionheart and Prince John of Robin Hood. I like the mix of historical fiction and facts at the back of the books. It's a great way to introduce other cultures to my child. I give her some credit for her interest in history. We just returned from a trip to the United Kingdom and we saw references to Queen Eleanor in a lot of the places we visited and each and every time her name came up my daughter would get excited and say I read about her!. The books are always high quality. I was very impressed.
Wonderful!

Derived From Web

, Jun 23, 2021

Great book! There is a lot of action and drama. There are some really great pictures in the back of the book, and I was hoping she would marry it. Awesome history. When I received the book, it looked like new, except for a few numbers on the top. Thanks Amazon!
Better than some of the others in the series

Derived From Web

, Dec 23, 2020

I didn't like the other books in this series. They were boring for a long time, but I can see how some kids like historical content more than me. This book was recommended to me by a 7 th graders. I liked it and picked it up. I didn't think of a few of the situations as threats immediately, but the author does a good job of juggling those threats so that there's always some excitement, but no real danger.
Amazing Series

Derived From Web

, Apr 19, 2017

I' ve always liked this series. I still like to read through these books when I am 26 years old. The book is well done. It is very accurate and engaging at the same time. After reading this book, I was fascinated by Eleanor of Aquitaine. The books jump started my interest in women in historical fiction. I love these books a lot. !.
Great for 40 yr old-

Derived From Web

, Jan 5, 2017

My 9 year old said it was boring, I loved the story. If she rereads it in a few years, she may like it more.
A love since 6th grade

Derived From Web

, Jan 3, 2017

I fell in love with the series after reading this book. Eleanor princess of Aquatine was an amazing woman and despite her troubles in her marriage, she was a wonderful leader and every young girl should aspire to be like her.