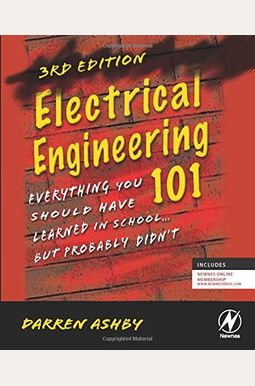 
 
Electrical Engineering 101: Everything You Should Have Learned In School...But Probably Didn't
Product is currently Out of Stock.
You can add it to your wishlist and you will be notified once we receive a copy.
Book Overview
Electrical Engineering 101 covers the basic theory and practice of electronics, starting by answering the question What is electricity? It goes on to explain the fundamental principles and components, relating them constantly to real-world examples. Sections on tools and troubleshooting give engineers deeper understanding and the know-how to create and maintain their own electronic design projects. Unlike other books that simply describe electronics and provide step-by-step build instructions, E101 delves into how and why electricity and electronics work, giving the reader the tools to take their electronics education to the next level. It is written in a down-to-earth style and explains jargon, technical terms and schematics as they arise. The author builds a genuine understanding of the fundamentals and shows how they can be applied to a range of engineering problems.
This third edition includes more real-world examples and a glossary of formulae. It contains new coverage of:
Microcontrollers
FPGAs
Classes of components
Memory (RAM, ROM, etc.)
Surface mount
High speed design
Board layout
Advanced digital electronics (e.g. processors)
Transistor circuits and circuit design
Op-amp and logic circuits
Use of test equipment
Frequently Asked Questions About Electrical Engineering 101: Everything You Should Have Learned In School...But Probably Didn't
Book Reviews
(8)
Did you read Electrical Engineering 101: Everything You Should Have Learned In School...But Probably Didn't? Please provide your feedback and rating to help other readers.
Everything is Explained!!!

Derived From Web

, Jun 1, 2022

Literally, I have gone through dozens of books on the subject of electronics and this is the FIRST to explain WHY everything is what it is. Because the author does a tremendous job of drilling down on the fundamentals and expanding on the basic principles, we can then understand how it all relates to more advanced topics. I have not yet seen a book on this subject that even came close to explaining what electricity is really like and what it means to solve a problem. Common sense is no more common than paper bags, but this book will teach you to use common sense if you don 't have it and teach you the common sense that some have. I can not emphasize this enough... DO YOURSELF A FAVOR AND BUY THIS BOOK. I plan to commit it as many times as it takes to reread it in memory. The fundamentals are all explained here and in an interesting and systematic process that helps understand what is really going on with building testing troubleshooting circuitry.
Electrical Engineering 101 3rd eddition review

Derived From Web

, Jun 1, 2022

I love this book absolutely ''. The chapter I enjoyed most was CH 4 The real world. Although most of what I learned in the book is about what Darren's advice on remembering the basics in the book. As a first year EE in the workforce, as long as you understand the technical concepts of the basic aspect of your job, you will excel. I can honestly say that although knowing the theory is good, it is not quite as good as knowing intuitively why something happens. Darren gives some pretty good advice on people to avoid at your job and some pretty good management tips. I may have to tell my boss to read that chapter, who is not an engineer!
Well worth the money

Derived From Web

, Jun 1, 2022

I bought the first issue and was impressed. As a US marine radar technician and engineering student, I find that so many of us in the electronics fields have either forgotten a solid foundation in basic electronics, or have built a lot of the fundamentals. This is a great book for correcting either of these issues. The first edition had some minor errors. The author, Darren Ashby, makes himself available here and on his website and responds to my comments and suggestions. When the second issue came out, I bought it and gave my first edition to a coworker. Now that the third issue is out, I'm going to buy a few copies and make it a required reading for my young marines. The book is full of practical insights and reminders about the important fundamentals and good aspects of working with electronics. I look forward to seeing the latest updates in version 3, and I would highly recommend this book to anyone who works with electronic devices.
Like this book but...

Derived From Web

, Jun 1, 2022

For whatever reason, the formulas are too small to read on a Kindle. I can use a magnifying glass on the Kindle Keyboard, although some are still unreadable with the fire. In my opinion, Newnes should update the formulas and reissue the book. Newnes has a number of basic Kindle offerings, all engineering related. It just seems odd that *this* publisher would have such pricy formatting errors.
Oh it is so informative

Derived From Web

, Jun 1, 2022

Darren Ashby really gave me so many answers to the mysteries that have always confused me and stressed me with electronics and circuits. After just enough electronics training to create confusion, the recent re-pursuit of an electronics degree feels as if it were fitted with this book. Darren Ashby goes not only speaking of Boolean Logic in the chapter I just completed, but he also gives the print of how the actual logic gate looks with hardware! omg!, guys! The thought and explantions in this book are a great confusion with electronic circuits. A great read.
Great learning tool

Derived From Web

, Jun 1, 2022

I received the book as a basic introduction to electrical engineering. I have played in the past with some simple wireing, but never really had any idea of what I was doing. This book was great, it had enough in depth explanations to cover my ignorance and enough technical stuff that I had to scratch my head and read it a few times. I loved this book and would recommend it to anyone looking at entering the field of electrical engineering or even if you are just interested in becoming a little more familiar with the technical world we live in.
Love it so far!

Derived From Web

, Sep 3, 2021

The book was first in perfect condition when it arrived. Writing this book after receiving and lightly skimming the surface information in this book, I am absolutely glad that I made the choice to go for this text! It is very well written, the author makes the 101 very clear in this which is perfect, and it was almost like he took the words right out of my head when he refers, and summarizes in my own opinion that very often college-educated engineers are basically pushed a narrow minded approach to their education. I am very happy!
Printing error

Derived From Web

, May 4, 2021

I really wanted to enjoy this book, but the fact that the first half of the book is cut upside down and is printed in some areas making reading this book impossible.