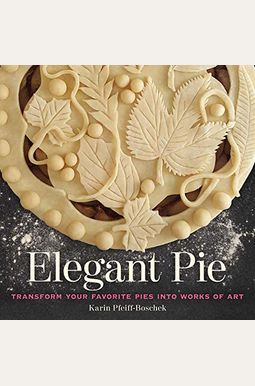 
 
Elegant Pie: Transform Your Favorite Pies Into Works Of Art
Book Overview
Enjoy 25 edible works of art with this step-by-step guide to creating the perfect pie.
Everyone knows that serving a pie for dessert makes guests happy. And serving one with a beautifully designed crust that makes guests swoon is even better. Pies are easy to make as stunningly attractive as the most decorative cakes using some basic techniques and the appropriate care when working with pie dough. The recipes and techniques presented in this book give any home baker the tools they need to create breathtaking works of pie art. From preparation of the dough to the last moments of baking, all methods are clearly presented using step-by-step photographs. A flat surface, rolling pin, sharp knife, different size and shaped cookie cutters make embellishing an ordinary pie crust easy. The 25 designs, arranged by three levels of difficulty, range from graphic art styles to seasonal-inspired florals. Beautifully decorated pies are a hit on social media, and until now there has not been a book on how to create these stunning works of edible art. Karin Pfeiff-Boschek is a master pie designer and explains in detail her textile-based methods used to reproduce her most popular top crust works of art.
Frequently Asked Questions About Elegant Pie: Transform Your Favorite Pies Into Works Of Art
Books like Elegant Pie: Transform Your Favorite Pies Into Works Of Art
Book Reviews
(9)
Did you read Elegant Pie: Transform Your Favorite Pies Into Works Of Art? Please provide your feedback and rating to help other readers.
Think of it like an Art book

Derived From Web

, Jan 20, 2022

Ok, the photos are great and the tips are very useful. But IMHO, the book is best purchased as an inspirational book. There are a million recipes for pie and pie crust.... Many excellent points of view : If this book had not a single recipe, I would still have purchased it. Ideas and techniques are really helpful. I am an experienced baker... but never made lattice pies because they are fussy and often and exercise in frustration and futility. This year, success... easily using the books techniques. And yes, right now those same ideas are on Pinterest, but in 5 years they will be gone and the inspiration with them.
Don't buy the kindle version!!!!!!!!

Derived From Web

, Dec 6, 2020

Don 't buy the 'Kennedy'version as it is defective. After about 20 pages, the rest is all cherry pie filling, and the same exact cherry pie filling throughout. What a disappointment! ''
Inspiring!

Derived From Web

, Jul 23, 2020

For over 50 years, I have been baking pie as a homebaker. The methods are not difficult, but do require extra time and a bit of a learning curve. When you think about how much time we spend decorating cookies and cakes, why not learn a new trick and make our pies look beautiful too.
Great for home bakers or if you simply appreciate pie art.

Derived From Web

, Mar 18, 2020

I '' love this book! A must add to your collection if baking is your thing if you simply enjoy art.
A feast for the EYES!

Derived From Web

, Feb 11, 2020

I gave this to my friend, who is a great chef and makes professional pies. There is a so called beginner '' section, which is truly for ADVANCED pie makers who want some great ideas. This is NOT a book for someone who dabbles, but it is a book to admire and have Pie Dreams. Some of the designs are SO ELABORATE that it makes you wonder why anyone would EAT these after so much effort. They are truly showstoppers for dramatic effect and are served as a wedding at very rare occasions!
Beginner Friendly

Derived From Web

, Dec 24, 2019

The steps and tips are so clear and precise that anyone could create biscuits as beautiful as the photos in this book. I could not be happier with my first tart and can not wait to create more. I recommend this book highly ; it's very easy to follow! ''
Great book for anyone that loves to bake!!!

Derived From Web

, Nov 5, 2019

Her artistry has taken the pie making to an entirely different level. It is structured in such a way that beginners can start with the easier recipes and designs, but then move on to the more difficult as their confidence grows. I am very happy with the purchase and you will be too!
Bump your pies up a couple notches!

Derived From Web

, Oct 29, 2019

It did not disappoint! She goes through every kind of decorating from easy to difficult, how to deal with this and how to make a masterpiece in minutes, etc. Note : This is primarily a decorating book, not a cookbook. There are a few recipes but not many. I'm very happy with this purchase! ''
A worthy cookbook to own

Derived From Web

, Oct 29, 2019

I follow Karin on Instagram and the book came today and is unbelievable! I have been making pies since I was a young girl, but not with crusts like this... I look forward to trying this and blessing my family and friends with these works of art!