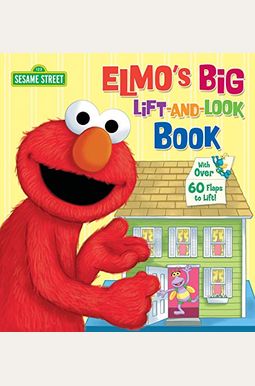  
Elmo's Big Lift-And-Look Book (Sesame Street)
Book Overview
Sesame Street fans will find hours of interactive fun and learning in this giant, interactive board book with more than 60 sturdy flaps to lift.
Elmo and his Sesame Street friends invite girls and boys ages 1 to 3 to learn about numbers, shapes, the alphabet, opposites, and more. Full-color illustrations filled with charming details turn playtime into learning time in colorful scenes of lovable
Sesame Street
characters in the biggest flap book ever Toddlers can lift alphabet blocks to find a word beginning with each letter, open doors and windows on Sesame Street to count objects from one to ten, lift flaps that reveal opposites, and help Elmo find his teddy The sturdy flaps--10 to 26 per double-page spread--are made to stand up to the repeated wear and tear little ones are sure to inflict with lots of lifting, looking, seeking, and finding
Frequently bought together
Frequently Asked Questions About Elmo's Big Lift-And-Look Book (Sesame Street)
Book Reviews
(14)
Did you read Elmo's Big Lift-And-Look Book (Sesame Street)? Please provide your feedback and rating to help other readers.
Great book, even great for a one year old!

Derived From Web

, Apr 20, 2022

This book is fantastic. My one year old loves it! My old loves it! '' We pass it several times a day, and we go through it several times a day. He may not understand all of it, but I simplify it and ask him to open the door '' open the window '' lift the square '' etc, and he loves opening the flaps! I love how big it is and my son is genuinely intrigued by the different pages -- we look at colors, shapes and I point out common itemswords. I think that an older toddler would even benefit from it and would be highly entertained by all that this book has to offer. I highly recommend it! I highly recommend it!
My son is endlessly entertained

Derived From Web

, Aug 22, 2021

I bought this book to entertain my 20-month-old on a flight. It kept him entertained for about 10 minutes, which is as well as anything can entertain a 20-year-old. But since then, he has read this book about 100 times. He loves her. It is great for any fans of Elmo or the Flap books, and if your kid is a fan of both, this will really be a big hit. My only issue is that the book is BIG. It is slightly larger than the average picture book. A little awkward for packing on the flight, but fine in our everyday life.
Mostly good quality

Derived From Web

, Aug 9, 2021

The flaps were moderately thinnish as I expected, but I did not expect that two of them would tear as easily as they did. One of them didn 't lift my toddler's hands, so I made sure to survive the rest myself. I believe that the flaps on the piano are too close to each other on the first page so that there was not enough material between them to provide support when I lifted one on the last try. It was right away tore. The other flaps are still in tact, so let's see if they survive more than a reading.
Great for learning!

Derived From Web

, Apr 24, 2021

A wonderful book for learning! I recommend this for a 3rd year old and up. Our 2 year old liked to rip the peak of the boo - doors off, but that is only because he is still young. He loved it all! Great book for learning.
A go-to book for toddlers

Derived From Web

, Nov 21, 2020

We love this book! We love it! I had the previous printing of this book for my older kiddo and purchased it for my surprise kiddo! She loves sitting and looking at pages and the flaps are thicker when she pulls on them to open. She loves repeating words I say as she lifts flaps. I purchased this when my daughter was about 1819 months old. When she reads it alone, this is a larger book and fills her lap when she reads it larger. Sometimes she lays it up and sometimes she sits there looking at the pictures.
Perfect for a 2 year old

Derived From Web

, Oct 27, 2020

I think her first word was Elmo! '' This book is large, 10 14 x 11 12 inches wide. And it is easy to manipulate little fingers. And it's easy to use. The pockets you open is something you may need to show those little fingers for the first time, but they get it quickly. With this book there are numerous opportunities for learning. Very cute book with lots of numbers, letters and shapes along with opposites of openclose, lowhigh..... very, very cute book that will initiate a lot of learning and talk with your little one. All the Sesame Street characters that they are familiar with. Highly recommended. Highly recommended.
Rips easily. Hard for toddler.

Derived From Web

, Mar 27, 2020

Cute book, but the flaps are way too small and very difficult to open for my 18 month old. Even my 4 year old was frustrated even with my 4 year old. The first page was ripped off. I sent it back, they replaced it and I 'll go through and individually pre '' open each flap before giving it to my children, so it is easier for them. Just annoying overall, the flaps should be bigger and stronger.
We love this book!

Derived From Web

, Feb 25, 2019

This is one of the most educational books we found. The photos and activity flaps are beautiful, smart and simple to use. Just make sure that your baby does not rip the flaps! Make sure that your baby doesn 't rip off the flaps!
Highly recommend. My child loves this even months later!

Derived From Web

, Sep 14, 2018

My son has been playing with this for months now. He loves it and has grown through it all with his speech and through everything. He loves to name the holes and open what is inside each. Yes, they can rip off... but hello, it is a children's paper pop-up book! When I read reviews with complaints about that I think it's crazy. Tell the child that they can 't pull it out of the child. If they do and it rips, whatever it is a toy and it is made of papercardboard. Ours has held great with MANY uses. I 'd recommend this for sure! The joy my child gets from this is worth it for sure!
Say hello Elmo

Derived From Web

, May 7, 2018

Our great granddaughter loves her. We bought her one for her home and goes right to the one we keep for her when she comes to our house.