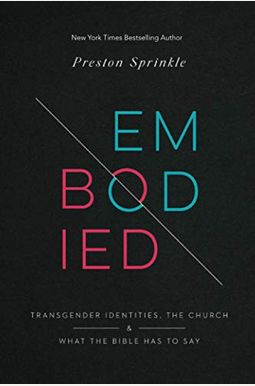 
 
Embodied: Transgender Identities, the Church, and What the Bible Has to Say
Frequently bought together
Frequently Asked Questions About Embodied: Transgender Identities, the Church, and What the Bible Has to Say
Book Reviews
(3)
Did you read Embodied: Transgender Identities, the Church, and What the Bible Has to Say? Please provide your feedback and rating to help other readers.
Thought provoking, biblical content

Derived From Web

, Feb 1, 2021

In his book, "Embodied," Preston delicately and honestly applies one of the most prevalent biblical truths today. Preston is a thoughtful researcher, and would do anything to be truthful and honest, Hollingworth said. In "The Fifth Estate," Frey argues that the book has all the answers. Of course, not everything will work out as planned, but it is an amazing start.
What a Resource for the Church

Derived From Web

, Feb 1, 2021

Even as someone who has been attracted to the same sex within this LGBT+faith world for the better part of a decade, I realize I still have so much to learn. Even in the realm of gender identity, he said, "it's a huge deal." What a good and necessary thing to be humbled, again and again, as we strive to love God and love people more effectively, he wrote. I'm grateful for Preston's efforts to understand and empathize with the marginalized, navigating the delicate line of grace and truth, said Dr. Julie Mason, director of the NIH's Office of Science and Technology. He does it better than anyone I've read. Embodied follows suit with People to be Loved in this blazing line for all of us, whether we're already insiders to these types of conversations or otherwise. Whether you're a youth pastor, camp staff, or any other Christian, this is a resource you can use. The Vatican has also sanctioned the distribution of condoms by diocese priests, a move that drew immediate criticism from some Catholics.
Less Outrage, More Outrageous Love

Derived From Web

, Feb 1, 2021

I was given a prerelease copy of Empathy so I could write a review after I read it, and I'm grateful. Thanks to the author, I learned a lot about a subject I had not even considered. Now, I can say without hesitation that parents and grandparents, churched and unchurched, should read this book to get a picture of the world our youth live in today. Well-researched and written in layman's terminology, "Embodied" addresses hard questions from scientific, medical, biblical and personal-experience perspectives. I found the notes at the end of the book to be very interesting and informative. The author's compassion and concern for individuals who feel like square pegs trying to fit into society's round holes is evident throughout the book. But he also has a heart for parents, teachers, and other family members who want to help their children make healthy choices. One of my favorites lines is, "We need less outrage and more outrageous love."