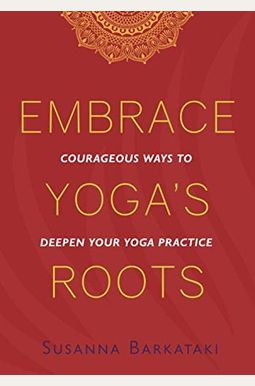 
 
Embrace Yoga's Roots: Courageous Ways to Deepen Your Yoga Practice
Frequently Asked Questions About Embrace Yoga's Roots: Courageous Ways to Deepen Your Yoga Practice
Book Reviews
(6)
Did you read Embrace Yoga's Roots: Courageous Ways to Deepen Your Yoga Practice? Please provide your feedback and rating to help other readers.
Disappointing

Derived From Web

, Mar 19, 2021

I was disappointed with this very one sided account on such an important and relevant topic in the yoga training today. Cultural integration, embracing diversity and remaining true to the basics of yogic philosophy should be considered an opportunity, not an obstacle.
I really wanted to love this book

Derived From Web

, Nov 30, 2020

But if you are familiar with social justice and multiculturalism literature, you know about 75% of what she has written. If you don 't have this background, this book is a starting point. Although there is much in this respect that you also need to learn. What I am looking for is to have an understanding of yoga in its fullness, a spiritual tradition and philosophy. As well as, how to practice in a more ethical manner. She does poke some ways and resources for this, but is just a very little part of the book. She does not go that deep and admits so. In this aspect, I was dissapointed. I know that I have to continue to learn and I am an avid reader of Buddhist philosophy. I 'll have to keep reading sources and finding the classics like Baghavad Gita and the Vedas for an understanding that I seek.
Essential Reading for anyone interested in Yoga

Derived From Web

, Nov 13, 2020

For 27 years, I have been a student of yoga. As someone who is deeply committed to social justice and the value of liberation for all, this book is the bridge between yoga philosophy and social justice, I have been looking for. Susanna is brilliant at honoring yoga's roots while also providing contemporary yoga practice embodied and can actually make a difference in the world at large, easing suffering, fighting oppression and guiding the collective to liberation and healing. I deeply appreciate that it comes from a decolonized perspective and has the goal to invite us to restore the roots of yoga. I think this should be essential reading for anyone interested in yoga teaching or practicing yoga teaching programs, and for anyone in a yoga teaching training program.
Buy this Book! Essential for any Yoga Practioner

Derived From Web

, Nov 10, 2020

This book must become essential reading for anyone who steps on a yoga mat! She clearly explains the very real issue of cultural appropriation in Western yoga, as well as the harm it causes. She also provides clear and achievable steps that we can take to understand what the practice of yoga is at its most foundational, as well as ways to embody the roots of practice and live a more harmonious life. We can take her teachings and apply them in a way that will bring us closer to unity with our modern world. After reading this book, I can see the missteps I have taken in my personal and professional yoga practice, plus I now have a checklist of ways I can work to make myself and my community more discerning and not appropriate.
Bring Social Justice and Swaraj Back to Your Yoga

Derived From Web

, Nov 9, 2020

First I invite readers to review their yoga bookshelf. How many of the authors on this shelf are Asian, Desi or Indian, people with deep, ancestral connections to yoga? How many people are white? Why could there be a disparity ''. If you care about Yoga, Self-Control, or other practices of Yoga, and you want to learn more about Yoga from South Asian, Indian or Desi teachers, then pick up a copy of Susanna Barkataki Embrace Yoga's Roots '' today. This easy-to-implemented invitation to address inequities within yoga spaces in the West and Yoga practices that many of us may inadvertently uphold, replicate or spread is also an invitation to embrace Vichara, Skanda and Wisdom in our Western Yoga communities to return to the deep, transforming Indigenous -- Indian, South Asian and Desi wisdom of Yoga.
Deeper Understanding of Yoga

Derived From Web

, Nov 1, 2020

I just started this book and I enjoy it so much! I am in the middle of completing my first 200 YTT as well and this book is a perfect compliment to the curriculum! I'm happy to have this opportunity to have a deeper understanding of yoga and myself! I have put all the work and details that Susanna has put into it for everyone to understand and enjoy!