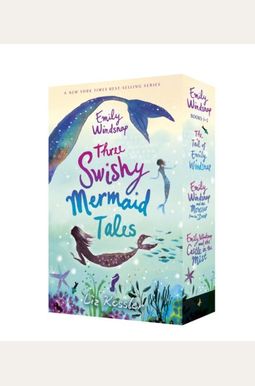  
Emily Windsnap: Three Swishy Mermaid Tales: Books 1-3
Frequently Asked Questions About Emily Windsnap: Three Swishy Mermaid Tales: Books 1-3
Books like Emily Windsnap: Three Swishy Mermaid Tales: Books 1-3
Book Reviews
(9)
Did you read Emily Windsnap: Three Swishy Mermaid Tales: Books 1-3? Please provide your feedback and rating to help other readers.
Beaware of age level and reading level!

Derived From Web

, Feb 9, 2022

I bought the books for my daughter when she was 7. These are reading levels that are very high. I think it's the 4 th grade level or the 12 year olds. I read a few books to her. The stories are cute, but I think they' re better suited for older people.
A Swishy Tale Indeed!

Derived From Web

, Feb 9, 2022

I wanted to give the book to my 10 year old niece for her birthday. I read it myself to see if she would like it. I didn't know that I would get sucked into the world of Emily Windsnap. It's the perfect book for her age group and I found myself being pulled back into the book many times, just waiting to find out what would happen next to Emily and her friends. It's perfect for a person who wants to travel far away.
It was a beautiful set and the 1st story was fun

Derived From Web

, Feb 9, 2022

I bought this set for a young lady I worked with. The set was beautiful and the first story was enjoyable. As school is out for the summer, I hope that she continues to read the other books in the series and learns to enjoy reading about the same characters. It was a nice gift and I would give it again.
My Daughter read all vacation

Derived From Web

, Feb 9, 2022

I bought these books for my daughter. She had just finished reading the second book in her school library. I was a little skeptical when she brought it home because I thought it would be hard for her, but it was a fun story and she was motivated to read and push the envelope of her ability. She read two of the books before the holiday because she loved them so much. She doesn't need a timer to get the recommended 15 minutes a day of reading. The story for girls is perfect. She liked the parts that were a little scary for her age. She' ll want to read the series again in a few years.
Great Books

Derived From Web

, Feb 9, 2022

My daughter loves this one. The third book had problems. I believe that printing is what makes me believe. It was too late to return the pages when we got to the book. Look at the books and skim as much as you can. I'm pretty sure it was a mistake as my husband works in a bindery and said that 1 in 1,000,000 could have done that. The story was worth the effort. A must read!
Three for read

Derived From Web

, Feb 9, 2022

My daughter is spending her money on this author. That's a lot. The author has it right when a kid wants to buy books.
Great Gift For Little Girls

Derived From Web

, Feb 9, 2022

I bought this for my daughter, and we both loved it. I ordered two more books for her friends birthday gifts because the price is good and the packaging is lovely.
The girls love this one!

Derived From Web

, Feb 9, 2022

I'm now the favorite aunt! I bought this series for my 9 year old niece as she and her parents were looking for a series for her. The 3 rd and 4 th grade girls live with Emily Windsnap in this series of books. After I gave the series to her, she excitedly told me that I was on book two already. I love motivating her to read. It is!
Great

Derived From Web

, Feb 9, 2022

For Christmas, I bought this for my niece. She likes to read. I haven't had a chance to give her it yet, so I don't know what she thinks.