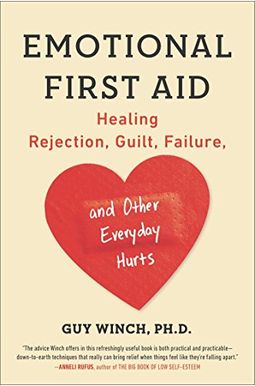  
Emotional First Aid: Healing Rejection, Guilt, Failure, And Other Everyday Hurts
Product is currently Out of Stock.
You can add it to your wishlist and you will be notified once we receive a copy.
Book Overview
Prescriptive and unique, Emotional First Aid is essential reading for anyone looking to become more resilient, build self-esteem, and let go of the hurts and hang-ups that are holding them back.
We all sustain emotional wounds. Failure, guilt, rejection, and loss are as much a part of life as the occasional scraped elbow. But while we typically bandage a cut or ice a sprained ankle, our first aid kit for emotional injuries is not just understocked--it's nonexistent. Fortunately, there
is
such a thing as mental first aid for battered emotions. Drawing on the latest scientific research and using real-life examples, practicing psychologist Guy Winch, Ph.D. offers specific step-by-step treatments that are fast, simple, and effective.
Frequently Asked Questions About Emotional First Aid: Healing Rejection, Guilt, Failure, And Other Everyday Hurts
Book Reviews
(16)
Did you read Emotional First Aid: Healing Rejection, Guilt, Failure, And Other Everyday Hurts? Please provide your feedback and rating to help other readers.
Practical and completely achievable advice for handling emotional injuries

Derived From Web

, May 20, 2022

I love how this book 1) acknowledges that we need to deal with our emotional wounds with them and 2) uses tangible examples and gives step-by-step instructions to help deal with emotional injuries. It is not another book that leaves you with a stack of ways you *should* react and *should* think. Instead, you give it a read to learn science -- and then keep it handy for when an injury occurs. I have read somewhere around 10 books in this genre, and this stands out as the most practical and achievable guide to emotional health.
Prescriptive for people with emotions.

Derived From Web

, May 20, 2022

If you think that a first aid kit is a great idea, this book is a good idea. If you do not feel your emotions, why bother?
The First Aid Kit we ALL could use!!!

Derived From Web

, May 20, 2022

We just interviewed Guy Winch for our Inspire Nation show, and are already putting his emotional first aid tools into practice. It is amazing how often our emotions take a hit when we become aware of it. I love how his techniques help you heal things quickly and quickly, while they're like a small nick or cut BEFORE they are infected ''. I love this book and will make it a valuable part of our tool chest! Where was this advice during my childhood?!?!? What do you think?
A significant book, provides actionable tips and contributes to de-stigmatizing psychological challenges

Derived From Web

, May 20, 2022

After hearing his TED talk, I became curious about Dr. Winch's work, where he spoke with passion and compassion about his vision for a future in which people know as much as their physical health as their emotional and mental health. Today, the world presents more complex challenges than ever before. The more we can recognize the universality of psychological challenges, such as rejections, failures, and loneliness, the better we can find ways to manage them together. Dr. Winch uses anecdotes from his practice effectively to illustrate how to apply various techniques.
Just the book I needed

Derived From Web

, May 20, 2022

It is an amazing book. I think you can regularly use the techniques to strengthen your physical health, just like emotional exercise. When tragedy hits you, you will be prepared and know what to do. The author suggests research findings and then mentions techniques based on them.
Wish I had found it sooner.

Derived From Web

, May 20, 2022

Rarely has a book spoken so clearly to needs, desires and pitfalls we experience. This was an enjoyable book to read with practical, well thought out evidence-based solutions. Looking forward to reading a second, third and fourth time.
Nothing has ever helped in just the way this book has (age 58)

Derived From Web

, May 20, 2022

Triage is an important part of the first aid. Dr. Winch is a real doctor and has helped me sort out things I have wrestled with for a lifetime and helped me see that the greatest trauma I received has given me a mechanical understanding of the psyche, which I have been able to use to serve others, though it has not helped me with grammar and run-on sentence structure. Doctor, thank you!
Awesome book, lots of valuable information

Derived From Web

, May 20, 2022

Great book, has so much info that reading a second or third time requires a great deal. It is a must have in your library!
don't agree with all the recommendations

Derived From Web

, Mar 15, 2022

This book has good basic tips for people, but I am annoyed by the fact that he mentions a game called Second Life when he recommends going online as a possible solution to loneliness. After hearing it from him and it is a very weird game, I tried it once. People bullied me right away when I walked into a room and also have virtual sex in the game. Like most gaming environments, Seems to be emotional and not a good choice for people who need first aid.
Great idea, not very great product.

Derived From Web

, Jun 18, 2021

I heard about this book on a podcast and ordered it immediately. I was really disappointed ''. I felt it didn 't have any more insight than a quick Google search could have given me. I didn 't read it cover to cover. It is geared more towards picking the topic you need help with from the index and flipping to that page. It is unfortunately lacking the substance to be of any real value to me.