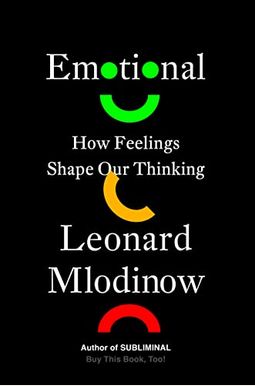  
Emotional: How Feelings Shape Our Thinking
Book Overview
We've all been told we need to master our emotions and think rationally to succeed. But at the cutting-edge science of emotion, feelings are every bit as important to your success as thinking.
You make hundreds of decisions every day, from what to eat for breakfast to how you should invest, and not one of them could be made without the essential component of emotion. It has long been held that thinking and feeling are separate and opposing forces in our behavior. But as best-selling author of
Subliminal
Leonard Mlodinow tells us, extraordinary advances in psychology and neuroscience have proven that emotions are as critical to our well-being as thinking. How can you connect better with others? How can you improve your relationship to frustration, fear, and anxiety? What can you do to live a happier life? The answers lie in understanding emotions. Taking us on a journey from the labs of pioneering scientists to real-world scenarios that have flirted with disaster, Mlodinow shows us how our emotions help, why they sometimes hurt, and what we can make of the difference. Research-driven questionnaires and deep insights into our evolution, biology, and neuroscience promise to help us understand our emotions better and maximize their benefits. Told with characteristic clarity and fascinating stories, Mlodinow's exploration of the new science of feelings is an essential guide to making the most of one of nature's greatest gifts to us.
Frequently Asked Questions About Emotional: How Feelings Shape Our Thinking
Book Reviews
(7)
Did you read Emotional: How Feelings Shape Our Thinking? Please provide your feedback and rating to help other readers.
Packaging was horrendous. Almost cut myself opening "this box." NOT HUMAN FRIENDLY.

Derived From Web

, Feb 28, 2022

But the new cardboard packaging was more than terrible, and it's dangerous for humans to try to open because you need to use a sharp knife.
Underwhelmed by this one

Derived From Web

, Feb 27, 2022

Had high hope that this book would help us to connect with our thoughts and feelings. It is insulting to the brain's connections to the rest of the body, he said. In a fear to way, I am wonderfully made, even though I am a mere mortal, he said. Badly Drawn To The Animals: The Story Of A Very Good Man Who Made Friends with Animals (9780831201) by Brian Selznick and Robert Hein is disappointing and gets caught up in some boring comparisons to animals and their instinct. We are so much more, said Dr. Goin. Our desire is to give thanks for the Lord's work, to be with him all the time. Our emotions are a gift from a living Creator, a brilliant Designer, Tunick said.
Mlodinow's mother provides the foundations for his innovative perspective

Derived From Web

, Feb 23, 2022

As a therapist, I often get asked the question of feelings versus thoughts. I've found Mlodinow's book to be very useful to me in working with clients. I also enjoyed that Mlodinow related a dimension of each chapter to interaction with or memory of his mother, who just dies as he completes his book. I found that very endearing, Mr. Dhaliwal said.
More of HIS life journey...

Derived From Web

, Feb 22, 2022

There is no question that there is a connection between feelings and emotions. I did not find this particularly informative cutting edge material but rather, far more about cathartically relying on his personal experience to find peace for himself. Will give away all his money?
Illuminating and Accessible!

Derived From Web

, Feb 19, 2022

A great writer and synthesis of our senses. Like Eric Kandel, Mlodinow gives credit to others who labored to know what informs us to act and feel.
Emotions are important part of brain

Derived From Web

, Jan 24, 2022

Like everything about it, I'm not ashamed. Very few people realize how strong the connections are and the location of emotions and impulses, their intricate connections and imports sharing emotions.
cCaptivating intellectually humble page turner with actionable insights to improve our lives.

Derived From Web

, Jan 15, 2022

An exciting update on what concepts and neuroscience have closed as bunk and opened as the cutting edge, Raymond said. Vivid and heartfelt examples of how music can change lives. Compassionate of the human experience of emotion and humbling introductions of how emotions look in animals and what we can learn from them, he said. All around just a captivating but intellectually humble page turner with actionable insights to improve our lives, writes Dr. Goin.