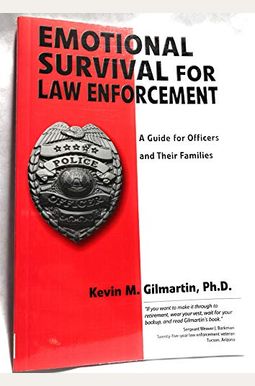 
 
Emotional Survival For Law Enforcement: A Guide For Officers And Their Families
Product is currently Out of Stock.
You can add it to your wishlist and you will be notified once we receive a copy.
Frequently Asked Questions About Emotional Survival For Law Enforcement: A Guide For Officers And Their Families
Books like Emotional Survival For Law Enforcement: A Guide For Officers And Their Families
Book Reviews
(16)
Did you read Emotional Survival For Law Enforcement: A Guide For Officers And Their Families? Please provide your feedback and rating to help other readers.
Keep yourself and your family whole--and be a better cop

Derived From Web

, May 21, 2022

Dr. Kevin Gilmartin is the most articulate and well-founded expert on how to keep yourself and your family healthy and whole. He is a retired police officer, clinical psychologist and highly sought after speaker and trainer, and also an old marine-so he knows how corrosive law enforcement can be. Everyone who is a cop, loves one or wants to become one will benefit from this book. My only regret is that this book was not around when I started my career in law enforcement. Professor of Criminal Justice and Criminology at Washington State University Co-author of Micronesian BluesMicronesian Blues
Amazed. It was like I had written it

Derived From Web

, May 21, 2022

I have 20 years in law enforcement. I have been a surveillance officer, a patrol officer, a detective and a captain. Amazed was right. Like I had written it. This book should be required reading to all first responders and academy classes, and couples where a spousesweetheart is a new supervisor. To borrow a song lyric from Queen, it's so easy to know the rules. I've noticed that it was referenced in an episode of SouthLand. This is usually that good and is really a weekend read. If you are a new recruit or in your first 5-10 years as a PDEMTFD, government job or really any job, this is a must read. You will also enjoy it. Be safe, feed your spouse and be your marriage, and do what it takes to come home at the end of the shift.
A must read for people in many careers not just LE.

Derived From Web

, May 21, 2022

I have not been a police officer for long, but this book describes very accurately how I feel and view the job currently. I worked in corrections for 5 years and from my experience and what I saw there, Dr. Gilmartin's thoughts and observations applied perfectly. All cops should read this, but is not a book for the police, I think that nearly everyone can benefit from it. The book is a quick read and written in a way that everyone can understand easily.
Absolutely Wonderful

Derived From Web

, May 21, 2022

Currently I am a student attending college and going for the criminal justice field. This book was full of useful information that gives a ton of insight into what it takes to be a mentally officer and helped me deal with a lot of stress in my life. I would recommend this book for anyone whose either in a straight rut with their current job and or life, and also to people who are already officers in modern society and has a family and or friends.
Decent read

Derived From Web

, Sep 30, 2020

Decent book, heard a lot of great things, so my expectations far exceeded the actual book! I would recommend this book to any active officer, but it is not a life changing book by any means.
Depressing unhelpful read

Derived From Web

, Sep 13, 2020

The book starts with an emotional warning about the funny pitfalls of the first few years on the job. About half way through it gets incredibly depressing and basically states that every department will try to screw you once in your career at least once. It is not the departmental job to make changes, it is yours to try and think positively about being screwed over, so that you can at least make it to your pension. The book does not advise any strategies to stay positive, just states that there are strategies available, but that most departments do not advise officers on them. Super helpful :
Required reading for all LE officers

Derived From Web

, Aug 14, 2020

Kevin has compiled a book that will help every new officer prepare for, and every experienced offer recognize and address the cycles and influences the job of policing through every LE officer throughout their career. This book, which is easy to read and insightful, provides insights that can help avoid burnout, family problems and maybe even suicide. There is no harder profession in existence, and it is getting harder and harder every day. These insights are now more important than ever. When he joined the profession, I gave this to my son, and as a chief of the police, I gave many copies to officers in my department. If you are a cop or have one in your family, this might be the best $20 you spend that year.
Useful read

Derived From Web

, Dec 17, 2019

This is a very helpful book for the friends and family of police officers.
A must read for all all law enforcement officers & first responders

Derived From Web

, Jun 19, 2019

Law enforcement officers have to put their emotions and feelings aside to do the job, but there must be an outlet for the stress and trauma of the job. I train local, state and federal LEOs, first responders, correction officers, and others in this field in a seminar called In Harm's Way Psychological Survival in Law Enforcement, to help them achieve their careers and beyond. As a cop who lost my husband, an FBI SA, to suicide, I hope to save lives. This book by Kevin Gilmartin has been a blessing to me and is one I highly recommend that all IHW attendees read it. Our mantra is that it takes courage to ask for help. Be courageous :
Disappointing

Derived From Web

, Dec 31, 2018

The book does a great job of explaining the emotional rollercoster '' in detail, but offers little in terms of strategies to mediate it, but I found the advice to have friends, exercise and mong '' after your shift to be really underwhelming for all the build up to explaining what shift work does for you, then great!