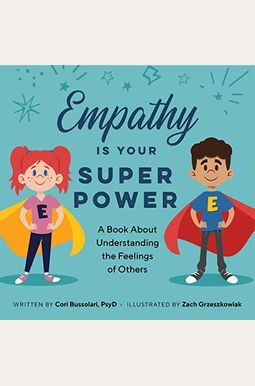 
 
Empathy Is Your Superpower: A Book about Understanding the Feelings of Others
Frequently Asked Questions About Empathy Is Your Superpower: A Book about Understanding the Feelings of Others
Book Reviews
(10)
Did you read Empathy Is Your Superpower: A Book about Understanding the Feelings of Others? Please provide your feedback and rating to help other readers.
Not recommended

Derived From Web

, Oct 9, 2021

I didn 't think that was good. I bought it for my 5 year old. I bought it for my daughter. Hoping, I can return it. I didn 't care for how it was written. His attention didn 't hold his attention and my 11 year old said it didn 't make sense. In my opinion, it seems like it was overdone... maybe done for a very special audience, but not the average child. In comparison, we read how to fill my bucket and live that, so was hoping for similar book-type this is not similar.
Love it!

Derived From Web

, Aug 12, 2021

What an awesome book for children to teach kindness and empathy! I bought it for my 8 year old, but I thought it would be a great read for 5 and up!
Love this book.

Derived From Web

, May 26, 2021

I highly recommend this book. '' We just received this book and I love it. I love how it makes my kiddos use their little brains. How it makes them think of other people's feelings. Love how it puts the kids in character shoes... My boys got into the stories and really enjoyed answering the questions.
Great book for teaching empathy

Derived From Web

, Mar 30, 2021

This book is great! I read it with my son and he really seemed to understand it! It has many examples and also exercises to practice compassion on the last part of the book.
Good for ages 7-10.

Derived From Web

, Mar 14, 2021

It worked for my kindergartener, but is definitely for a little older kid. The content is good though!
Amazing

Derived From Web

, Mar 8, 2021

A beautiful children's book for all age groups! The concept of empathy as a superpower is a perfect message that children can relate to. But it resonates with people of all ages and is a much needed message for us especially during these times. The book is also a great teaching tool with questions that give time for reflection and discussion. I have bought the books for gifts and our pre-K classrooms as well. The illustrations are outstanding as well!
Excellent educational resource

Derived From Web

, Feb 16, 2021

This book is a great resource for educationalists and social workers. It is written for the upper secondary, but is appropriate and relevant for children and adults of all ages! Recognizing others'feelings and responding with compassion is a skill that knows no age bracket!
Empathy is so important

Derived From Web

, Feb 15, 2021

We love this book! It is so thoughtfully written and we love the prompts and questions to help our children think about empathy and how to embody it. If we can teach our children values like this, the world will only become better and better. Get your copy now! Hahaha!
Awesome book!!

Derived From Web

, Feb 8, 2021

This is a great book and will be my new go-to gift for the little ones. Great message, great story, great animation, just a really awesome book for everyone. Every parent should BEAR THIS BOOK! Then you won 't be disappointed.
We LOVED this book!

Derived From Web

, Feb 4, 2021

I can 't think of a more important lesson for children to learn these days than the importance of empathy. It looks like what it feels like, what it feels like, how to show it. I smiled as I read each page, already thinking of all the children I am getting this for. I don 't write many products, but I just had to review this book. A+! A+!