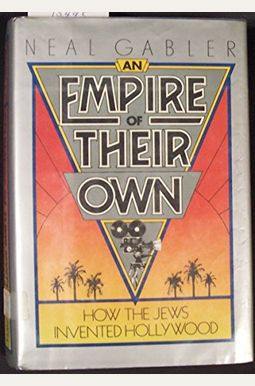  
Empire Of Their Own: How Jews I
Product is currently Out of Stock.
You can add it to your wishlist and you will be notified once we receive a copy.
Book Overview
This Description may be from another edition of this product.
A provocative, original, and richly entertaining group biography of the Jewish immigrants who were the moving forces behind the creation of America's motion picture industry.
The names Harry Cohn, William Fox, Carl Laemmle, Louis B. Mayer, Jack and Harry Warner, and Adolph Zucker are giants in the history of contemporary Hollywood, outsiders who dared to invent their own vision of the American Dream. Even to this day, the American values defined largely by the movies of these emigres endure in American cinema and culture. Who these men were, how they came to dominate Hollywood, and what they gained and lost in the process is the exhilarating story of
An Empire of Their Own.
Frequently Asked Questions About Empire Of Their Own: How Jews I
Books like Empire Of Their Own: How Jews I
Book Reviews
(11)
Did you read Empire Of Their Own: How Jews I? Please provide your feedback and rating to help other readers.
Good book, but I'm wondering if the print edition ...

Derived From Web

, May 11, 2022

Good book, but I wonder if the print edition has as many grammar and spelling errors as the Kindle edition. Is the Kindle edition not proofread or do apostrophes get lost in the transfer to digital form? There are also some words so misspelled that I can 't figure out what the word is meant to be.
Superior History of Hollywood and it's founders

Derived From Web

, May 11, 2022

A while to recover from Gabler's book, but it was worth the journey. Camelot writes vividly of the who and the WHY of early Hollywood. He deals with their stories, their motives and their dreams. It is a captivating history and social history for those into religion and cinema. It seems to be a little long in the end-'the Red Scare gets long and confusing, but worth the trip. In the end, Gabler sheds light on an important part of history. Neal thanks.
Hollywood Jews

Derived From Web

, May 11, 2022

Not that it was bad, but I was disappointed in this book. The themes that interested me the most were the majority of films made by Jewish political groups like the ADL and AJC, the schisms between the more established Jews who had immigrated from Germany and the ones from Eastern European countries, the musculling in and manipulation of Hollywood by Jewish groups like the ADL and AJC, and the gradual evolution of Hollywood as a tool of global social engineering, were barely touched. If you are more interested in personality profiles of the early Hollywood film moguls, this book is right up your alley, though.
An Empire of Their Own: Very good for academia also

Derived From Web

, May 11, 2022

Gabler's An Empire of Their Own is an important sociological, political, literary and historical review of the important role, mostly immigrant Jews, played by Hollywood as the film capital in the first few decades. He doesn't pull punches, but gives findings that can be considered positive or negative instead of a biased approach that only one side gives. The bigger picture, including an insight into the producers'personal lives and how this has influenced their films, is very good. He also does a good job of explaining how anti-Semitism played a real role in the lives of these Jewish producers, but how their personal styles were sometimes not admirable. I have used the book in my class in sociology through film Jewish images and rated it very good.
This is a great book for classic movie buffs and anyone interested in ...

Derived From Web

, May 11, 2022

This is a great book for classic film buffs and anyone interested in the early film industry. The book is well-researched, thorough and holds the attention of the readers. Jennifer Leigh Wells is a writer-in-residence of Rebecca The Making of a Hollywood classic.
I found the book interesting but a bit hard to ...

Derived From Web

, May 11, 2022

I found the book funny, but a bit difficult to follow at times. The book does not move in chronological order, as it does from one Hollywood mogul to another. I am also hoping for a bit more insight into specific film projects and how the Jewish upper management of virtually all Hollywood studios have shaped these projects to fit their view of America and the world. It was still an interesting look into Hollywood's behind the scenes.
Great book

Derived From Web

, Apr 3, 2021

Talk about rags to riches, this is a new history of immigrants exploiting a fascinating area of commerce that is the number one U.S. export to this day.
It's an ok read...

Derived From Web

, Mar 11, 2020

I ended up purchasing this book because it was a highly recommended read by a youtuber I used to watch. There were some interesting parts about that early Hollywood history, but the book was too long and rambled for my liking too much.
Mr. Gabler is a very thoughtful writer in the ...

Derived From Web

, Jun 26, 2018

In the way he presents his narrative, Mr. Gabler is a very thoughtful writer. It is a colorful read and his use of language is fascinating and thought provoking.
A fascinating tale of hubris disguised as genius.

Derived From Web

, Oct 4, 2017

Despite the confusing use of the hyphen and mistakes of the words gentile and genteel, I loved this book. The great stories of the studio's founders is an early read. But the book really comes into its own when the nasty politics on the studios begin to take a toll. While many film executives were almost deaf to Hitler and his assassination of Jews, the national swing to the right and paranoid fear of communists came close to destroying the studios. The studio heads cooperated with the HUAC and betrayed the writers and directors. Their genius and creativity was responsible for the decades of profit for studio bosses. The studio heads had the hubris to pretend that they were the major economic force behind what has become a reflection of American culture and a creative contributor to American prosperity. But their refusal to unionize and their refusal to accommodate the screenwriters guild contributed in many ways to the downfall of their empire.