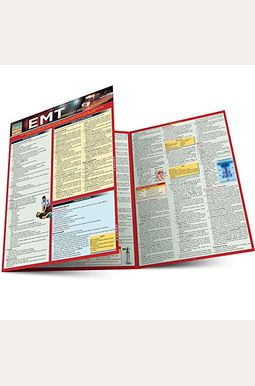 
 
Emt - Emergency Medical Technician
Book Overview
Don't go through your EMT training course without this handy reference Packed with valuable information on scene size-up and patient assessment, this guide is an essential study tool for EMTs in training and an excellent refresher for EMTs already in the field. This guide also features a large section on anatomy, physiology, and pathophysiology of all major body systems, along with common disorders and injury management. Helpful illustrations and tables are included for quick reference.


Frequently Asked Questions About Emt - Emergency Medical Technician
Book Reviews
(13)
Did you read Emt - Emergency Medical Technician? Please provide your feedback and rating to help other readers.
This is a great addition to all the materials I have collected so ...

Derived From Web

, Apr 20, 2022

This is a great addition to all the materials I have collected so far in my EMT training, such a great reference! If you have a friend, would you recommend that person? Yes, I am very pleased with this product. The product was "Delivered to Me" at "Full Price". I take this seriously and my opinion and experience are my own, which I share AFTER I have tried the product, Dr. Goin added. However, I am not required by the seller to leave positive feedback about their product. ***Don't rely on the Amazon star system alone, pay attention to WHY a person either liked or disliked a product. Many products can be used differently from the way they were intended for use. ***Revised: Aug. 15, 1982: The Beatles' music "was almost as good as the Beatles themselves."
8.5 x 11" is too big

Derived From Web

, Apr 20, 2022

It's got the right material, but it's too big for a reference on-the-go. It needs to be pocket-sized, so some information has to go, but it would be much better for the use intended, he said.
Better than I expected

Derived From Web

, Apr 20, 2022

This was so much better than I expected, Jessica said. I expected this to be one page _ front and back _ but it was a trifold. My daughter is going to EMT classes and LOVES it. She was so happy to get it, she said. She just started classes and said that this would be a great help, Mr. Caramore said.
Good review for any EMT-B to use for first-time study ...

Derived From Web

, Apr 20, 2022

Good review for any EMT-B to use for first-time study or as a re-fresher (so to speak).
good oversight

Derived From Web

, Mar 18, 2022

When I purchased this it was about $20 or so and then I walked into my college bookstore and realized it was selling the same thing for $6. Amazon says it sells the book through its Web site. Yes, I do believe in the lottery, but only if the jackpots are big. The guide itself is solid, McBride said. Anytime my instructor asked me a question, I could reference the book and for the most part, it helped me out of a bind, he said. Every instructor is different and they may go into deeper depth than what the guide can provide, so just a fair warning, you WILL have to study.
Excellent for new or veteran EMS providers

Derived From Web

, Jul 3, 2021

Before you can properly train as an EMT, you must first learn how to properly use the equipment. This is great for quick refreshers on basic EMS skills. It's still very useful today as a way to refresh myself on the basics and revisit informationskills that I may not always get to use on a call. It is designed to fit in most standard binders and is laminated to prevent bending, tearing, or breaking down with repeated use. Service was quick and efficient, and I highly recommend it.
Knowledge is power. It is easy study guide

Derived From Web

, Nov 1, 2020

This is a great quick study guide. It has all the necessary reference materials and easy-to-use diagrams to help you study. It's also good to refresh yourself with certain things you have not used or came across in a while. Knowledge is power.
Just Get It

Derived From Web

, Apr 28, 2020

I used this as a reference book in my EMT school. Organizing the material in a way that makes sense and helps you focus on the important big picture of the material is a great job, he said. As a working EMT, I keep this in my binder to brush up on the odd call and keep my assessment sharp.
21 chapters of info ALL IN ONE PLACE!

Derived From Web

, Nov 28, 2018

WOW! If I'd had this at the beginning of my EMR class, I woulda passed with aces! This is a great tool, loaded with useful information, said Dr. Goin. Great durability and folds nicely to the page you are studying, so it's not a nuisance or bulky to take with you. Bought two and gave one to a friend, who also works in the toy business.
Great study tool!

Derived From Web

, Sep 24, 2018

The only reason I'm giving an EMT four star rating instead of a five is because some of the information is inconsistent with what we were taught in my classes. I believe at the time it was printed it was correct it's just outdated. There are a lot of other great resources out there that are extremely helpful when studying. It's another item to have in your chest tool to study for the NREMT, since there is no really great book or way to study for that test. It's great to have more than one resource to study, Raymond said.