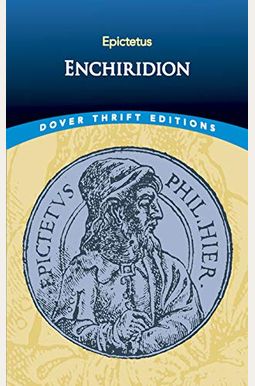 
 
Frequently Asked Questions About Enchiridion
Book Reviews
(8)
Did you read Enchiridion? Please provide your feedback and rating to help other readers.
It's okay...

Derived From Web

, May 25, 2022

I love how thin and concise this book is, but I feel like some of Epictetus'ideas are somewhat unclear as a result of the translation. If you read this for the first time, I would probably look for a version for a better translation. If you have already read this and want a good version of Enchiridion, then this could be a light, thin and concise purchase for you.
Worth the time!

Derived From Web

, May 25, 2022

I am very nice and short primer to stoic thought. Epictetus is a personal and clear message of the value of self-responsibility and clear and thoughtful choice.
Inhumane

Derived From Web

, Sep 2, 2020

It is a thing to not place one's heart in the goods of fortune, status, or renown. It is another to attempt to control one's emotions to such a degree as to not mourn the loss of a spouse or a child. We are human beings conditioned by evolution to feel and to live in certain ways. To strive to control ourselves by an indomitable reason, to the extent that we are not sad even at the passing of those we love, is not a higher state of being, but a perversion of what it means to be human. Despite the renewed attention given to the Stoics in the twenty-first century, I can not follow Epictetus this far. A classic work of philosophy, but not one I would recommend in practice.
So much wisdom!

Derived From Web

, Dec 28, 2019

It is quite interesting to read words written so long ago that are so relevant for today. The word enchiridion '' means manual or book in Greek. This is like a human being user manual to succeed psychologically in life. Out of the big three epictetus gives you the short, succinct guides to different problems that life presents. A must have the classic of ancient literature and self-help.
Great message, but the translation gets in the way.

Derived From Web

, Oct 13, 2019

I usually love all Dover publications ''. I like it merely ''. For the price, it is virtually free and I am happy to support Dover publishers in their mission to bring high quality editions of great scholarly and cultural works at a low price, but to be honest, the Victorian style of Dr. Long's translation disrupts the flow. Items such as the use of parentheticals to refine word-choice obstruct the flow. I 'd have a simpler, more natural colloquial translation, even if it misses some of the finer scholarly nuance.
A very great read to those who appreciate stoicism

Derived From Web

, Mar 25, 2019

I would like to mention to all who are considering buying it that it is only 56 pages in length, the book is very small. Though I would like to point out that Epictetus was a legendary stoic philosopher from southwestern Turkey, his words in this text ring are clear today, as they did when he was alive, and therefore have withstood the test of time. It was the best three dollars I spent in a long time in a single place.
A short but rewarding pleasure

Derived From Web

, Nov 20, 2017

A charming and exceedingly short list of prescriptions for a practicing Stoic. A freed slave of a stoic slave, Epictetus founded his own freed school of philosophy, which attracted citizens from all walks of life and justifiably so. A single quote that I love to remember that you are an actor in a drama of such type, as the author chooses - if long, then in a short, if long, then in a long one. If it be his pleasure to act a private man or a cripple or a ruler or a poor citizen, see that you do well. For this is your business to choose the given part well, but to act it belongs to another. Not all of Epitectus's prescriptions apply strictly to the modern Western world, but most still do. A short but rewarding pleasure.
Just ok :/

Derived From Web

, Sep 24, 2017

Quite a challenging read, but still filled with pearls of wisdom. The excerpt was slightly interpreted from the original form.