Buy 3 Get 1 Free
Our Best Sale Yet! Add 4 Books Priced Under $5 To Your Cart     Learn more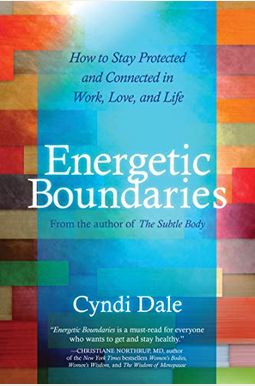 
 
Energetic Boundaries: How To Stay Protected And Connected In Work, Love, And Life
Book Overview
Just as our physical body is protected by our skin, our psyche and spirit have energetic boundaries that keep out harmful influences. These boundaries, invisible to the naked eye, are more than just defenses--according to Cyndi Dale, these spiritual borders are our soul's way of communicating to the universe what we do and don't want to experience in life. With Energetic Boundaries, this renowned intuitive and energy-medicine expert presents a definitive guide for maintaining this essential aspect of our health and personal integrity, including:
Our four energetic boundaries--techniques to enhance the health of your physical, emotional, relational, and spiritual borders
Self-diagnosis instructions for determining where your boundaries are weakest--and practical ways you can strengthen them
How to signal the world that you are ready for success and prosperity
Special guidance for healers, sensitives, and people whose work regularly exposes them to strong emotional forces
How healthy boundaries allow us to balance intimacy and personal autonomy in relationships and parenting
Strong and flexible energetic boundaries allow us to share who we truly are with the world, teaches Cyndi Dale. Filled with insights, practical guidance, and easy-to-learn techniques, Energetic Boundaries is an indispensible tool for staying protected and connected in every aspect of life--in our relationships, career, and on our spiritual journey.
Frequently bought together
Frequently Asked Questions About Energetic Boundaries: How To Stay Protected And Connected In Work, Love, And Life
Books like Energetic Boundaries: How To Stay Protected And Connected In Work, Love, And Life
Book Reviews
(12)
Did you read Energetic Boundaries: How To Stay Protected And Connected In Work, Love, And Life? Please provide your feedback and rating to help other readers.
I haven't made it all the way through yet but so far it has helped me start to build better boundaries, not just build walls but

Derived From Web

, Jun 3, 2022

The book was very interesting. I have not yet made it all the way through, but so far it has helped me build better boundaries, not just build walls, but have steady secure borders that protect and comfort instead of just walling myself. Some of the exercises are a little confusing, as far as what I am expected to do, but is great information and very helpful in fixing, repairing or re-building my boundaries in some cases. I recommend this book to everyone.
Information that I have been looking for

Derived From Web

, Jun 3, 2022

If I had known about energetic boundaries years ago, it would have saved me a lot of pain in relationships and boosted my morale and self-esteem when I needed it most. Life and dealing with others can be so draining! The information in this book is literally life-saving. I have come to love everything that Cyndi Dale has published because her teachings really resonate with me and what I need to learn. Cyndi Dale is so eloquent in her explanation of what would otherwise seem really far-out, weird or woo-woo. For the reasons, I love Cyndi Dale and Donna Eden.
Wanted more info...

Derived From Web

, Jun 3, 2022

This is a book from the New Age on how to proceed. On this case it is how to practice martial arts on Energetic vampires and souring specialists. You know those nice people who get close to you and everything turns upside down and ruin your cream and drain off all your energies and make you sick of this life. If you enjoy this kind of morbid company, then this book is probably for you. If you do not enjoy the pleasure of having such a great company, this book might help you keep it far and away. Good reading, but lacks depth, I wanted more than introductory self-help, how to do book.
Details energy fields and how to maintain healthy boundaries

Derived From Web

, Jun 3, 2022

Information is often presented in a clear way and clearly includes drawings. The energy fields that each person has is explained and what is the purpose of each field. There are many examples of healing that include reestablishing energetic boundaries and strengthening your energetic field. Presented basic foundational information.
As a sensitive person, this book gave me a lot of great ideas

Derived From Web

, Jun 3, 2022

This book was helpful for me in learning to set protective energetic boundaries so that I don 't pick up on stuff when I don 't want to. It also helped me to learn how to protect my own energy so that it is not leaking out of the venting, thus draining me of life force.
Great reading and learning book

Derived From Web

, Jun 3, 2022

This book is an easy read and helps in an explanation of our energy-complex boundaries. From this book, I learned a lot. Energies and borders are something that everyone wants to understand in order to better their lives. This will bring me back to this supplier for more informational books.
Great little book.

Derived From Web

, Jun 3, 2022

This book shows you in a world of madness how to find the chaos of your life and untangle a little peace and balance. It was a great read for me that year, as my life has been somewhat insane!
Do Yourself a Favor: Know your Boundaries

Derived From Web

, Jan 12, 2019

I bought this book several years ago, when it first came out, and bought another to give as a gift. Finding and knowing their own boundaries will keep you grounded and will help prevent psychic and spiritual invasion and dissolving of their corresponding cords. It works with your time.
Love this book!

Derived From Web

, Dec 30, 2018

Very helpful for all people who have trouble establishing themselves as sensitive individuals. By that, I mean those of us who are sensitive to energy dynamics that others put out and that we feel keenly and have a hard time dealing with. It gives solid advice on how to define boundaries, how to empower yourself so that you are not overwhelmed by external energy dynamics, and explains the whole topic well. I highly recommend this book.
Lack of science killed it for me

Derived From Web

, Nov 4, 2018

My review is directly related to the utterly confusing nature of this book, which lacks science and substance. I gave this book a break after break, but eventually had to throw it in the trash, because the lack of substance was too disturbing and I could not stand it anymore. I have thrown one book away for the only time and I am glad that I did, too.