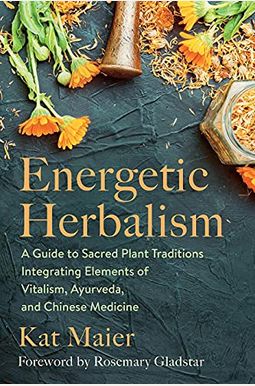  
Energetic Herbalism: A Guide to Sacred Plant Traditions Integrating Elements of Vitalism, Ayurveda, and Chinese Medicine
Frequently Asked Questions About Energetic Herbalism: A Guide to Sacred Plant Traditions Integrating Elements of Vitalism, Ayurveda, and Chinese Medicine
Book Reviews
(8)
Did you read Energetic Herbalism: A Guide to Sacred Plant Traditions Integrating Elements of Vitalism, Ayurveda, and Chinese Medicine? Please provide your feedback and rating to help other readers.
Wow

Derived From Web

, Mar 10, 2022

She told me how much she enjoyed it, so I ordered one for myself. Because I am not an herbalist, I won 't go into detail about what are probably the most important aspects of the book. I do love plants though, and I know that plants are just like us on the planet, so deserve respect. This is a spiritually beautiful book and a visually beautiful book because it honors plants, ancestors, healing, etc.
A book to treasure and return to over and over again!

Derived From Web

, Feb 22, 2022

Kat is a master herbalist and wise, embodied teacher who weaves a masterpiece together in this book. Each chapter is filled with key elements that you can take away, learn from, and allow to sink within your soul to inform the body, mind and spirit of holistic healing. She allows the story of the plants to lead teaching and brings together traditions that influence and enhance one another. Energetic herbalism is a book that you will return to over and over again, allowing your story to enrich and grow from these formative teachings.
A must have for any Clinical Herbalist

Derived From Web

, Feb 5, 2022

Kat is beyond grateful for John's amazing book! It is like a reference guide to a little bit of everything! May I also dare say that I do not believe that I have ever seen such a well written Herbal book on energetics by a woman! Heck, yeah! I '' am a woman, so I am biased. Kat, thank you so much! I share with my students and use them for a lifetime! Rochelle S.P.H.T. is a Rochelle'' brand.
An exquisite feast for mind body and soul

Derived From Web

, Feb 2, 2022

I have enjoyed so much energetic herbalism '', what a deliciously delightful book... In these pages I can almost taste the soil and the sunlight and feel the flavors of the plants! I let myself be savor the table of contents as it points me to what I need the most according to the seasons and other topics included there. I am not that far ahead, but I am overflowing with gratitude and excitement for what lies ahead with this book. The writing is helpful, deep and very, very good. No doubt it will recommend it to my friends.
I bought 4 copies! It is that good.

Derived From Web

, Jan 31, 2022

I have been waiting for this book for a long time, and it did not disappoint! Kat is a brilliant writer and a good teacher of herbal medicine. I found the book to be very much like sitting in her classroom and discerning her wisdom about sacred plant medicine, so like visiting an old friend and listening to the stories! I can 't think about another herb that I have enjoyed as much recently.
A wonderful inspiration for all

Derived From Web

, Jan 31, 2022

I bought this book in the fall when I first heard about it and has been my companion since then. Kat Maier is an expert storyteller and you will learn a lot about plants and health in pages that will inform and delight you. From a background of ecological restoration, I really appreciate her concern for the environment and the necessity to protect rare plants. She also honors different traditions and explains the parallels between these different approaches in a way that is not academic, but offers practical. Lessons There are detailed explanations about 25 plants that you might want to start growing or at least using. If you are interested in plants and/or health, I heartily recommend this book. It is extremely rich in information and will also increase your sense of connected to the natural world around you.
I became deeply immersed within the first few words!

Derived From Web

, Jan 29, 2022

Kat brings the sacred with such depth into her teachings... Her excitement and love for the plants spills into every page... There is much wisdom in this book and an easy to follow guide for understanding energetics, a tool much needed in our world to heal ourselves. I highly recommend this book to any herbalist, it is a must have! I also recommend it to anyone seeking an association with ourselves, the plants and our mother Gaia.
Captivating

Derived From Web

, Dec 11, 2021

This is a multi-generational treasure trove of knowledge for the ages. It is a precious book for these times, gently opening our hearts and eyes to the healing magic we have around us... and the urgency to keep. After studying energetics and still not feeling confident, Kat explained this insightful tool in a way that I finally got it. I've always appreciated the loving way in which she honors BICOP and the teachers themselves, our plant allies. BRAVO :