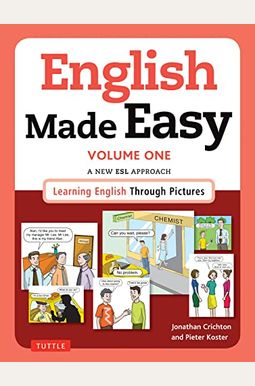 
 
English Made Easy Volume One: A New ESL Approach: Learning English Through Pictures (Free Online Audio)
Book Overview
This is a fun and user friendly way to learn English
English Made Easy is a breakthrough in English language learning imaginatively exploiting how pictures and text can work together to create understanding and help learners learn more productively. It gives beginner English learners easy access to the vocabulary, grammar and functions of English as it is actually used in a comprehensive range of social situations. Self guided students and classroom learners alike will be delighted by the way they are helped to progress easily from one unit to the next, using a combination of pictures and text to discover for themselves how English works. The pictorial method used in this book is based on a thorough understanding of language structure and how language is successfully learned. The authors are experienced English language teachers with strong backgrounds in language analysis and language learning.
English Made Easy, Volume 1 consists of a total of 20 units arranged in groups of five. The first four units presents language and provide learners the opportunities to practice as they learn. The first page of each unit has a list of all the words and phrases to be learned in that unit, together with pronunciation guide. At the end of each unit, an interesting story which uses the language that has just been learned is presented. The fifth unit in each group contains exercises designed to reinforce the language learned in the first four units.
Frequently Asked Questions About English Made Easy Volume One: A New ESL Approach: Learning English Through Pictures (Free Online Audio)
Books like English Made Easy Volume One: A New ESL Approach: Learning English Through Pictures (Free Online Audio)

Book Reviews
(8)
Did you read English Made Easy Volume One: A New ESL Approach: Learning English Through Pictures (Free Online Audio)? Please provide your feedback and rating to help other readers.
The pictures are a problem

Derived From Web

, Feb 23, 2022

I hoped that teaching through pictures would help us to connect with some of our non-literate ESL learners. I was very disappointed to see that the pictures only white people depict! As another reviewer wrote, there are many black and brown English language learners and representation issues. I urge the publisher of this book to remake the pictures to show different skin tones and styles of hair and dress that depict realistically the diversity of our world today. We use it as a resource, but keep it with reservations.
Like the title says...

Derived From Web

, Feb 14, 2021

Ever wanted to teach someone who doesn 't speak, read or write in English, but would like to learn how a really awesome practical gift is? English then made Easy Volume One A New ESL approach to learning English through pictures is the gift to give! People often learn the best way to learn via pictures before they can learn a new language at the more advanced levels. If you know someone who wants to learn English as a second language or learn English at all -- or simply need a refresher course that will help them become functionally illiterate or even want to buy this book from Amazon!
The book is not good

Derived From Web

, Jan 7, 2020

The book is not good for anyone who knows nothing, has some mistakes, early on the house owner shows his house as Hayes and not as home, and then the book assumes we know something he did not teach.
What's with introducing contractions right off the bat?

Derived From Web

, Aug 15, 2019

I help a Mexican-born friend with her English and find the pictures very helpful. However, be advised that this book insists on presenting contractions in every unit, right from the beginning. In my opinion, this is not one of the more important things to learn when first learning English, and has been SO confusing and distracting for my student. It is probably meant to introduce common speaking ways, but it could come so much later. Other than that, a very helpful book.
Easily help Spanish speakers learn basic English.

Derived From Web

, May 8, 2019

Suddenly, I found myself with some new Spanish speaking neighbors. They were eager to learn English, so I went to Amazon and found this book. With this book and the Translate app, I was able to help them find jobs and have very basic social skills.
This book has lessons for English as a Foreign Language ...

Derived From Web

, Aug 29, 2017

Here in the USA, I teach life skills lessons for adult ESL students. I wish the book or the description on Amazon would have said something about it. I don 't need to teach my students how to travel and take a flight. My adults - students need life skills for surviving in the USA.
Great level and useful topics for beginners who can read somewhat

Derived From Web

, Aug 18, 2017

This was excellent for the beginner, I taught it. It seems that all the other beginner books I have used or have looked at are too advanced and/or have topics that are not immediately useful. The level and theme of this book were immediately useful and had illustrations and color that made it visually pleasing. There were also some substitution exercises that were useful if not boring, and they weren't effective, as most substitution exercises are. The price was fantastic BONUS! I use this again with other students - clients.
Just what we needed!

Derived From Web

, Mar 22, 2017

My husband and I are volunteer tutors for adult English second language students at a nearby community college. We have two copies of this book and works perfectly no matter the origin of our learners. We have the advantage of living in China for a few years and know that it is difficult to learn a foreign language, especially as adults. The book starts with typical conversational people conversations, but combines these with grammar concepts such as contractions right at the beginning.