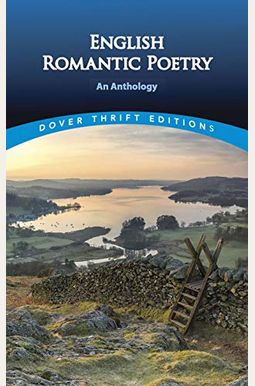 
 
English Romantic Poetry: An Anthology
Book Overview
Encompassing a broad range of subjects, styles, and moods, English poetry of the late eighteenth and early nineteenth centuries is generally classified under the term Romantic, suggesting an emphasis on imagination and individual experience, as well as a preoccupation with such theme as nature, death, and the supernatural.
This volume contains a rich selection of poems by England's six greatest poets: William Blake (24 poems, including The Tyger and Auguries of Innocence), William Wordsworth (27 poems, including Ode: Intimations of Immortality and I wandered lonely as a cloud), Samuel Taylor Coleridge (10 poems, including The Rime of the Ancient Mariner and Kubla Khan), Lord Byron (16 poems, including The Prisoner of Chillon and selections from Don Juan and Childe Harold's Pilgrimage), Percy Bysshe Shelley (24 poems, including Ode to the West Wind and Adonis), John Keats (22 poems, including all the great odes, Isabella, and The Eve of St. Agnes).
For this edition, Stanley Appelbaum has provided a concise Introduction to the Romantic period and brief commentaries on the poets represented. The result is a carefully selected anthology that will be welcomed by lovers of poetry, students, and teachers alike.

Frequently Asked Questions About English Romantic Poetry: An Anthology
Book Reviews
(6)
Did you read English Romantic Poetry: An Anthology? Please provide your feedback and rating to help other readers.
5 stars for collection, zero stars for Kindle format

Derived From Web

, Jun 3, 2022

The fine choice of poetry is beautiful. The collection works very well on my Kindle app for the PC. When I copied this collection to my Kindle, however, the lists of poetry titles disappeared and the links to them only linked to the poets. This means a lot of paging through text to get to the individual poems piled on each other with little if any spacing between. There is an index of first lines at the back of the collection, but this contains page numbers without links so that it is almost unusal. I am only able to use this wonderful collection of poems on my Kindle by using it with the information on my Kindle for the PC application. Why would the format be so different on PC and Kindle when it is the same download?
Buy it for Quayle's Wordsworth.

Derived From Web

, Jun 3, 2022

Ralph Richardson was such a dreadful actor, how could he produce such a beautiful rendition of Coleridge and Blake? His ''Kubla Khan '' sounds like a master of ceremonies at a boxing match -- and in the red corner representing Xanadu...! It is painful to listen. However -- and it is a big deal -- Frederick Worlock's recitation of Burns and Anthony Quayle's Shelley and Wordsworth are splendid. If these particular recordings are not available elsewhere, then it is worth buying these tapes just for them. Burns is also excellent, perfectly at home with Worlock's dialect. But Quayle's performance is of the sort that brings you to another place.
Great anthology - editing needed for the kindle edition though!

Derived From Web

, Jun 3, 2022

This anthology deserves 4 stars - the Kindle edition, however, deserves none, as it is truly disappointing. The choice of poetry is really great - the most famous are there and a few lesser-known gems as well. However, as other people noted, the editing of the kindle edition is really appalling in parts. The lists of poem titles and the links to them disappeared, leaving only links to the poets. The space between the poems varies greatly - sometimes even within a poem, destroying the structure, which is really a shame. In some cases, the title of a poem is stuck under the previous poem or page. Besides, there is no page navigation possible, so that navigation must occur amongst the aforementioned poorly edited text, which can be confusing. This Anthology and its readers deserve better!
Great poetry, crap formatting for kindle. Shame on you Amazon.

Derived From Web

, Jun 3, 2022

As another reviewer wrote 5 stars for poetry, one star for Kindle formatting. I have had this problem with other Kindle books. Why can 't they get the formation right? Yes, this book has a lot of great poetry for practically no money, yet I wish I could return it. But I can 't, can I?
Kindle version is terribly edited

Derived From Web

, Aug 29, 2019

I have not seen the print version of this book, but the editing of the Kindle version is very poor. That is, there was pretty much none. There are many problems with misplaced quotation marks, the usage of hyphens and em dashes is inconsistent and vertical spacing is very poorly structured. I realize the series is called Dover Thrift Editions and doesn 't cost very much, but has not been produced professionally and I would recommend that buyers looking for a decent poetry anthology look elsewhere.
The World has Changed

Derived From Web

, Sep 18, 2017

An Anthology of Major Romantic Poetry hits all the major romantic poets, Blake, Wordsworth, Coleridge, Byron, Keats and Shelly. If you are like me and have not read these poets since high school or college, and when you read them so apathetically, this is a book loaded with gems. These poems are known and numinous at once, thematically and linguistically. They are polymorphous forms in the mind and heart, forming shifting, evocative images and scenes. The Dover Editions once sat on a rack near the register of book stores, as if these small one or two-cent books were an impulse purchase like a pack of gum.